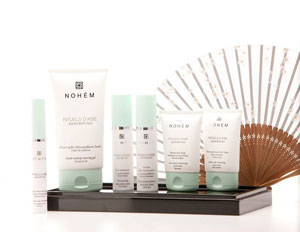 "Asian Rituals", the organic facial cosmetics line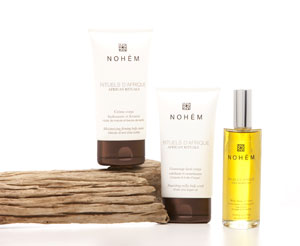 "African Rituals", the organic body care line
"Asian Rituals": organic cosmetics inspired by the beauty secrets from China, Japan and Indonesia
Asian women have always taken special care of their skin, which does not seem to suffer from the passage of time. They owe their perfect complexion and the radiance and tonicity of their skin to ancestral ingredients.
All Nohèm organic products use the same key ingredient to hydrate and nourish skin, thus maintaining its youth: kendi oil, renowned and used throughout Indonesia for its richness in Omega 3, and its non-oily finish that leaves skin soft.
Other precious active ingredients with targeted effects are added in accordance with the purpose of the product, such as white rice wax, sesame oil, goji berry or white lilly.
"African rituals": argan, shea, baobab and marula for natural body care products inspired by African beauty
To take advantage of the richness and benefits of traditional ingredients, Nohèm organic body care products are based on African beauty rituals. The common denominator in these products is argan oil, otherwise known as Moroccan gold.
It protects and restores the cutaneous barrier, turning skin soft and supple. Precious ingredients from Egypt, West and South Africa are added to bolster the base formula.
Shea deeply nourishes skin and promotes healing while marula oil replenishes skin and protects it from free radicals. Black cumin oil has soothing and regenerating properties while baobab oil repairs and softens all skin types, even the most sensitive, to conserve elasticity and suppleness.