Sensory sensitivity
Fresh aloe vera juice, pomegranate extract, rose water, infused vanilla...These delicious, highly-beneficial prime ingredients transform the application of the brand's products into moments of bliss, unadulterated pleasure.
A blackberry-scented candle, a Mojito massage lotion, a lip balm with spices and chocolate…The products and fragrances of the organic beauty brand Hévéa blend originality with aromatic subtlety.
Whether in search of fruity, floral or spicy fragrances, Hévéa's product line offers something for the most varied of tastes. Highly sensual, the brand invites you to escape into a world of soft fragrances for a profound awakening of the senses.
Rare and precious raw natural materials
Storax balm, Sumatra benzoin, Aztec copal, Eritrean incense, Chios mastic gum, myrrh, Alicante sweet almond, sandarac, Tonka bean, iris wood, Damask rose, saffron flower, sandalwood, Sarawak white pepper…
Hévéa puts great emphasis on finding the most exquisite natural ingredients and the rarest aromatic fragrances to bring you the best of Nature. The organic luxury cosmetic brand's authenticity and exclusivity stem from this painstaking work.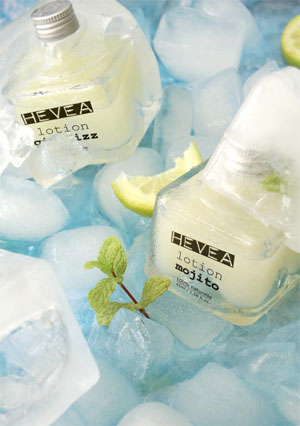 Hévéa's cocktail-perfumed organic massage lotion