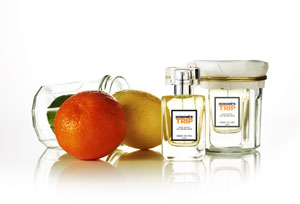 Organic perfume Honoré's Trip by Honoré des Prés
A fresh perfume with notes of citrus, pepper and exotic resin.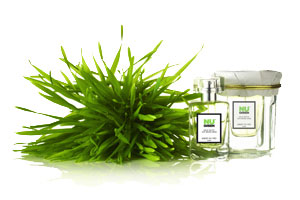 Organic perfume Nu Green by Honoré des Prés
An aromatic perfume with herbaceous, mint, tarragon, vegetal musk and cedar notes.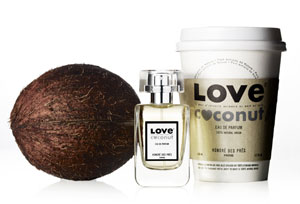 Organic perfume Love Coconut by Honoré des Prés
An exotic perfume with notes of coconut, tonka bean, Bourbon vanilla and white cedar.
The chemistry of perfume
Since the launch of the first synthetic fragrance in 1925, Chanel n°5, and the surge of organic chemistry, synthetic ingredients have flooded the world of perfumery. Today, they represent between 50% and 90% of a perfume's composition, sometimes more in low-quality perfumes.
The near-endless range of olfactory possibilities offered by chemical molecules explains this revolution. There are over 3,000 such molecules, and new ones are created annually. Current techniques allow the artificial mimicking of any existing fragrance based on the analysis of its constitutive molecules. Chemistry can thus imitate, and even substitute nature when its secrets are not yet uncovered. For instance, it is as of yet still impossible to extract the olfactory essence of lilies of the valley or figs.
Chemistry has enriched the range of materials available to perfumers and freed them from nature's limitations: raw material stability and price reduction, eradication of constraints linked to availability, constancy of olfactory results…
However, the appearance of petroleum derivatives in perfumes has numerous drawbacks. Our skin comes into contact with dubious molecules such as phtalates, synthetic musks and alkylphenol ethoxylate. These substances are known skin irritants and pollutants. Some are even suspected to be hormonal disruptors, carcinogenic and neurotoxic.
Why is organic perfumery an art?
Natural perfumery only has around 300 available "raw" molecules that are much more complex than their chemical counterparts. The art of using natural essences is thus to sublimate their potential. It is a much greater challenge to create a complex and original perfume with natural molecules than with synthetic ones.
Free of chemical bonding agents, natural perfumes were, for a long time, much more volatile than conventional ones. Indeed, a perfume's fragrance comes from molecular volatility. To prevent it from fading too quickly, scent molecules must be linked with heavier, non-volatile molecules. It was thus necessary to find natural molecules (benzoin, tonka bean, vanilla...) capable of retaining a perfume's trail persistently.
Rare, more expensive materials that are harder to work with, not readily available and that need to be stored separately with ingredient-specific conditions…the constraints of being organic have transformed this branch of perfumery into a true art form, of which Honoré des Prés and Olivia Giacobetti are masters. Honoré des Prés organic perfumes are a stunning testament to their luxurious talent.