Like its founder Sasha Plavsic, ILIA was born in Vancouver, Canada in 2011 with a first collection of 6 organic tinted lip conditioners.
Her interest in pure and natural things comes from her family : her younger brother suffered from acute asthma and allergies as a young child and her mother, sought out natural and homeopathic remedies to help heal her son, which included co-founding an organic food co-op.
Primarily thanks to this healthy and organic diet, through trial and error, Zac was healed, and even went on to compete in the 2008 and 2012 Olympic Games. Sasha has always been very close to her brother Zac who is now Sasha's business partner.
Throughout her twenties, Sasha's interests fell into design, studying typography in London and New York and working in branding and marketing alongside brands such as Cartier.
This position gave her an awareness to the world of business and after a sabbatical of travel, Sasha came back to Vancouver where she re-branded a local aromatherapy company by day, and the beginnings of ILIA at night.
Contrary to many organic beauty brands on the market at that time, Sasha focused on the visual aesthetic of the packaging. Once the contemporary design of the line was in place, the quality of the product performance had to stand out as well.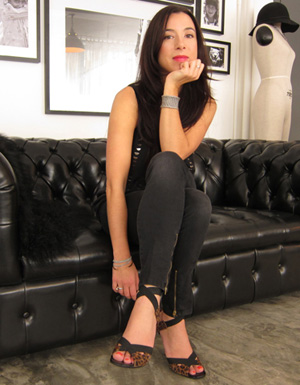 Sasha Plavsic, ILIA founder
Sasha wanted to create something new and unique in the beauty industry. From here, she sought out several chemists, beauty experts and organic suppliers to create an ethical product and maintain full visibility from start to finish.
ILIA's product line grew from six to forty pieces in less than two years with a focus on lip care but also mascara and mutli-use organic make up products. Thank to the quality of its products, ILIA has quickly placed itself as a niche color cosmetic line available in over 15 countries globally.