The highest standards in ingredient selection
Bioactive, virgin plant oils and extracts, pure essential oils, precious flower waters, forest honey, bees wax, cane sugar, lecithin, glycerin…all are certified 100% organic.
Organic farming guarantees very high standards for production, treatment and control. Raw materials from organic farming are produced without any synthetic chemical pesticides, herbicides and mineral fertilizers. They are thus completely free of any toxic residue.
Protection from UV rays and harmful free radicals: Due to their high content in antioxidants from plant oils and butters, all Less is More hair care products are effective in protecting hair from the harmful damage from the sun, UV rays and free radicals.
For Less is More's natural shampoo and rinsable products, the mild preservation system is based on nature-like ingredients that occur in nature as essential oils' components.
Less is More's leave-in products use high quality, undenatured spirit of wine which doesn't dry hair or skin, but quickly evaporates without leaving any (allergenic) residue.
Less is More hair care products are thus free of conservatives, synthetic fragrances, dyes and polymers, silicones and paraffins, petrochemicals, PEG and PPG, parabens, sulfates, glycols, ethanolamines, phtalates etc…Less is More is also against animal testing.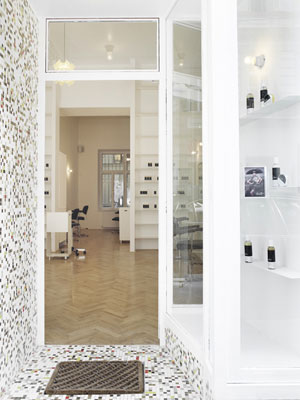 Entry to the Less is More hair salon in Vienna