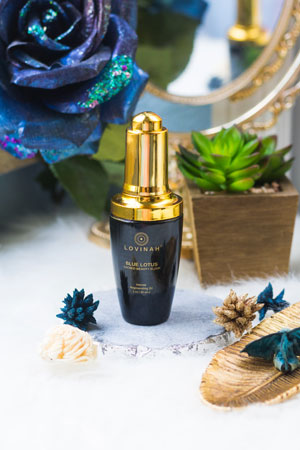 Lovinah's Blue Lotus face Elixir
Lovinah Supernatural skincare goes back to Ancient remedies and practices to provide a luxurious SPA-At-Home selfcare ritual for your skin, body and soul. A step back into history, creatively revamping ancient beauty rituals that are improved by modern science and adapted to modern life and modern women needs.
This range of plant-powered, highly concentrated and superior performing natural beauty products is designed to look after and address all hormonal challenges to the skin with powerful efficacy and transformative results.
Rich in beautiful and precious oils, lush rain forest ingredients, Lovinah skincare has stood the test of time for many generations, from Egypt blue lotus, to Nigeria's black soap, moringa, South African's rooibos and resurrection tea, Peru's dragon's blood, India's bakuchiol to Uganda shea nilotica.
The best of natural ingredients including the most concentrated active plant extracts and superior botanical actives to safely and effectively reverse the signs of hormonal breakout and premature aging, while helping restore healthy, youthful and vibrant glow.
In addition, Lovinah treatments use probiotics combined with the highest quality medical grade skincare ingredients like oil soluble vitamin C, natural retinol alternative, hyaluronic acid, AHA/BHA concentrates (Salicylic, Glycolic, Malic, Lactic acids), various peptides and superfoods to help feed the skin and restore divine glow.