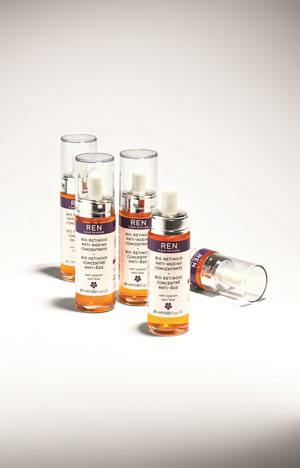 REN Bio Retinoid anti-ageing serum
Working drawing packaging, efficiency, sensual pleasure, respect for the environment, health and beauty are the guidelines of the brand REN.
Antony Buck and Robert Calcraft said: "We believe that the texture, fragrance and experience of using REN can make the world a slightly nicer place to be and make us feel slightly nicer being here".
REN's philosophy is cosmetics products free from skin-unfriendly chemical ingredients like synthetic fragrance, mineral oil, sulfate detergents, synthetic colours, PEG's and parabens with more than 97% plant and mineral derived actives to give an optimal efficiency.
Pleasure is one of the core values of REN's philosophy. That's why texture and fragrance are unique.
Right ingredients
Healthy products free from synthetic fragrance, mineral oil, petrolatum, sulfate detergents, synthetic colours, animal ingredients and parabens, propylene glycol, PEG's, PPGs, urea, D.E.A, T.E.A, PABA and other synthetic sunscreens, aliphatic alcohols/hydrocarbons, phthalates, fumarates, amines, alkanolamines, synthetic AHAs/BHAs, polyacrylamide, metacrylate, elastomer, poloxamer, styrene, vinyl, polyquaternium, synthetic chelating agents, nylon, nitriles, nitrates, nitrosamine releasers, bromates, fluor, aluminum and alumina.
Right science
REN's goal is to be state-of-the-art and to discover the latest hi-tech actives to give formulas which stimulate the cell renewal to repair and protect the skin.
Right experience
It is based on pleasure with products that have silky textures and which are not oily with divine fragrances to offer a very unique beauty "me-time". A real whirl of pleasure!
Right respect for the environment
The brand REN put back more than 2.5% of its profits into associations which protect environment and poor people.
Furthermore, REN cosmetics are free from synthetic fragrance and colours, PEG's, propylene glycol, phthalates, sulphates, silicones and parabens.
Cosmetics REN are free from animal ingredients and are not tested on animals.