Your e-shop to buy Neom Luxury Organics products online
LES ORIGINES DE LA MARQUE NEOM ORGANICS
Découvrez et adoptez les bougies et produits d'aromathérapie de la marque Neom Organics. Créée en 2005 à Londres par Nicola Elliott, Neom Organics offre une gamme holistique de soins naturels et bougies parfumées bio qui agissent comme vétitable soin aromathérapeutique grâce à une incroyable concentration en huiles essentielles.
À travers ses bougies de luxe relaxantes et ses huiles corps anti-âge, Neom Luxury Organic offre une collection efficace de produits bio pour le bain, d'huiles de massage et de parfums d'intérieurs naturels à l'action toujours ciblée.
La marque Neom offre le meilleur de la nature concentré dans des soins corps biologiques et des bougies naturelles aux parfums envoûtants et bienfaisants.
LES ENGAGEMENTS

NEOM ORGANICS
Neom cherche à réduire au maximum l'exposition aux produits synthétiques et chimiques. Ainsi, les soins pour le corps et bougies Neom Organics emploient uniquement des ingrédients naturels.
Formulés sans OGM, sans ingrédients de synthèse, parabènes ou silicones, les produits Neom sont composés à partir d'huiles essentielles pures et d'ingrédients végétaux naturels à 95% bio !
Neom Organics sélectionne uniquement des ingrédients naturels nobles tels l'huile de carthame, l'huile de graine de camélia ou l'huile d'argousier et les huiles essentielles les plus pures et les plus précieuses.
LE PRODUIT CULTE

NEOM ORGANICS
La bougie de soin et massage anti-stress bio "Real luxury" de Neom Organics parfumée aux huiles essentielles de lavande, jasmin & bois de rose Brésilien est un véritable soin bien-être pour les peaux sèches et sensibilisées!
Les bougies de massage Neom sont spécialement formulées pour prendre soin des peaux stressées.
Neom Organics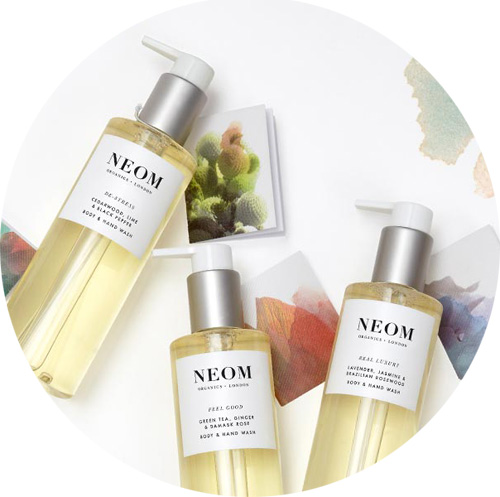 Forget everything you know about aromatherapy and home scents. Forget everything you know about organic bath oils and body products...
At Neom Organics they have created the most incredibly powerful, organic range of luxury bath & home products that all work as aromatherapy treatments.
Carefully blending only the finest organic ingredients and the highest concentration of essential oils Neom Organics offer the most beautiful scents that fill your room with mood enhancing treats in whichever you prefer...
Pleasure, leisure and treatment all in one that make you feel amazing every day.