Krocus Kozanis
Krocus Kozanis introduces Organic red saffron stigmas, an instant tea as well as herbal tea selection with crocus.
Besides red saffron's seasoning use, it possesses significant antioxidant properties, protects again free radicals, and generally contributes to good health and well-being.
Krocus Kozanis organic red saffron is cultivated in the rural area outside the city of Kozani, in northern Greece. It is one of the best origin in the World and has entered the "Register of protected designations of origin and protected geographical indications".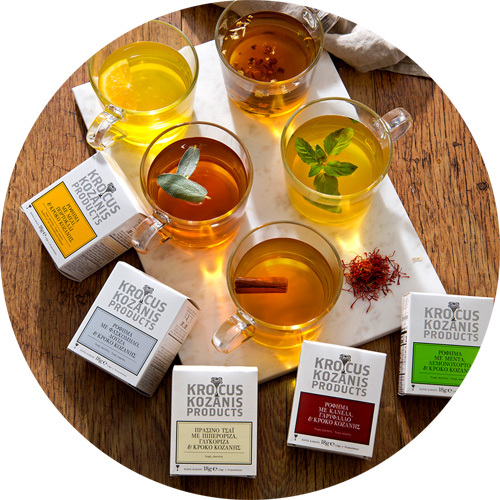 Know more about Krocus Kozanis
Great for :

Energizing, Bliss
Add to shopping bag
Krocus Kozanis
Herbal tea with Orange, Honey & Greek Saffron
6,90 €
Great for :

Energizing, Refresh
Add to shopping bag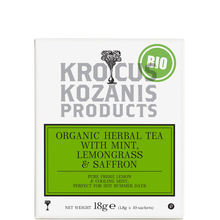 Krocus Kozanis
Herbal tea with Mint, Lemongrass & Greek Saffron
6,90 €
Great for :

Refresh, Bliss, Digestion, Balance
Add to shopping bag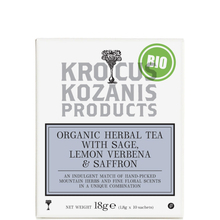 Krocus Kozanis
Herbal tea with Sage, Lemon & Greek Saffron
6,90 €
KROCUS KOZANIS

The Krokos area in the south of Kozani county, in Greek Macedonia, is home to the brand's Greek red gold, internationally recognised as one of the best saffrons in the world.



It is this exceptional saffron, protected by a PDO, that provides the flavour and benefits of Krocus Kozanis organic infusions.
History of the Krocus Kozanis brand: the love of saffron
The current cultivation of saffron in this area of Western Macedonia dates back to the 17th century. The climate and soil of this region, the method of cultivation used and the experience acquired over the last three centuries make Krocus Kozanis saffron an exceptional product, extremely rich in natural antioxidants, vitamin A and pro B to fight against the ageing of cells.



The development of the Krocus Kozanis range of organic infusions was made possible thanks to a partnership with KORRES NATURAL PRODUCTS, better known as KORRES, the famous Greek brand of organic and natural cosmetics.

The KORRES skincare brand is strongly involved in the development of the Greek plant heritage that it uses in its organic cosmetics in order to safeguard it and improve the living conditions of local producers.



Thanks to this initiative, the Krocus Kozanis cooperative now enables 1,500 Greek families to work decently, by selling pure European saffron at an attractive price.

The Krocus Kozanis organic saffron infusion range
International recognition for Krocus Kozanis saffron
Krocus Kozanis organic saffron is considered internationally as one of the best saffron in the world, the top of the range of the world production, referring to its crocin concentration (colour intensity).



In organoleptic tests a saffron is classified as category 1 - SUPERIOR QUALITY when it exceeds 190 (ISO3632 saffron test standard).



Krocus Kozanis saffron has obtained a score of 282,2.



Krocus Kozanis Greek saffron has also obtained the Protected Designation of Origin (PDO) certification which guarantees its origin, its traditional method of production as well as its quality and specificities
The exceptional quality of organic saffron infusions
Saffron is the best antioxidant to fight against cell ageing.



This spice has survived the centuries thanks to its medicinal virtues and its dyeing power.



Today it is not only its status as a spice that ensures its fame, but also its richness in vitamin B and pro vitamin A, which are found in Krocus Kozanis organic herbal teas.



B vitamins and pro-vitamins A are the best natural antioxidants, which are highly appreciated by people in search of pleasure and eternal youth.