Your e-shop to buy Studio 78 Paris products online
LES ORIGINES DE LA MARQUE STUDIO 78
Découvrez et adoptez les produits de maquillage naturel de la marque française Studio 78. Le numéro 78 est celui du studio de maquillage parisien de la créatrice qui finalement donnera son nom à la marque.
Formulé à partir ingrédients naturels sélectionnés spécifiquement pour limiter les risques d'allergies (dues entre autre aux composés chimiques conventionnels), le maquillage Studio 78 apporte un réel bénéfice à toutes les peaux sensibilisées.
La marque Studio 78 Paris s'adresse aux femmes en quête de qualité, de sens et d'authenticité à travers une gamme de maquillage certifié bio et minéral à haute tolérance.
LES ENGAGEMENTS

STUDIO 78
Tous les produits make-up naturels de la marque Studio 78 sont certifiés biologiques par Ecocert. Les fards à paupières, les rouges à lèvres et les fonds de teint Studio 78 Paris sont donc garantis sans colophane, sans formol, sans huiles minérales, sans parabens, sans silicone et sans toluène.
Les produits de maquillage bio Studio 78 sont riches en actifs cosmétiques naturels et en nutriments essentiels. Des produits naturels composés principalement avec des extraits de plantes et des huiles végétales (beurre de karité, huile d'abricot ou d'avocat...) adoucissantes, de l'huile essentielle bio de camomille apaisante, et de pigments minéraux 100% naturels.
LE PRODUIT CULTE

STUDIO 78
Le Mascara noir bio "Nuit blanche" de Studio 78 est idéal pour le maquillage des yeux sensibles. La cire d'abeille protège les cils fins, l'huile essentielle de sauge et l'extrait de camomille fortifient et apaisent. Ce mascara bio longue-tenue ne s'effrite pas et convient aux porteurs de lentilles et aux yeux à tendance allergique.
Studio 78 Paris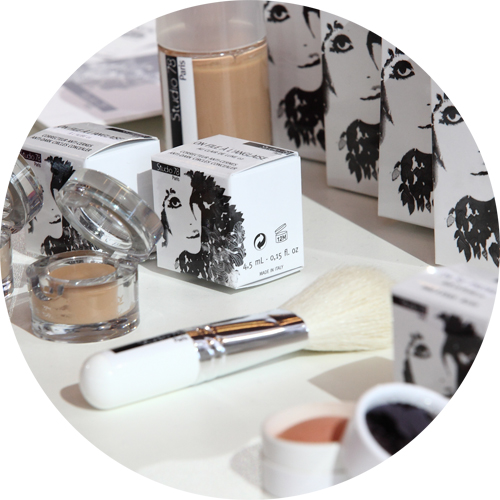 Studio 78 is a luxury natural cosmetics brand that is our top choice for organic makeup.
Their makeup products are pure and each formula is infused with healing and nurturing organic plant oils and extracts.
The result is a synthetic free, professional quality cosmetics collection with perfectly pigmented products for face, eyes and lips that are also gentle and pure enough for sensitive skins.
Studio 78 is no doubt currently one of the best line in organic and mineral makeup products !