Mini hair brush (beech / nylon)
Description
Less is More natural premium mini hair brush
white beech, nylon, natural rubber
Handbag sized – mini-pneumatic brush made from beech*, in many colours, nylon pins and natural rubber cushion. Perfect versatile brush for detangling, blow drying and for stimulating scalp massages. Relaxes hair and scalp during blow-drying and styling.
This Less is More superior brush is a sensational beauty tool for your hair : daily brush-massage of the scalp is the best you can do for your hair. It stimulates circulation, loosens and removes dandruff, natural sebum is being distributed evenly, excess sebum is being removed by the natural bristle, leaving hair beautifully luminous, conditioned and manageable.

*FSC certified
Dimensions : 12 cm x 3.8 cm
Directions
Instructions 100 brush strokes
Start brushing your hair headfirst, after each stroke with the brush stroke with your hand to neutralize the generated charge.
Take 3-5 strokes on each area to reach the scalp and this way work systematically through all areas of your head. Subsequently brush back your hair in straight position. This way your hair gains natural volume and arrector muscle of the hair is stimulated.
Brush Treatment
To enjoy your brush for a long time we recommend you regular and careful cleaning.
First remove hair and dandruff from the brush, then wash your brush with a little hair shampoo in hand warm water.
This product has nothing to hide
Complete INCI list of ingredients
×
Materials
FSC certified beech, nylon pins, natural rubber cushion
We always update changes when noticed, but please refer to the information on your product packaging for the most up-to-date list of ingredients. Always check and follow the instructions for use written on the packaging.All sales are final on unsealed products.
Complete your natural beauty routine
Add to shopping bag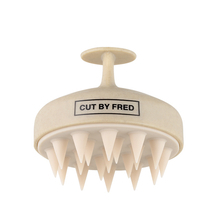 Cut by Fred
Stimulating Scalp Brush
17,00 €
Add to shopping bag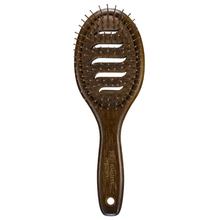 John Masters Organics
Bamboo vented-paddle Brush
43,00 €
Add to shopping bag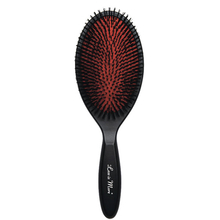 Less is More
Pneumatic brush (beech & wild boar bristle)
74,00 €
Reviews & Questions
Your reviews about :
Mini hair brush (beech / nylon)
Vraiment minuscule et il manque déja un picot ce qui ne m'énerve énormement car je viens de la sortir du colis et je ne les meme pas encore passé sur ma tête... vraiment décue, j'ai l'impression d'avoir été trompé !
Bonjour Coline, Je vous ai contacté ce jour au sujet de ce problème de picot. Il s'agit cependant bien d'une mini brosse comme l'indiquent les dimensions spécifiées sur la fiche produit.
Commandée en lime, reçue en turquoise :( de plus elle est vraiment très petite mais les dimensions n'étaient pas encore indiquées à l'époque où je l'ai commandée. Déçue...
Je l'ai prise en vert, elle est vraiment mignonne et pratique pour les retouches coiffure en cours de journée ! Attention, elle est vraiment très petite, on dirait presque un jouet. Mais ça me convient, c est ce que je cherchais pour le sac à main
About : Less is More
When stylist experience, biomimetics and aromatherapy combine : Less is More, an innovative organic salon hair care and shampoo line emerges, combining functionality, health and environmentalism with indulgent pleasure.Less is more natural hair care products' innovative formulas exclusively contain natural ingredients, chosen for their effectivity, purity and optimal tolerance by both skin and the environment.Less is More now also takes care of your skin with a complete range of potent facial treatments with botanical extracts of Alpine plants …