Your e-shop to buy Odacité products online
LES ORIGINES DE LA MARQUE ODACITÉ
Découvrez et adoptez la marque cosmétique Odacité créée en Californie en 2009 par les français Valérie Grandury et Romain Gaillard. L'histoire d'Odacité commence en 2004, lorsque Valérie décide de fabriquer elle-même ses propres crèmes, des soins sur mesure reconnus par une clientèle privée exclusive. Pour faire face à la demande croissante, Valérie s'associe à Romain Gaillard pour créer la marque Odacité en référence à leur «audace» respective. Ensemble, ils concrétisent le concept de soin naturel efficace et sur mesure avec la gamme Pure Elements dont chaque sérum cible un problème spécifique de la peau.
Le succès est immédiat auprès d'un public exigeant et de plus en plus sensible à la pureté des produits cosmétiques.
LES ENGAGEMENTS ODACITÉ
Même les meilleurs ingrédients se dégradent avec le temps, ainsi les sérums Odacité sont fabriqués en petite quantité avec des ingrédients cosmétiques naturels ultra-frais pour être sûr que tous les soins Pure Elements aient une action optimale.
La marque Odacité propose des formules fraîches et sur mesure, sans conservateurs et dont les actifs essentiels entrent en synergie de façon optimale avec la peau. Tous les ingrédients sont 100% naturels et les produits Odacité sans aucune goutte de synthétique !
LE PRODUIT CULTE ODACITÉ
Le Sérum Gt + L : Effet radiance est un soin éclat incomparable ! Véritable élixir de beauté pour peau terne, atone ou dévitalisée, le sérum visage Gt + L d'Odacité est un booster d'éclat ultra-performant pour redonner rapidement de la lumière à la peau.
Odacité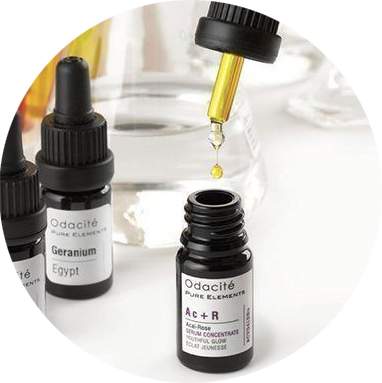 Each Odacité's Pure Elements serum is a powerful skin boosting natural treatment offering targeted and transformative results in minimal time.
Using the highest-quality premium oils, the rarest botanical extracts and clinical grade essential oils, Odacité chemical-free organic beauty products feed your skin with the ultimate dose of antioxidants and vitamins, which are all essential in skin regeneration as well as detoxification.
Formulated for perfect skin compatibility and remarkable results : each drop of Odacité's Pure Elements facial serums offers real change in skin health.