Odacité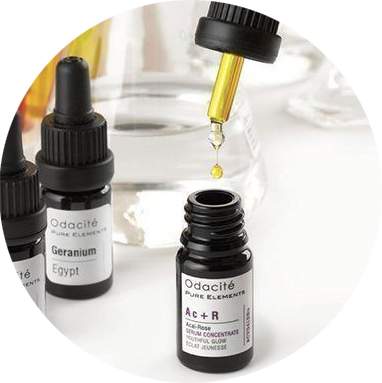 Each Odacité's Pure Elements serum is a powerful skin boosting natural treatment offering targeted and transformative results in minimal time.
Using the highest-quality premium oils, the rarest botanical extracts and clinical grade essential oils, Odacité chemical-free organic beauty products feed your skin with the ultimate dose of antioxidants and vitamins, which are all essential in skin regeneration as well as detoxification.
Formulated for perfect skin compatibility and remarkable results : each drop of Odacité's Pure Elements facial serums offers real change in skin health.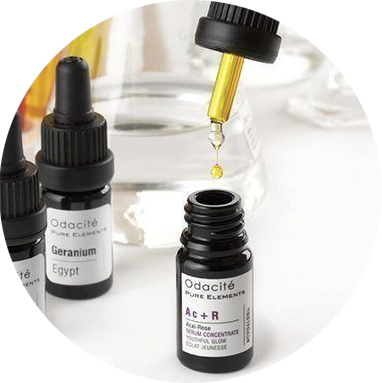 Know more about Odacité

Why we love ODACITE ?
Its targeted serums with bluffing efficiency
Its 100% active & pure formulas
Its premium quality ultra-fresh natural beauty ingredients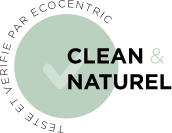 ODACITÉ

Add two or three drops of one of the Odacité Pure Elements super-concentrated serums to your moisturiser day and night to target specific skin concerns.

The key to Odacité skin care is the freshness and the efficiency of its only natural and organic ingredients : the highest-quality premium oils and the rarest botanical extracts.

Whether you've got clogged pores, or dry, sensitive, oily, combination or blemished skin, all issues are covered.
History of the Odacité brand
Odacité was founded in California in the heart of Topanga, a beautiful canyon between Hollywood and Malibu in 2009 by 2 Frenchies : Valerie Grandury and Romain Gaillard.

The Odacité story all started in 2004 when Valerie's life changed dramatically after she was diagnosed with breast cancer. She decided then to reinvent and re-enchant her life and felt the necessity to remove all toxic substances from her environment.

She started by quitting her stressful job in the film industry, adopted a vegan raw food diet, started practicing yoga and meditation and became a health and wellness coach.

Valerie logically had a closer look at her skin care labels as well and soon discovered the toxicity of all her daily personal care products. To be sure to use only natural, healthy, effective and tailor-made to her skin needs products, Valérie decided to start making her own natural face creams.

Selecting only ultra-fresh ingredients like aloe vera juice, virgin cold pressed vegetable oils and active plant extracts known for their benefits, Valerie sourced them from all over the world and formulated her own age-defying skin care.

For 5 years, Valerie custom organic face creams are known only by a growing group of vip clients in Los Angeles. But to meet the growing demand - all those who try her natural beauty products saw the difference that they made on their skin - Valerie joined Romain Gaillard, another Frenchy living in San Francisco, to create the Odacité brand.

Full of audacity (the origin of the name Odacité) and passion, Valerie and Romain take the concept of effective and customized natural skin care to perfection with their Pure Elements range, each serum targetting a specific skin problem.

An immediate beauty buzz in the press and an instant hit with women increasingly sensitive to the purity of their beauty products and demanding visible transformative results. Odacité organic beauty products are now available in more than thirty countries.

Valérie Grandury, founder of Odacité brand
How to choose your Odacité serum?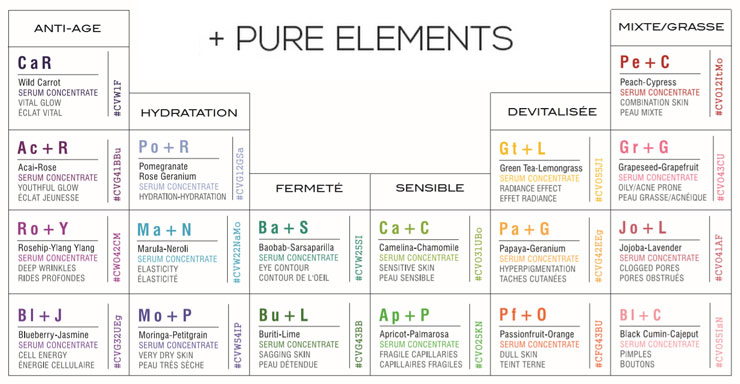 1. Locate your specific problem(s) in the table.

2. Select the serum(s) formulated to target that specific problem(s)

3. Incorporate 2-3 drops morning and night into your cream or use pure for an intensive treatment.



This makes it possible to create your own tailor-made treatment!



For example, for dull skin with brown spots you can combine the serums Pa + G (Papaya + Geranium) and Gt + L (Green Tea + Lemongrass). The magic works and the antioxidants of one serum work in synergy with the fruit enzymes of the other to create a youthful, luminous complexion.
Each Odacité serum combines 2 key ingredients: a cold-pressed dermo-active oil and a pure essential oil.



The 2 symbols of these ingredients give the serum its name.

The label also contains the traceability number which codifies the extraction methods, cultivation and place of origin of each ingredient.
LEGEND OF THE ORIGINAL NUMBER :

- Extraction method ( #CVG42EEg )

CV : Cold pressed virgin
CW : Cold pressed and winterized (a filtration process that removes the waxes and triglycerides contained in the oil with the highest melting temperature to prevent the oil from being solid at room temperature)
CP: Cold pressed and filtered


- Cultivation method ( #CVG42EEg )

O : certified organic farming
W : responsibly harvested from the natural environment
G : grown without pesticides or chemicals

- 1st element continent ( #CVG42EEg )
- Continent of the 2nd element ( #CVG42EEg )

1 : Europe
2 : Africa
3 : North America
4 : South America
5 : Asia

•Countries of the 1st element ( #CVG42EEg )
- Country of the 2nd element ( #CVG42EEg )

A : Argentina
B : Brazil
Bo : Bosnia
Bu : Bulgaria
C: Chile
E: Ecuador
Eg: Egypt
F : France
G : Germany
I: India
It : Italy
J : Japan
Is : Israel
K : Kenya
M : Madagascar
Mo : Morocco
N : Nepal
Na : Namibia
P : Paraguay
S: Senegal
Sa : South Africa
U : United States
Z : Zambia
The Odacité serums are recognized as real beauty nuggets that will boost if not revolutionize your beauty routine!



Their clean, simple, 100% natural formula allows them to be easily incorporated into your usual routine and to be used in many ways.



How to use your Odacité face serum:

1. On its own, applied topically or all over the face, for an intensive care treatment

2. Mixed into your day or night cream, 1 or 2 drops are enough

3. 3. Daily after Odacité moisturising mist for perfect penetration

4. Combined with another serum so that each area of the face is treated in a different way according to its specific needs

5. Alternate with another serum: one in the morning, one in the evening or one for each season to follow the skin's needs throughout the year

6. Mixed with another Odacité serum to treat several skin problems at once
Clean Odacité brand commitments
Freshness = Effectiveness, for Odacité one cannot go without the other!



The secret of Odacité organic cosmetics is their freshness. The best quality vegetable oils, the rarest plant extracts, the purest essential oils... all lose their effectiveness and benefits with time.



That's why Odacité serums are made in small batches with ultra-fresh natural cosmetic ingredients to ensure that when you use your Odacité Pure Elements serum, it is always at its maximum potential and effectiveness.



It is these 100% active antioxidants and vitamins that deliver the visible results and real improvements in skin condition.



Odacité does not use any preservatives in its formulas!



As a general rule, cosmetic products are formulated to have a shelf life of about 3 years. The formula does indeed remain stable, but how can we say that it is still active after several years in the bottle?



On the contrary, studies show that even the best ingredients degrade over time. Worse, oils can become rancid and are then full of free radicals that accelerate skin aging.



In order to preserve products for so long, the use of preservatives in organic cosmetics is essential. By using fresh ingredients and regularly making small batches, Odacité skincare products do not need preservatives to stay perfectly fresh for the time they are used.



The best of the best (of the best) ingredients

Each ingredient is meticulously selected by Valerie to ensure freshness, and concentration of antioxidants and vitamins. All the ingredients in Odacité formulas are active, there are no unnecessary elements added just to make the bottle look bigger and fuller.
All Odacité ingredients are 100% natural and free of synthetic ingredients, either organically grown or responsibly harvested in areas free from pollution.
Odacité vegetable oils are cold pressed to preserve all their benefits
All plant extracts are fresh, pure and certified organic to give the skin everything it needs to feel alive, young and healthy.
No animal testing

The effectiveness of all Odacité products is tested on people (Valérie Grandury first) and never on animals.
The best-selling beauty products of the Odacité brand
Black Cumin + Cajeput Serum by Odacité

Specific skin problem: pimples

Formulated specifically for problem skin, perfect for fighting mask-related pimples, Odacité's Bl + C Serum is a powerful treatment that helps reduce the appearance of blemishes.



It is so concentrated that 2-3 drops morning and night are enough to awaken the beauty of the skin thanks to its two key ingredients specifically selected by Odacité:


- Black cumin oil helps purify the skin, promoting a smoother, clearer appearance.
- Cajeput helps restore a fresh, healthy complexion that is visibly blemish-free.



It can be combined with Gr + G Serum for severe acne problems or Jo + L Serum for blackheads and clogged pores.





Odacité Baobab + Sarsaparilla Serum

Specific skin problem: eye area


This star product from clean beauty brand Odacité is a highly nourishing serum specially formulated for the delicate and thin skin around the eyes.



Odacité's Ba+S Eye Serum is easy to apply with its stainless steel roll-on applicator that has an extraordinary cooling effect.



To smooth the appearance of wrinkles around the eyes and improve the appearance of dark circles and puffiness, the ingredients chosen by Odacité are:

- Baobab Oil, rich in vitamins A, E and F and plant sterols, targets all the visible signs of ageing around the fragile eye area, helping to reduce the appearance of wrinkles.

- Working as a quartet, Sarsaparilla, Palmarosa, Neroli and Lavender oils support smoother skin and help reduce the appearance of puffiness and dark circles.



With Odacité's Ba + S Eye Cream, eyes look clearer and more rested, making under-eye concealer almost optional!





Odacité Acai + Rose Serum

Specific skin problem: youthful skin



Voted best natural anti-ageing treatment by ELLE magazine, Odacité's Acai + Rose Serum is an ultra-powerful, antioxidant-rich treatment that helps skin look smoother, firmer and younger.



It is so concentrated that 2-3 drops morning and night are enough to awaken the skin's beauty thanks to its two key ingredients specifically selected by Odacité:


- Acai Berry "Superfood" has one of the highest antioxidant powers in the world. Carefully harvested and cold pressed, Acai berries yield one of the most vital oils, offering numerous benefits to improve the appearance of skin tone, texture, wrinkles and firmness.
- Rose oil enhances the anti-aging benefits of acai, and visibly revitalizes the skin.



Depending on the skin's needs, it can be combined with Odacité's Pa + G Anti-Spot Concentrate or Ro + Y Deep Wrinkle Serum.


Odacité's anti-blemish solution: Bl + C serum

THE bestseller of the Odacité brand, acclaimed for its instantaneous freshness, its ease of use and its long-term effects: the Ba + S eye contour serum

Odacité's natural and organic Ac + R serum: the best of clean anti-ageing beauty
Gua Sha massage with the Odacité Crystal Contour Stone
Gua Sha facial massage is an ancient beauty ritual known for its ability to infuse the skin with new youth.

Used for centuries in traditional Chinese medicine, this effective treatment will reduce the appearance of wrinkles and help to visibly tighten facial contours while awakening the skin's natural radiance.

When used around the eyes, it helps to reduce the appearance of dark circles and puffiness.

To practice Gua Sha facial massage, the Odacité brand has created the ultimate tool for easy application and with a Gua Sha stone of absolute elegance and quality: The Crystal Contour.



Odacité's Gua Sha tool is hand carved especially for the face, in exceptional quality stones (rose quartz, blue sodalite or green aventurine) to make the Gua Sha massage even more luxurious and highly vibratory.


Simple to use, yet highly effective, simply apply a few drops of Odacité's All-Embracing Serum and glide the Gua Sha tool over the skin.
Credits : Odacité