Ben & Anna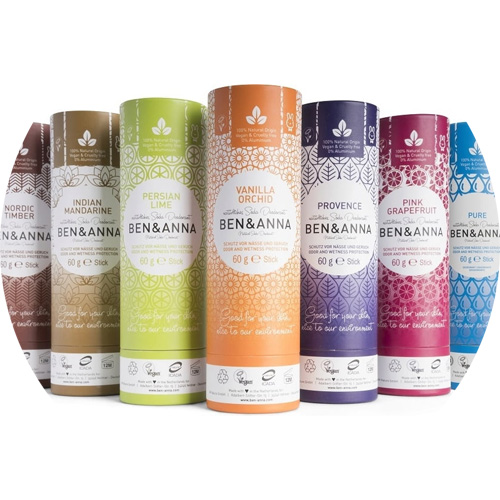 After several years in Berlin, Ben & Anna decided to leave the urban jungle behind them and to move back to the countryside of their Hessian homeland.
Ben & Anna as a strictly vegan couple had always paid close attention to what they consumed, always buying products from sustainable and organic sources.
While looking for a suitable deodorant for themselves, it needed to be vegan and not tested on animals, natural and eco-conscious, it was impossible for Ben & Anna to find anything that fit their ethics.
Ben & Anna decided to develop their own natural and organic deodorant which is based solely on all natural ingredients and comes in ecological, recycled and recycable paper tube.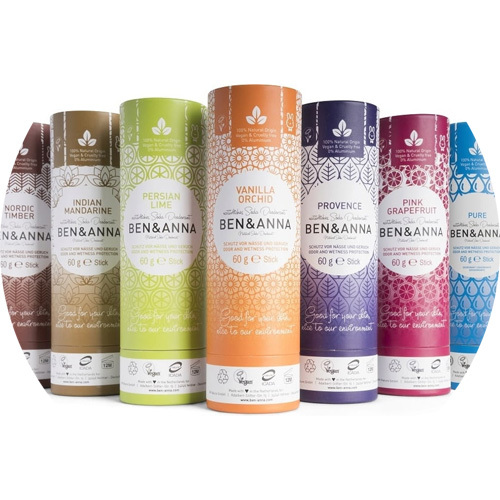 Know more about Ben & Anna
BEN & ANNA

Ben & Anna is a deodorant brand that is inspired by nature.



Their certified organic and vegan deodorants are aluminium-free, paraben-free, with natural ingredients for more ecological deodorants that are good for everyone... for the skin, even sensitive skin, and for the planet.



With their delicate fragrances, Ben & Anna vegan deodorants are suitable for both women and men.
History of the Ben & Anna brand
Ben & Anna are a German couple who love nature. After living in Berlin for several years, they decided to leave the city life and move to the countryside.



This change of life has led them to question their lifestyles. They pay particular attention to what they eat and become vegan. Ben & Anna are very interested in health and environmental issues.



They searched for a long time for a deodorant that met their criteria: natural ingredients, vegan, and not tested on animals. When they couldn't find what they were looking for, they decided to develop their own brand of deodorants made from natural ingredients.



After many attempts in their kitchen, a brand new type of deodorant was born, completely vegan, acting only with the power of nature and without any chemicals.

Ben & Anna, the two founders of the brand

- credits Ben & Anna
The values of the Ben & Anna natural deodorant brand
Natural and vegan deodorants from Ben & Anna - credits Ben & Anna

100% natural and vegan deodorants



All Ben & Anna natural deodorants are formulated with natural ingredients and essential oils.



Thanks to a combination of natural baking soda, arrowroot extract and shea butter, Ben & Anna's organic deodorants protect against body odour.



Aluminium-free, paraben-free, and based solely on vegan active ingredients, they still regulate perspiration without clogging the pores.



A deodorant for all sexes



The different scents such as lime, tangerine, vanilla flower, pink grapefruit, lavender or cedar wood, will seduce women and men.



Ben & Anna has also thought of people who don't want to smell with a fragrance-free deodorant.



Eco-responsible deodorants



Ben & Anna's deodorant sticks are presented in FSC-certified cardboard tubes. Plastic-free, the packaging is made from 100% recycled fibres, which makes them more sustainable.



They are not only skin friendly but also environmentally friendly.



One Earth - One Ocean

Ben and Anna support the environmental organisation One Earth-One Ocean, which collects plastic waste with special collection vessels in waters around the world for recycling or conversion into oil.

The bestsellers of the Ben & Anna brand
Ben & Anna's deodorant tubes, made of recycled cardboard, are easy to apply. They deposit a thin layer of product under the armpit. They take care of the skin without sticking or leaving a greasy film, thanks to their rapid penetration.



They are formulated with carefully selected natural, organic ingredients, offering protection against odours:



Natural baking soda effectively neutralises bad odours.

The arrowroot absorbs moisture for a pleasantly dry effect.

Shea butter provides an ideal texture. It softens and nourishes the skin.

Essential oils allow the deodorant to be naturally scented.

Indian Mandarin" natural deodorant



Tangerine, with its delightful citrus scent, is a boost during the winter gloom. Its sweet and tangy scent takes you on a journey to India. This amazing scent relaxes and calms you throughout the day.





Pink Grapefruit natural deodorant



The sparkling and stimulating scent of pink grapefruit takes us to sunny landscapes. The pink grapefruit, known as an energizing fruit with an invigorating scent, is a pure delight for the senses. Its heavenly scent is a real treat in summer.





Vanilla Orchid" natural deodorant



The warm, sweet notes of vanilla flower are enhanced by subtle notes of calendula. The relaxing properties of vanilla are perfectly combined with marigold flower, which has naturally soothing properties. Ben & Anna Vanilla Organic Deodorant is ideal for sensitive skin.

Ben & Anna push up tube deodorants - credits Ben & Anna
Industrial deodorants are dangerous for your health
In industrial deodorants, you find aluminium salt for its ability to stop perspiration by obstructing the pores. However, sweating is a necessary, even vital action, as it allows the body to maintain a good temperature and to evacuate certain toxins. Aluminium is therefore unhealthy.



If you pay attention to the fact that your deodorant is labelled: "Aluminium free", many other substances in industrial deodorants are dangerous for the skin, such as alcohol or parabens.



The above-mentioned chemical ingredients should be avoided when choosing a deodorant because they are harmful to your health. Some researchers prove that they are responsible for certain diseases such as breast cancer and Alzheimer's.



By choosing a natural deodorant, you say goodbye to all these toxic ingredients. What's more, natural deodorant is just as effective as industrial deodorant. Respect your skin and your health!
The ben & anna brand available in Lyon at ecocentric
Come and discover the vegan deodorants of the Ben & Anna brand at Ecocentric's boutique in the Grand Hôtel-Dieu located at 9 rue Marcel-Gabriel Rivière 69002 Lyon.

You are bound to find the deodorant that suits you among the 6 scents of Ben & Anna deodorants.