Your e-shop to buy Patyka products online
LES ORIGINES DE LA MARQUE PATYKA
Découvrez et adoptez les soins cosmétiques Patyka ("Apothicaire" en grec), mélange de savoirs ancestraux et d'années de recherches en botanique.
Pionnière de la cosmétique bio de luxe, la marque parisienne Patyka propose une sélection de formules précieuses toujours adaptées et optimisées.
LES ENGAGEMENTS

PATYKA
Certifiée bio, la marque de soins Patyka considère la nature comme une source de remèdes et n'emploie que des actifs naturels dans une démarche durable pour des produits de beauté bio raffinés et des soins anti-âge bio ultra-techniques.
Ainsi, les crèmes, les sérums et les soins naturels Patyka vont toujours plus loin dans l'efficacité de la cosmétique naturelle. Les packaging et les flacons sont éco-conçus et tous les produits cosmétiques bio Patyka sont réalisés en France afin de limiter le bilan carbone de la marque.
LE PRODUIT CULTE

PATYKA
L'Huile Absolue de Patyka est un soin précieux, raffiné, efficace, incontournable : la petite robe noire de vos soins quotidiens.
L'Huile Absolue séduit aussi bien par son efficacité que son parfum subtil et sa texture légère et soyeuse. En cure ou en produit de premier secours, l'Huile Absolue s'utilise sur le visage, le corps et les cheveux. Elle répond à tous les besoins de la peau et s'accorde à toutes les envies.
Patyka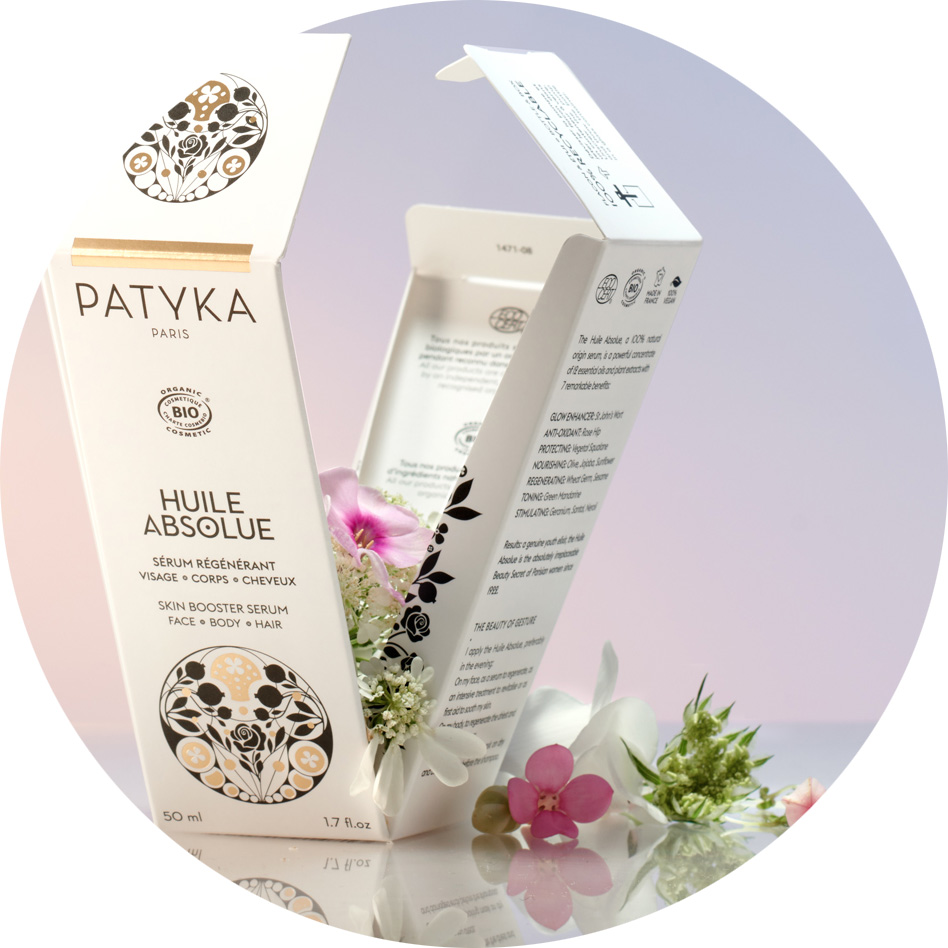 My well being stems from an approach that rids me of any complexes and respects me and my environment…
Modern, responsible, active and demanding – my beauty by Patyka bears testimony to the fact that an effective, intelligent and natural cosmetic solution exists…
Fruit of years of research and daily toil to highlight what it means "to feel beautiful", Patyka creates a harmonious blend of beauty, pleasure, efficiency and responsability.
Discover the organic beauty world of Patyka for a remarkable and chic beauty !