Ilia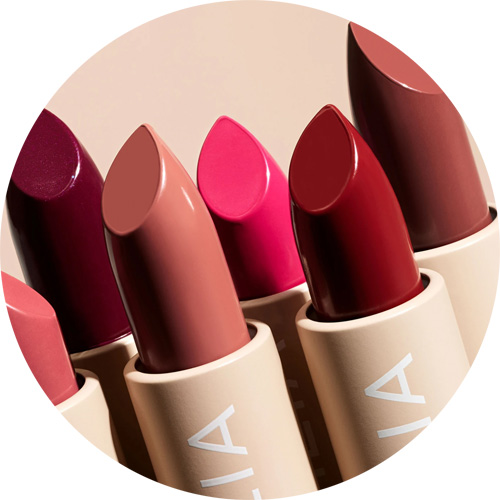 Sasha Plavsic founded ILIA after her mother - a pioneer of health and wellness - encouraged her to read the ingredients on the label of her favorite lip balm. She was shocked to discover that many of the ingredients weren't safe. Sasha set out to recreate her favorite lip balm with clean, skin-centric ingredients, and the idea for ILIA was born.
Today, ILIA challenges the conventions of clean makeup to create safe, potent formulas that protect and revive your skin. It all comes back to vivid washes of color, active levels of skincare ingredients, and a fuss-free approach to makeup that always puts your skin first.
With ILIA products, you will discover a prestige line of natural and clean makeup products and cosmetics that combine superior color performance and nourishing organics for skin that looks like skin and radiance that comes naturally.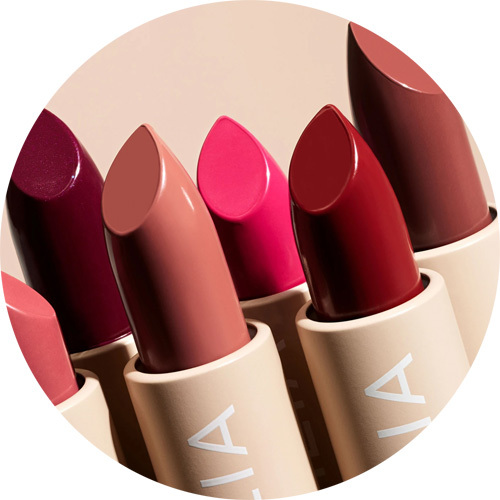 Know more about Ilia
LE BESTSELLER DE LA MARQUE ILIA BEAUTY

Why we love ILIA ?
Its ultra-pigmented clean makeup
Its multifunction products that have become cult
Its trendy and exclusive colors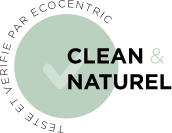 ILIA

ILIA is a prestige line of natural and organic make up products that combine superior color performance and nourishing properties.

Filled with up to 85% bioactive organic ingredients, all ILIA products are made from super nourishing elements that moisturize and rejuvenate the skin. The quality of the product is mirrored in its packaging that has set ILIA apart from the conventions of organic beauty.
History of the ILIA clean make-up brand
Like its founder Sasha Plavsic, ILIA was born in Vancouver, Canada in 2011 with a first collection of 6 organic tinted lip conditioners.

Her interest in pure and natural things comes from her family : her younger brother suffered from acute asthma and allergies as a young child and her mother, sought out natural and homeopathic remedies to help heal her son, which included co-founding an organic food co-op.

Primarily thanks to this healthy and organic diet, through trial and error, Zac was healed, and even went on to compete in the 2008 and 2012 Olympic Games. Sasha has always been very close to her brother Zac who is now Sasha's business partner.

Throughout her twenties, Sasha's interests fell into design, studying typography in London and New York and working in branding and marketing alongside brands such as Cartier.

This position gave her an awareness to the world of business and after a sabbatical of travel, Sasha came back to Vancouver where she re-branded a local aromatherapy company by day, and the beginnings of ILIA at night.

Contrary to many organic beauty brands on the market at that time, Sasha focused on the visual aesthetic of the packaging. Once the contemporary design of the line was in place, the quality of the product performance had to stand out as well.

Sasha wanted to create something new and unique in the beauty industry. From here, she sought out several chemists, beauty experts and organic suppliers to create an ethical product and maintain full visibility from start to finish.

ILIA's product line grew from six to forty pieces in less than two years with a focus on lip care but also mascara and mutli-use organic make up products. Thank to the quality of its products, ILIA has quickly placed itself as a niche color cosmetic line available in over 15 countries globally.

Sasha Plavsic, ILIA founder
The philosophy of the clean beauty brand ILIA
The ILIA organic lipstick collection

The ideology of simplicity and transparency behind the now LA based organic make up brand grew from the curiosity of understanding the ingredients on the back of a lipstick box a few years prior by its founder, Sasha Plavsic.

The skin is our largest organ, and can absorb just about anything we put to its surface. ILIA is formulated with this in mind, and dedicated to creating the purest products possible.

Each product is filled with up to 85% bioactive organic ingredients sourced from organic farmers around the world and processed in a certified lab holding certifications with Gluten-Free and Leaping Bunny.

The ethical-sustainable approach of ILIA is embodied in each piece : all ILIA products are housed in a sleek recycled aluminum case. Design but eco-friendly !

Somebody once said to Sasha, that because its organic its good for you, and it doesn't matter if it doesn't work as well as the mainstream stuff - She intends to change their mind.
Spotlight on ILIA organic make-up products
The combination of on trend pigments, design and super nourishing elements has set ILIA apart from the conventions of organic beauty.

ILIA brands today features a complete range of lip care from organic lip exfoliator to nourishing lip gloss.

Lipsticks, lipstick crayons and tinted lip conditioners are available in a trendy and classic range of colors.

Unique and right in the mixology trend that pushes multi-use products, ILIA was a pionneer with its Multi-Sticks that you can apply to cheeks, lips and eyes for a sheer blush of color.

ILIA brand recently launched a range of naturally preserved, phenoxyethanol free organic mascaras in 3 colors and black. Already a huge success !

ILIA organic and natural make-up products: the multi-sticks
Limitless Lash by ILIA, The best clean & natural mascara ?
Icon of clean beauty and reference in the world of natural make-up: ILIA Beauty's Limitless Lash Mascara

ILIA's Limitless Lash Mascara is a 99% natural mascara that lifts, curls, lengthens and adds just the right amount of volume to lashes.

Its clean formula goes beyond the expectations you might have of a natural mascara for lashes in need of length. ILIA Mascara has won numerous awards including:

- Best Clean Mascara, Allure's Readers' Choice Awards (2020)
- Best Natural Mascara, Glamour Magazine (2019)

ILIA's mascara is both light and nourishing: formulated with a blend of organic beeswax and carnauba wax, it revitalizes each lash without weighing it down, for a consistently flawless effect day after day.

Dermatologically tested, the ILIA organic mascara formula is perfectly tolerated by sensitive eyes, 99% natural and 100% safe. This formula also contains organic shea butter and fortifying arginine (keratin) to help stimulate and enhance lashes.

ILIA Mascara's patented double-sided brush allows for a perfectly natural application. The shorter side to curl and create volume, then the longer bristles to lift, lengthen and separate.

ILIA Limitless Lash Mascara can be effortlessly removed with water at the end of the day - no rubbing or tugging required. Finally, a natural mascara with perfect results that is easy to remove!
Super Skin Tint Serum: ILIA's magic foundation serum
With its Super Foundation Serum, the clean make-up brand ILIA has created the grail of green make-up!

ILIA's tinted serum is a hyaluronic acid moisturiser, a clean foundation and a natural, nanoparticle-free sunscreen all in one.

Its unique, silicone-free formula fuses hydration, makeup and protection in one step without inhibiting breathability and masking imperfections and irregularities while leaving skin looking like skin.

Super Serum Skin Tint contains an SPF 30 filter with non-nano zinc oxide to safely protect skin from UVA, UVB, UVC, blue light and infrared rays.

The ILIA foundation care formula is created with a blend of hyaluronic acid, plant-based squalane and niacinamide to even out skin tone, soften fine lines and imperfections, and leave a natural, glowy finish.

This clean foundation with SPF also creates a natural skin care barrier, sealing in moisture, plumping skin and increasing antioxidant effectiveness by 200%.

In addition, ILIA Foundation Serum is silicone-free, fragrance-free, chemical sunscreen-free, oil-free, non-comedogenic and safe for sensitive skin. It's makeup with SPF, made great.

The awards speak for themselves:

- Best Clean Foundation, Allure (2020)
- Best Clean Foundation, Glamour (2020)
- Best Makeup with Natural Sunscreen, ELLE (2020)
- Best Foundation, Byrdie Eco Beauty Awards (2020)
- Best Tinted Moisturiser, Shape (2020)
- Beauty Innovation Award, Refinery29 (2020)

SPF 40 or SPF 30 foundation ?

The question is often asked because the product is presented as SPF 40 in the US and SPF 30 in Europe. This is linked to a European regulatory constraint in which a sun filter of index 40 does not exist. ILIA has therefore indicated SPF 30 on its label but it is the same formula as the ILIA foundation serum labelled SPF 40 in other countries.

The ILIA serum glass bottle combines: a moisturizer, a natural sun protection and a clean foundation

ILIA Foundation Serum is available in a variety of shades to suit all skin tones.
What about the True Skin Serum Foundation from ILIA?
True Skin foundation by ILIA

Many of you are surprised that the new True Skin Serum Foundation by ILIA Beauty is not in our online shop.

We have indeed chosen not to list this make-up product which contains silicones in very high proportions (Caprylyl Methicone and Dimethicone).

Silicone is indeed part of our cosmetic blacklist as an unnatural ingredient that has negative consequences on the skin and the environment, and above all, that we can easily do without today!

We discussed this at length with the founder of the ILIA Beauty brand who chose to add silicones because this was the only ingredient that allowed her to achieve the particular make-up result she wanted with this foundation.

This in no way questions the quality of ILIA's make-up products, but for us, this serum foundation is not part of a truly natural beauty approach, which is our vision of tomorrow's beauty and our commitment to you: healthy and pure formulas, without unnecessary or toxic chemistry.

Today, it is possible to formulate a sublime foundation.

Buy ILIA Beauty products