Tata Harper
Only natural and non-toxic ingredients, ultra concentrated formulas with plants grown in its own farm, one-of-a-kind formulas delivering targeted results without a single drop of artificial chemicals... Tata Harper offers the world's most advanced natural skincare technology.
Tata Harper handcrafts 100% natural beauty products that promote health and wellness to deliver high-performance results to the skin thanks to multiactive formulas result in multifunctioning products – which means you only buy one powerful product, not 6.
At Tata Harper Skincare they believe that more matters : they pack the most ingredients at the highest levels of concentration to deliver maximum results. You will be amazed to see how many bioactive botanicals are working in each Tata Harper product to make your skin beautiful.
The quality and transformative results of Tata Harper skincare products will convince you that being beautiful without endangering your health is now possible.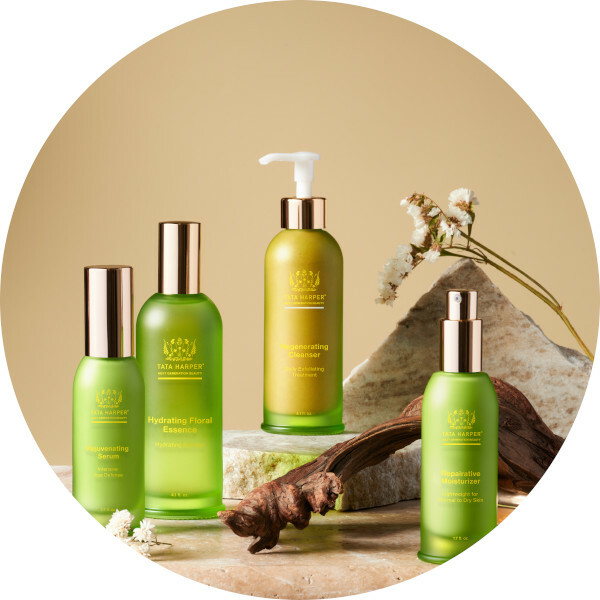 Know more about Tata Harper

Why we love TATA HARPER ?
Its expertise in natural and certified organic anti-aging skincare
The high concentration of active ingredients in each product (40 on average)
Its 100% natural formulas with proven and visible results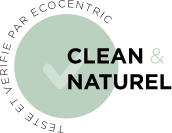 TATA HARPER

Tata Harper Skincare, certainly among the finest 100% natural skincare in the world, was founded by Tata Harper with the idea that women shouldn't have to sacrifice their health to look and feel beautiful, and that skincare should be able to deliver real, visible results without a single drop of synthetic chemicals.

Tata Harper Skincare is not just a brand ! They manufacture the all product range themselves, by hand, in their own Vermont farm and lab to be 100% sure of their purity, quality, and freshness.
History of the Tata Harper Skincare brand
Tata Harper grew up in Colombia, where beauty is a way of life. She used to try all the latest and most luxurious lotions and creams but it wasn't until her stepfather was diagnosed with cancer that she started to take a look at the ingredients used in the products in her cabinets.

She was shocked to discover they were full of potentially dangerous cancer causing chemicals ! Looking for a genuine 100% natural skincare line that didn't compromise on smell, texture or performance, she found nothing that delivered the hard antiaging science, technology and results that she was used to.

By creating her own skincare line, she wanted to give the skincare industry a fresh start with highly effective and luxurious antiaging beauty products that are completely free of synthetic and chemical ingredients.

With a team of top industry experts from around the world, her goal was to create organic 100% natural beauty products that deliver the results people want, without putting their health at risk. With Tata Harper skin care products, "natural" doesn't mean less effective.

Passionate about promoting a modern, health-conscious natural beauty lifestyle, Tata Harper wanted to create beauty and wellness products that don't compromise on quality, feel or results and that contribute to our health, wellbeing and peace of mind.

Tata Harper, "I want to create beauty products to meet the standards of the modern woman : effective, luxurious and safe"
The philosophy of the organic brand TATA HARPER
Tata Harper's restorative eye cream

Tata Harper skincare face cleansers range

Hand-crafting chic, natural and high-performance skincare that has the power to transform people's skin for the better while contributing to their health, not compromise it is what Tata Harper loves to do.

100% natural, 100% non toxic skincare

Synthetic ingredients and potentially toxic chemicals have no place in Tata Harper's beauty products. Not only are plant extracts better for our health, but since they are biocompatible with our skin, Tata Harper products can deliver stunning results thank to its naturally derived ingredients.

Handcrafted, home made beauty products

Tata Harper owns the all research, development and production process from start to finish. The all Tata Harper skincare range is handcrafted in small batches to be as fresh as possible when they get to your doorstep.

This is the best way to ensure quality at each step and to be able to deliver the best natural beauty products possible.

Unique and proprietary formulas

Tata Harper's products contain no generic fillers or premade bases : they are developed from scratch by the brand and a team of skin care experts : chemists, biologists, botanists and integrated medicine practitioners from all over the world.

Utra-concentrated high technology skincare

Every Tata Harper face or body product contains between 9 and 38 active ingredients, everyone with a specific purpose and chosen to deliver targeted results thanks to the most advanced natural skincare technology available on the globe.

This is far more than most cosmetic formulas that contain only one to three active ingredients. And many active ingredients means multiactive formulas : you only buy one multifunctioning powerful product, not 5.

All this to bring you the most effective natural beauty products currently available in the market.

Eco-friendly business

Tata Harper company buys renewable energy from the state of Vermount to run its facilities, recycled paper and recycleable glass bottles for the products.
Third-party certified products
Made in Vermont organic skincare
Tata Harper products are 100% manufactured and bottled in its facilities in the Champlain Valley of Vermont. No outsourcing outside of Vermont !
Cruelty-free
Tata Harper can't stand the inhumane treatment of animals in beauty product testing. All of its products are certified by the Leaping Bunny Association.
Organic certification
Tata Harper products are certified as Natural Cosmetics by Ecocert, a globally recognized French accreditation body that evaluates the sustainability of the entire production chain, ensuring that Tata Harper operations and products are green from beginning to end.
Tata Harper's herbs, flowers and fruits locally produced are also NOP certified which means they do not use any chemicals in the process of growing the ingredients used in the beauty products.
TATA HARPER : The price of quality and efficiency
Tata Harper doen't waste its money in expensive packaging or marketing, they invest all their passion, time and money in what matters most : whats inside the bottle.

The pricing philosophy of Tata Harper cosmetics reflects the fact they aim at researching and developing the highest quality and best natural beauty products possible and their way of working.

As transparency is important for us and Tata Harper brand, here is what you buy when you use a Tata Harper cream :

An efficiency-oriented R&D Process

The way a Tata Harper beauty product is created is radically different than that of other skincare brands. A new product is not defined by its future selling price and therefore the budget allocated to its ingredients.

Instead, the all research and development process aims at solving a skin problem, efficiently and naturally. All the high performance ingredients needed are combined to create the right formula that will bring the most dramatic results. Efficency is the only criteria taken into account at that stage.

Highest grade natural ingredients

Not all natural ingredients are created equal. Tata Harper selects the best quality ingredients available, obviously more expensive than the mass-produced ones. This is the best way to ensure your skin gets all the benefits the plant can offer.

MoreoverTata Harper formulas are 100% active : no useless fillers that just create volume in the bottle, a single drop of your Tata Harper face care is enough to bring your skin transformative results.

Concentrated formulas packed with natural actives

Tata Harper creams and serums contain unequalled concentrations of active ingredients – 9 to 38 per formula whereas the average beauty product only contains between 1 to 3.

This unique natural actives range create multifonctioning products. For example, to get the same number of moisturizing actives as in Tata Harper Repairative moisturizer you would need to buy 9 bottles of generic moisturizing cream !

Sustainable business

For the planet and also in terms of economic viability.

Given all of these additional costs and factors, Tata Harper products are priced to enable them to keep on bringing you the safe and effective products they feel you deserve.

In Tata Harper skincare, you will only the best of natural ingredients, plant extracts and green technology.
Supernaturals 2.0: natural luxury anti-ageing by auntie harper
After several years of formulation: radical ingredients for radical results !

Ultra-concentrated, with up to 98 active ingredients among the most ultramodern green technology, the formulas of the Supernaturals 2.0 organic anti-aging skincare collection from Tata Harper brand are THE benchmark in the world of natural anti-wrinkles treatments.

Gathered into 3 distinct duos, Tata Harper's super natural skincare products address all skin aging issues.

Dark spots & lack of radiance: the Concentrated Brightening duo by Tata Harper.
A skincare serum and essence containing 74 high-performance natural active ingredients for incredible effectiveness on dull skin, pigmentation problems, sun or age-related dark spots...

Loss of firmness & elasticity: the Boosted Contouring duo by Tata Harper
A face serum and an eye treatment containing 77 high-performance plant-derived active ingredients to act in depth on skin that loses firmness, sagging and less elastic mature skin.

Wrinkles: the Elixir Vitae duo by Tata Harper
A face serum and an eye contour serum containing 98 high-performance organic plant active ingredients to offer a radical 100% natural lifting effect that will plump and redensify the skin to visibly smooth wrinkles, even the deepest ones.
Superkind: Tata Harper's natural care for sensitive skin
Tata Harper has developed the Superkind organic skin care line, specifically designed to meet the needs of sensitive and atopic skin: Tata Harper's effectiveness now for delicate skin, people reluctant to use scented products or pregnant women!



With this new range of Superkind cosmetic products for sensitive skin, Tata Harper offers effective and gentle natural care products that moisturise, soothe and protect stressed and reactive skin to help restore a radiant complexion and intensely nourished, visibly softer skin.



Tata Harper Superkind beauty products are formulated with high-performance natural ingredients ideal for damaged and reactive skin, boosting cell regeneration and protecting the skin's natural defence mechanisms to strengthen the skin's microbiota and restore a healthy protective barrier. A perfect combination of powerful yet gentle organic ingredients that respect sensitive, damaged and stressed skin.



Tata Harper's Superkind sensitive skin care range creates a protective film to filter out stressors and effectively protect the skin from extreme conditions.



All Superkind natural cosmetics are dermatologist-tested, hypoallergenic, vegan, fragrance-free and free of essential oils, allowing for the care of even the most sensitive skin in search of moisture, softness and comfort. Superkind by Tata Harper is the natural solution to restore a soft, radiant and healthy look to the most delicate skin!

The Tata Harper Superkind organic and natural skin care range for sensitive skin
Credits: Tata Harper
Buy Tata Harper skincare products