Kure Bazaar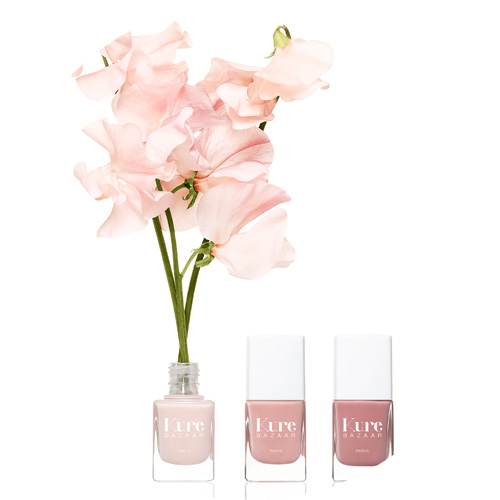 THE new generation nail polish is born : both natural and trendy, Kure Bazaar is the first nail lacquer to combine fashion and eco-consciousness.
After years of research, an unique innovation enables Kure Bazaar to use wood, corn, cotton... instead of dangerous chemicals such as toluene, formaldehyde or phtalates... a 10 free formula with no compromise on results : high-shine, fast-drying, long-wearing lacquers.
Suit your emerging style, from elegant to daring, with Kure Bazaar natural nail lacquers collection's expert hues.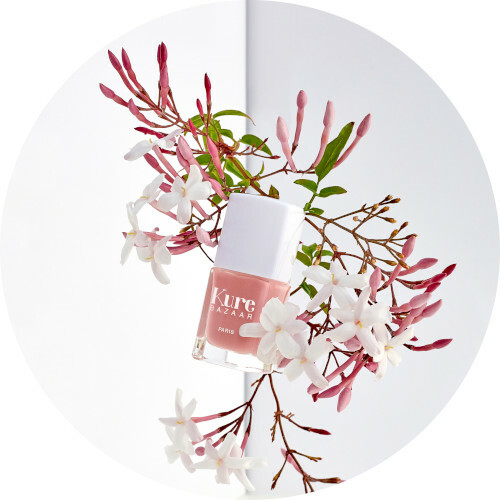 Know more about Kure Bazaar
KURE BAZAAR

Kure Bazaar is a French natural nail polish brand, created by Kartika, a fashion model, in 2012.

The nail polishes from the Kure Bazaar collection combine an eco-friendly composition made up of 85% of natural ingredients, free of the harmful substances usually found in nail lacquers, with a wide range of colors inspired by the world of fashion. The quality of the products is uncompromised, and the natural Kure Bazaar nail polishes dry quickly, deliver long-lasting hold as well as intense color and shine.
History of the Kure Bazaar brand
The young natural nail polish brand Kure Bazaar was created by the lovely Kartika. A retired professional model, the birth of her son encouraged her to rethink her consumption habits, and in particular her diet and the cosmetics she used.

As a young mother eager to preserve her child's health, she oriented her choices towards more natural and eco friendly beauty products.

During her switch over to organic products, she realized to her dismay that there were no green alternatives to the traditional chemical and toxic nail polishes. The idea of Kure Bazaar blossomed, the goal being to create an ecological nail polish brand that was respectful of nail and body health.

A true obstacle course then began for Kartika, as she refused to compromise on the quality of the nail varnishes. For Kure Bazaar nail lacquers, she demanded fast-drying, true colors, intense shine and long-lasting hold.

After the disappointing trial of a few natural nail polishes, water-based or not, found in organic beauty stores, her dream was to offer an eco nail polish that would rival the greatest luxury and professional "Nail bar" brands from the United States.

In collaboration with one of the world's best laboratories and nail polish manufacturers, several years of research and fine-tuning were necessary to create the "cleanest" formula possible that respected all the Kure Bazaar specifications.

Kartika, founder and ambassador of Kure Bazaar
The ecological commitment of Kure Bazaar nail polishes
The "10 Free" commitment of the Kure Bazaar nail polishes

The innovation of Kure Bazaar nail polishes is twofold:

- permanent banning of the 10 most harmful ingredients from all its formulas (formaldehyde, toluene, phthalates and synthetic camphor)

- substitution of a maximum of synthetic chemistry ingredients with natural-based ingredients

The result is a "high tech" nail polish with an 85% natural formula, whose "10 free" guarantee certifies the absence of the 10 toxic ingredients aforementioned.

Wood pulp, cotton, corn, potato and wheat are all part of the Kure Bazaar nail polish formula that respects nail fragility. This reduced-chemical formula respects the nails' natural renewal cycle in order to preserve their health and beauty. They appear more resistant and detoxified.

However, Kure Bazaar nail polishes are not odor-free. Only water-based nail lacquers have this privilege, but their hold through time is much weaker. Despite not being certified organic, Kure Bazaar products guarantee a more natural, less toxic manicure.
Spotlight on the colours of Kure Bazaar polishes

Kure Bazaar's 2012 "Jeans" nail polish collection
Inspired by French couture, street style and the latest trends, Kure Bazaar's natural nail polish colors are at the height of fashion. Created to accessorize the fashion item worn with pride around the world to stroll down the street, party at a smart evening event or strut down the runway, the Jeans collection is living proof of the brand's trend factor.
Slim, straight, baggy, flare, boyfriend or vintage... jeans come in all shapes, colors and ages. Similarly, Kure Bazaar nail lacquers are fashion accessories that appeal to all kinds of women: from the teenager who likes to experiment with trendy colors, to the young mother who wants to take care of her appearance guilt-free, to the elder woman who stopped wearing nail polish due to the damage it caused her nails but is rediscovering the joy of using it…Kure Bazaar natural nail polishes are for all women and all jeans!
Kure Bazaar's first nail polish collection subtly balances fashion-forward, flashy colors, with timeless reds and the discreet elegance of nude shades.

Flashy colors: blue with the "Jeans" collection, pastels alluding to those used in the Japanese stylist Yoshiki Hishinuma's organic fashion show in Paris, bright orange or girly pink.

Timeless colors: the pallet of red nail polishes that has quickly become an essential of the Kure Bazaar collection, beige or very discreet light pink and even clear polish! Known as "Clean", this nail lacquer is also male-friendly. It reinforces nails, removes streaks and gives an overall smoother, matte look. Just what was needed to discreetly revolutionize the male manicure and guarantee clean, perfect-looking hands.

The Kure Bazaar product range also includes the fundamental base and top coat varnishes to ensure a complete natural beauty ritual for nails.

It's going to be hard not to find your favorite nail polish color…

Kure Bazaar natural nail lacquers color range
Credits : Kure Bazaar