Your e-shop to buy Kure Bazaar products online
LES ORIGINES DE LA MARQUE KURE BAZAAR
Découvrez et adoptez les vernis à ongles Kure Bazaar, une marque créée par une ancienne mannequin qui à la naissance de son fils a ouvert les yeux sur ses habitudes en matière d'alimentation et de cosmétique. L'idée de Kure Bazaar germe alors avec la volonté de donner naissance à une marque de vernis plus écologiques et respectueux de la santé des ongles, sans pour autant faire de compromis sur le style et la qualité. Ainsi, les vernis à ongles naturels Kure Bazaar offrent des couleurs tendance, une brillance à toute épreuve, une tenue longue durée et un séchage rapide.
LES ENGAGEMENTS KURE BAZAAR
Plusieurs années de recherche et de mise au point seront nécessaires pour arriver à créer une formule la plus "clean" possible et répondant à toutes les exigences du cahier des charges de Kure Bazaar.
L'innovation des vernis Kure Bazaar aboutit sur la suppression définitive des 10 ingrédients les plus nocifs (toluène, formaldéhyde, phtalates, camphre synthétique...) et le remplacement d'un maximum d'éléments issus de la chimie de synthèse par des ingrédients d'origine naturelle (pulpe de bois, coton, maïs, pomme de terre et blé).
Le résultat : un vernis à ongles "high tech" à la formule jusqu'à 90% naturelle !
LE PRODUIT CULTE KURE BAZAAR
Parfaitement coordonné à votre rouge à lèvres, le vernis Lipstick est LE vernis rouge indispensable de Kure Bazaar, une couleur à la fois intense et indémodable !
Lisses, forts et sains... détoxifiez et respectez le cycle naturel de renouvellement de vos ongles avec ce vernis naturel garanti "10 free".
Kure Bazaar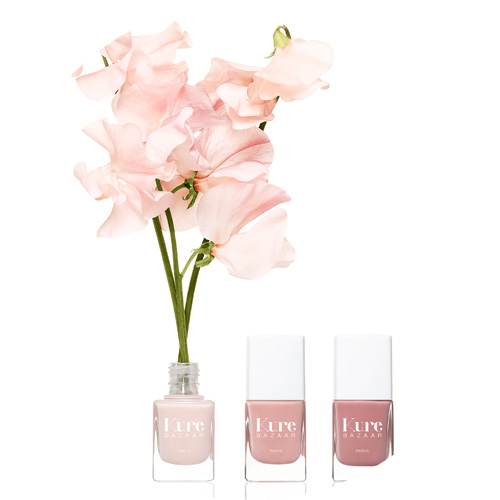 THE new generation nail polish is born : both natural and trendy, Kure Bazaar is the first nail lacquer to combine fashion and eco-consciousness.
After years of research, an unique innovation enables Kure Bazaar to use wood, corn, cotton... instead of dangerous chemicals such as toluene, formaldehyde or phtalates... a 10 free formula with no compromise on results : high-shine, fast-drying, long-wearing lacquers.
Suit your emerging style, from elegant to daring, with Kure Bazaar natural nail lacquers collection's expert hues.