Your e-shop to buy Rahua products online
LES ORIGINES DE LA MARQUE RAHUA
Découvrez et adoptez les soins capillaires Rahua créés par Fabian Lliguin. Le coiffeur New Yorkais s'est inspiré de la tradition tribale séculaire des femmes Quechua-Shuar, ses ancêtres, qui récoltent les noix d'ungurahua au coeur de la forêt Amazonienne. Les fruits de ce palmier tropical donnent une huile réparatrice intense appelée Rahua, supposée être le secret de leur chevelure épaisse, souple et brillante.
C'est ainsi que les soins cheveux et shampooing bio de la marque Rahua Amazon beauty, aux formules 100% naturelles, offrent aujourd'hui les bienfaits uniques de l'huile pure d'ungurahua partout dans le monde.
LES ENGAGEMENTS

RAHUA
Fabian Lliguin a décortiqué la structure moléculaire de l'huile d'ungurahua et découvert que ses propriétés extraordinaires proviennent de sa concentration unique en acides gras oméga 9 (82-85%, la plus élevée du règne végétal) et de la finesse de ses molécules.
Les soins Rahua à l'huile de noix d'ungurahua pénètrent la fibre capillaire en profondeur, plus que toute autre huile de soin, pour reconstruire et réparer les cheveux les plus abîmés et les pointes sèches.
La marque bio Rahua a établi un partenariat privilégié avec les tribus d'Amazonie pour obtenir son ingrédient miracle, une huile infiniment pure et transformée selon des méthodes traditionnelles uniques.
LE PRODUIT CULTE

RAHUA
Le Shampoing Réparateur Rahua, 100% naturel, est idéal pour les cheveux colorés. Le shampooing Rahua associe les propriétés exceptionnelles de l'ungurahua à des extraits anti-oxydants de feuilles de thé vert et de framboise qui atténuent les dommages causés par les rayons UV.
Sans silicone ni sodium, le shampooing naturel Rahua est infusé d'huile essentielle apaisante de palo santo, un arbre aux pouvoirs réputés magiques qui pousse en Equateur et qui lui donne ce parfum si original.
Rahua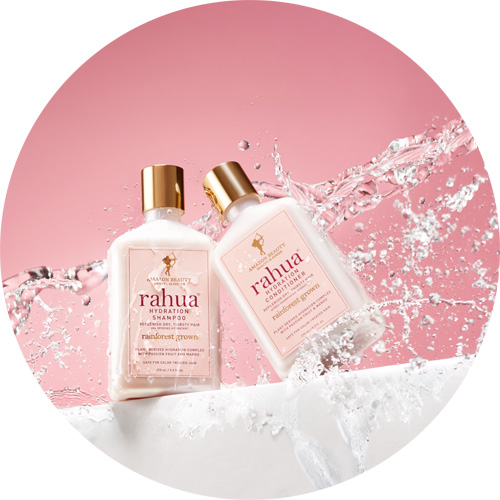 For centuries, women from the Quechua-Shuar tribes have traveled deep into the Amazon rainforest to prepare the ungurahua (also called "rahua") oil - believing it to be the secret to their thick, flowing, lustrous hair.
Rahua Amazon Beauty features this highly potent, restorative oil as the star ingredient in the Rahua natural and organic hair care collection delivering transformative, gorgeous results.
The Amazon's most potent beauty secret can now be yours with Rahua, a luxurious collection of 100% natural hair care products. Experience Rahua's magical properties for yourself.