Pai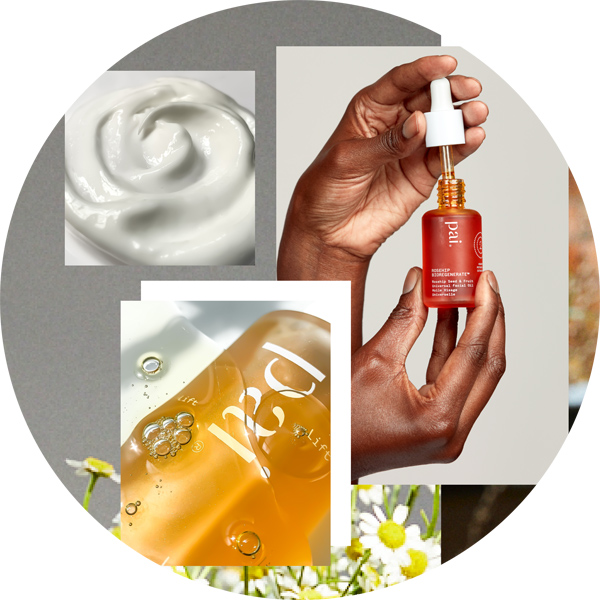 PAI Skincare is dedicated to creating high performance organic cosmetic products that are formulated without synthetic and natural irritants or drying alcohols but with sensitive and allergy-prone skin in mind.
Formulated with a host of premium-grade organic anti-inflammatories and skin-healing ingredients all PAI products are suitable for sensitive and even hyper-sensitive skin types.
That's the reason why Natalie Portman named PAI Skincare her 'hero brand' and only swear by its organic skincare range.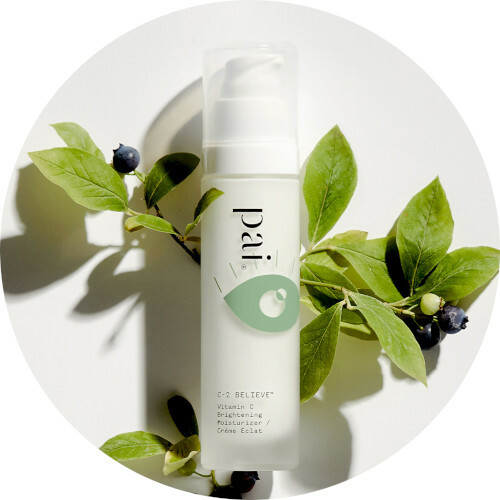 Know more about Pai
PAI SKINCARE

PAI Skincare was founded by Sarah Brown who was inspired to create a natural skincare range of beauty products free from harmful chemical ingredients for sensitive and reactive skins after years of suffering from a bad skin allergy.

PAI is expert on sensitive skin. That's why PAI products are hypoallergenic and made from natural ingredients with proven remedial and skin soothing properties, free from irritating chemicals and alcohol.
History of the PAI SKINCARE brand
Sarah Brown, PAI's founder, has a very sensitive skin. As she did not find solutions for her sensitive skin, she decided to create and launch her own organic cosmetic brand. Furthermore, she was shocked by the use of chemical ingredients in classic cosmetic products.

In 2004 she quit her job as Head of International PR for a multi-national wine company and retrained over three years in several cosmetic and natural skin care disciplines.

In 2007 Sarah Brown was inspired to create a natural skincare range and to launch the cleanest plant-based skin care on the market.

Today PAI manufactures its beauty products in West London and ship them to over forty countries. The team includes two formulation scientists who test the latest naturel ingredients to create cosmetic products with unique properties.

Widely famous, PAI Skincare was rated Number 1 organic skin careproduct by Grazia : "Trendy new range using natural plant-based ingredients known to heal and protect even the most sensitive skin".

Sarah Brown, founder of Pai
Philosophy of the organic and natural cosmetics brand Pai
PAI's natural cosmetics have environmentally friendly packaging.

PAI carefully selects natural ingredients to soothe and repair the skin and offers products free from alcohol and irritating chemical substances. Guidelines of the brand are transparency and authenticity of cosmetic products.

For PAI, if we have highly reactive or sensitive skin that is essential to know exactly what is in our skin care products. So PAI was the first cosmetic brand in England to list all ingredients to inform the consumer.

Unlike many brands, PAI has her own in-house R&D lab and manufacturing facility to rigorously test each product. So that each PAI natural beauty product is efficient without compromising quality and purity.

According to PAI, the impact on the natural environment should be minimal. That's why all ingredients and packaging materials are sourced from companies that respect the environnement.

Wherever possible, packaging is produced from recycled materials and boxes and bottles can be recycled after use.

The brand only uses naturally derived ingredients which are approved for use by the Soil Association. PAI cosmetic products are free from chemical ingredients which can irritate the skin such as parabens, silicones, mineral oils or synthetic fragrances.
PAI ingredients are never grown using pesticides or extracted using chemical solvents which leave residues in the end product. Many skin care manufacturers make false claims to be natural, whereas they use irritating substances.
There are a number of natural and chemical ingredients that PAI does not use in its products such as:
Alcohol which can dry out the skin and cause irritations
Synthetic fragrances which contain phthalates and can cause allergies
Beeswax which is comedogenic and blocks pores
Formaldehyde which is irritating synthetic preservative
Sodium lauryl sulfate which is very irritating and can cause allergies
Parabens, phenoxyethanol which is banned for use in certified organic skin care products by Ecocert and COSMOS
Petrochemicals such as propylene glycol which can cause eczema
PAI does not carry out any animal testing and source ingredients from companies that test on animals.
PAI is one of very few skin care companies to be Soil Association certified which guarantees that a product has been independently checked and produced to the highest standards.
PAI Skincare is also SEE (Social, Ethical and Environmental) accredited. This kitemark recognises a company's Social, Ethical and Environmental credentials.
PAI Skincare & Natalie Portman
Natalie Portman LOVES Pai !

If you had to name one 'hero brand', what would it be?

Well for Oscar-winning actress Natalie Portman – it's Pai Skincare.

She always expresses her love for Pai in interviews from top publications like ELLE, Harper's Bazaar, Tattler...

"I love Pai organic skincare – particularly the Chamomile and Rosehip Cream."

"I love the British organic brand Pai – this cream is my favourite product. It's a really good moisturiser."

Natalie joins a growing list of celebrity fans who rely on Pai for that picture-perfect skin. Why don't you ?

Moisturise your sensitive skin with PAI cream
Spotlight on natural beauty products for sensitive skin Pai
PAI range skincare has natural and unique cosmetic products adapted to each skin type and specific needs.

PAI's cleanser for sensitive skin

• Living Water, Rice plant and Rosemary toning mist for combination-sensitive skin to gently remove makeup and purify the skin thanks to tonifying and hydrating ingredients.

• Century Flower, Lotus and Orange Blossom toning mist for dry-sensitive skin to gently tone and refresh the skin thanks to antioxidant and moisturizing ingredients.

• Middlemist Seven, Camellia and Rose sensitive skin gentle cleanser: soothing and nourishing ingredients which remove impurities and gently remove makeup.

• Light Work, Rosehip cleansing oil: gentle yet ultra efficient, formulated for sensitive skin and eyes but loved across all skin types. Shifts SPF, makeup, daily grime at speed leaving you with clean, soft skin.

• Virtuous Circle, Kukui and Jojoba gentle face scrub: micro-spheres which gentle roll over the skin to give a radiant complexion.

PAI's facial oils

• Rosehip BioRegenerate, only formulated with Rosehip, this facial oil regenerates, soothes and deeply moistures the skin.

• Viper's Gloss, anti-aging facial oil, a blend of 10 wonder oils to return suppleness to mature or dry skin

PAI's eye contour creams

• Feather Canyon, Echium and Argan eye cream: decongest, moisture and lift the eye area to keep skin soft.

• System D, Hyaluronic acid eye serum, a cooling eye serum that provides instant relief.

PAI's face moisturisers

• Salvation Jane, Macadamia and Rose mature-sensitive skin cream: an anti-ageing organic cream with antioxidant and nourishing ingredients to offer a radiant complexion.

• Love & Haight, Avocado and Jojoba dry-sensitive skin cream: rich in natural moisturizing and antioxidant ingredients to give a fresh complexion.

• The Pioneer, Geranium and Thistle sensitive-combination skin cream which leaves a matt velvet finish and soothes the skin.

• The Anthemis, Chamomile & Rosehip sensitive face cream, a calming and hydrating formula minimises the risk of irritation while reducing the appearance of redness.

Each PAI Skincare natural cosmetics are formulated according to sensitive and reactive skin.

PAI Light Work oil enriched with wild rose oil to remove make-up while moisturising and without aggression.

Cleanse, moisturise, purify, enhance or protect sensitive skin: PAI offers a complete range of moisturising creams for all skin types.
Because caring for sensitive skin means above all protecting it
Bristish Summertime: the first sun cream for sensitive skin from PAI

A moisturising cream with SPF with a perfectly tolerated hypoallergenic formula, a natural sunscreen without nano particles and a non-greasy texture.

The clean cosmetics brand PAI is an expert in the care of sensitive skin, but when it comes to delicate skin, the first step is to protect it. And what worse enemy can a sensitive skin have than the sun on a daily basis?



PAI has therefore worked for years to create THE clean, natural and certified organic sun cream for sensitive skin that will give all reactive skin a taste for the sun.



But if sensitive skin needs protection from the sun, unfortunately sensitive skin and SPF cream don't always get along very well. In fact, 50% of PAI Skincare's customers said they had already reacted to a sunscreen (survey of 471 women in the UK).


For PAI, going without is not an option either: burning, premature ageing, increased risk of skin cancer... Sensitive skin therefore needs daily sun protection that it can trust and, above all, that it can tolerate perfectly.

British Summer Time sun cream from PAI Skincare offers broad-spectrum UV protection thanks to natural zinc oxide. While cotton extract helps the skin to recover from damage caused by the sun's UVB, UVA, infrared and visible rays.


Focus on the key ingredients in PAI Organic Sunscreen for Sensitive Skin

- Zinc: acting as a physical shield, this all-natural mineral filter protects against UVA and UVB rays. The PAI organic cosmetics brand of course uses non-nano zinc oxide, which means that the particles are not small enough to be absorbed by the skin or interfere with ocean life.


- Cotton: rich in vitamin E, antioxidants and omega-3 fatty acids, Gossypium Herbaceum cotton extract helps to protect the skin from photoaging and damage caused by the sun's harmful rays.



PAI Skincare therefore offers a natural and clean solution, not greasy or heavy on the skin, to protect sensitive skin from the sun and also the planet with its organic sunscreen that does not harm corals and marine life.
The pai brand & wild rose oil
Wild rose oil is the flagship ingredient of PAI Skincare and has helped build the legitimacy of the natural cosmetics brand for sensitive skin as it is almost the only ingredient in its bestselling product: Rosehip Bioregenerate oil.



This small bottle of orange-red PAI oil is a Swiss Army knife and certainly a lifesaver for many people with sensitive skin.



Suitable for all skin types, this highly regenerating multi-tasking face oil tackles blemishes, dryness, dullness, pigmentation, redness and fine lines. And almost every day PAI customers find new benefits.

Sometimes nature offers everything on a platter, but it's not that simple: what is extremely critical is how you extract the plant extracts. For its wild rose oil, the PAI brand uses supercritical CO2 extraction on the seeds and fruits of the rose hip. This is what gives PAI's face oil its beautiful, intense colour and its unique benefits.


Persistent blemishes, dry and dull skin that needs a boost, blemishes and fine lines that set in... nothing can resist PAI Rosehip Oil.

Rosehip Bioregenerate wild rose oil from PAI
Credits : PAI Skincare