Less is More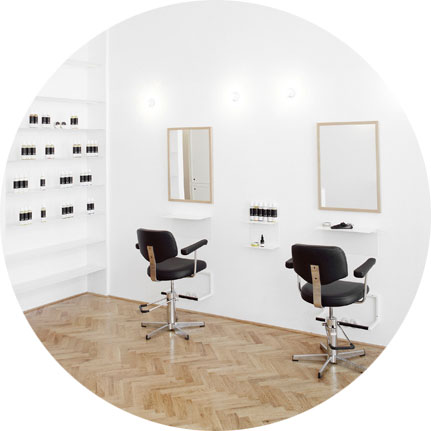 When stylist experience, biomimetics and aromatherapy combine : Less is More, an innovative organic salon hair care and shampoo line emerges, combining functionality, health and environmentalism with indulgent pleasure.
Less is more natural hair care products' innovative formulas exclusively contain natural ingredients, chosen for their effectivity, purity and optimal tolerance by both skin and the environment.
Less is More now also takes care of your skin with a complete range of potent facial treatments with botanical extracts of Alpine plants and natural cosmeceutical active ingredients.
Less is More is reduction to the essential, simply luxury...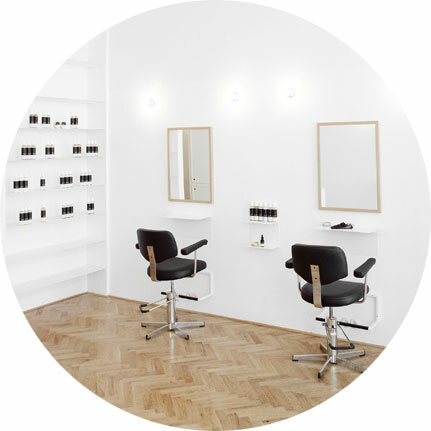 Know more about Less is More
LESS IS MORE

Less is More is a shampoo and hair care product brand created in 2005 in Vienna at the crossroads between aromatherapy, biomimetics and design.

Less is More professional hair care products combine active natural ingredients with organic essential oils to enhance efficiency and well-being.
History of the Less is More brand
After having successfully worked as an art director and trainer in a famous international chain of hairdressers, Hannes Trummer opened a small yet ambitious hair salon in the center of Vienna in 2005.

His in-depth knowledge of the Feldenkrais method (an educational system that promotes spatial movement) and his attentiveness to customers helped him realize that it is important to lessen things down to the essential.

The inauguration of his salon crystallized his concept of "Less is more". The salon itself is an expression of his minimalist vision, where customers and their reflections are the only elements that contrast with the pure white.

Space and time are molded to fit customers' desires in a harmonious and serene atmosphere, where they benefit from the master hairstylist's technical expertise and aesthetic sensitivity.

The meeting of Hannes Trummer and Doris Brandhuber, a chemist and yoga practitioner, marked a new turn in the evolution of the Less is More concept.

As part of her academic training and research activity, the scientist had studied extensively an area of particular interest to her, biomimetics- an interdisciplinary field that examines the structure and processes of nature in order to emulate them in the design of new products.

As a chemist, she is acutely aware of the composition of modern cosmetics. After having examined the health and environmental impact of traditional hairstyling products, the couple decided to no longer expose consumers to these risks.

The recently promoted chemist and environmental consultant thus turned down a Yale scholarship to devote herself completely to the development of a new line of organic hair care products. The luxury organic hair care and shampoo brand Less is More was born.

Hannes Trummer, at Colette in Paris

Doris Brandhuber & Hannes Trummer, founders of the Less is More brand
The philosophy of the Less is More brand: the luxury of the essential
Organic hair salon Less is More in Vienna

Functionality and aesthetics, respect for the environment and sensual pleasure, health and beauty…

The first production workshop was set up in the stylish Less is More hair salon. Enriched by direct contact with consumers, the luxury hair care line Less is More started taking shape, combining functionality and simplicity, beauty and health, ethical commitment and aesthetic requirements.

The innovative formulas of Less is More organic hair care products exclusively contain natural ingredients carefully selected for their efficiency, purity, environmental sustainability, and gentleness on skin.

Obtained from renewable natural resources and certified organic whenever possible, they are entirely and quickly biodegradable.

The specific use of 100% pure essential oils optimizes the potency of Less is More's professional hair care products and provides aromatherapy benefits by combining well-being, pleasure and hair care efficiency.

Optimum performance, consumer well-being and respect of the environment are part of the requirements and results delivered by Less is More shampoo and hair care products.
The ecological commitment of the Less is More brand
The highest standards in ingredient selection

Bioactive, virgin plant oils and extracts, pure essential oils, precious flower waters, forest honey, bees wax, cane sugar, lecithin, glycerin…all are certified 100% organic.

Organic farming guarantees very high standards for production, treatment and control. Raw materials from organic farming are produced without any synthetic chemical pesticides, herbicides and mineral fertilizers. They are thus completely free of any toxic residue.

Protection from UV rays and harmful free radicals: Due to their high content in antioxidants from plant oils and butters, all Less is More hair care products are effective in protecting hair from the harmful damage from the sun, UV rays and free radicals.

For Less is More's natural shampoo and rinsable products, the mild preservation system is based on nature-like ingredients that occur in nature as essential oils' components.

Less is More's leave-in products use high quality, undenatured spirit of wine which doesn't dry hair or skin, but quickly evaporates without leaving any (allergenic) residue.

Less is More hair care products are thus free of conservatives, synthetic fragrances, dyes and polymers, silicones and paraffins, petrochemicals, PEG and PPG, parabens, sulfates, glycols, ethanolamines, phtalates etc…Less is More is also against animal testing.

Entry to the Less is More hair salon in Vienna
Spotlight on Less is More organic shampoos and hair care products
The Lindengloss line provides natural treatment for color-treated and damaged hair.

Less is More's 5 natural active complexes adapted to 5 hair types...

VOLUME • For fine, normal and oily hair

Mint & Aloe vera

PURE BALANCE • For all hair types

Evening primrose & Cajeput

MALLOWSMOOTH • For dry, thick and brittle hair

Rose hip & Mallow

LINDENGLOSS • For color-treated and damaged hair

Wheat germ & Cistus

HERBAL SCALP RELIEVE • For irritated scalp

Rosemary & Tea Tree

These customized organic plant-based complexes provide the hair with suppleness and shine and help maintain the scalp's health.

The active ingredient content in Less is More natural hair care products is vastly superior to that of conventional ones. It guarantees the efficiency of Less is More organic and professional hair care products.

During the switch from conventional hair products to Less is More organic haircare, some detox effects may occur: residual silicones and paraffin oil sometimes begin to actually peel off – this cleansing process will finish after a few hair washes and the hair will then begin to grow stronger and healthier than before.

Each specific active complex is derived in two color-coded products: an organic shampoo and conditioner.

Shampoo – As a cleansing base for its sulfate and silicone-free shampoos, Less is More exclusively uses extra gentle cleansing substances that are derived from plant raw materials such as coconut oil, sugar and amino acids. Styling product residue and pollution are washed away efficiently without over-stripping the hair and scalp.

Conditioner – The organic silicone-free conditioners by Less is More intensely nourish the hair thanks to its natural oils and plant extracts, infusing it with health and suppleness. They can be used as after-shampoos or deep conditioning treatments. The hair fiber is smoothed and reinforced, while the roots are flooded with nutritional substances. As a result, hair is protected from exterior aggressions.
Less is More luxury organic hair care
Special care
The Less is More line includes leave-in products and natural hair treatments adapted to the individual needs of the hair and scalp.
The Less is More leave-in products are highly concentrated and custom-designed for the scalp and individual hair type. By staying in the hair, they are active until the next hair wash and offer effective protection against heat and sun with the strength of herbal extracts, wheat proteins, vegetable chitin, virgin plant oils, lecithin and naturally pure essential oils. For conservation purposes, the leave-in products contain virgin organic spirits of wine. When used as a conservative, alcohol does not dry out the hair and scalp, evaporates immediately and does not leave behind any allergenic residue.
Styling & finish
The Less is More natural styling products contain resins, waxes and film formers including certified organic fair trade Mascobado cane sugar, Austrian forest honey and beeswax, plant oils and butters as well as shellac, wheat protein and vegetable chitin. These superior-quality natural substances not only provide hair with volume and shine, but also deliver precious care and protection of the hair and scalp.
These qualities make the Less is More organic gels, waxes, styling creams and hairsprays fundamental must-have products on runways and photo shoots.
The Less is More organic styling & finish products are free of synthetic polymers such as acrylamides, acrylates, methacrylates, vinyl, PVP/VA, PVM/MA, adipates; propellants, PEG/PPG, etc.
Less is More for the skin too: the new LESS IS MORE SKINCARE facial range
The Less is More Organic Skincare range of natural and certified organic facial cosmetics

The Less is More brand extends its know-how in natural cosmetics by creating a complete range of expert facial care products that combine nature and scientific innovation, for a radiant complexion and healthy, soft and supple skin. High-performance organic skincare products for all skin types, for all ages, effective in winter and summer.



Dr. Doris Brandhuber, co-founder and chemist of Less is More, guided by her passion for beauty and the refinement of nature, focuses on biomimetics.



By studying nature, she discovers sophisticated mechanisms and active natural ingredients, enabling her to develop an effective formulation for each facial care product that combines botanical extracts from Alpine plants with natural, high-performance cosmeceutical ingredients.



Inspired by Austrian nature and its natural resources, including plants, mountains and mineral-rich lakes, the Less is More facial care products have a purifying and energising effect on the skin, while leaving an intense feeling of freshness and well-being.



The clean and active formulas of Less is More organic cosmetics not only moisturise and protect the skin, but also strengthen the skin's microbiota and activate the skin's natural functions, such as the production of hyaluronic acid and collagen, for healthy, vital skin.



The organic Facecare Less is More range is a real skincare ritual designed to simplify but also enhance daily life: these are high-end products with velvety, light textures and soft, floral scents with a balancing and soothing power.



As with all Less is More hair care products, the brand's facial beauty products are sustainable organic cosmetics, certified by the organic COSMOS label, also vegan and handmade in the Less is More brand's Viennese factory.
Credits : LESS IS MORE
Buy Less is More hair care products