Your e-shop to buy John Masters Organics products online
LES ORIGINES DE LA MARQUE JOHN MASTERS ORGANICS
Découvrez et adoptez les soins capillaires et cosmétiques de la marque John Masters Organics. Le coiffeur New-Yorkais John Masters fut un pionnier de la beauté bio, conscient de la dangerosité des produits capillaires conventionnels, il créa ses premiers produits de soins pour cheveux naturels pour son salon de coiffure il y a plus de 20 ans, en 1991.
Marque des stars et des femmes soucieuses de leur santé et de leur beauté dans le monde entier, les capillaires JMO sont des références incontournables du monde de la beauté du cheveu.
LES ENGAGEMENTS

JOHN MASTERS ORGANICS
Après des années de recherche sur les huiles essentielles, les extraits végétaux et autres ingrédients naturels, la gamme John Masters Organics compte aujourd'hui plus de 50 produits de soins pour cheveux et cosmétique bio vendus dans le monde entier. Shampoing bio, après-shampoing, masque, mais aussi des produits coiffants, des sérums et des crèmes aux compositions toujours irréprochables. Les soins John Masters Organics allient efficacité et naturel en offrant des résultats exceptionnels surpassant l'industrie cosmétique conventionnelle, et ce, sans aucun élément polluant ni toxine.
LE PRODUIT CULTE

JOHN MASTERS ORGANICS
Le soin démêlant Agrumes & Néroli JMO est un après-shampooing hydratant intense au parfum euphorisant. Il contient 18 principes actif naturels bio, des extraits de thé blanc, de camomille et de calendula, de la vitamine B et de l'acide hyaluronique naturels mais aussi des protéines de soja et de blé pour apporter brillance et éclat sans alourdir le cheveu. Polyvalent, le démêlant John Masters Organics peut s'employer comme soin capillaire hydratant sans rincage.
John Masters Organics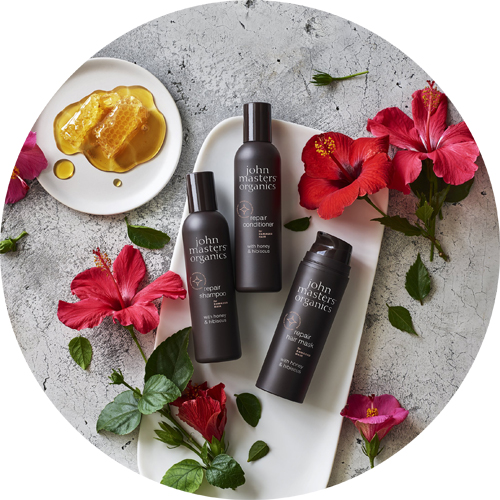 Super Natural Beauty for your hair and your skin.
John Masters Organics is a premium organic beauty line that treats the earth with respect, always natural, always earth-friendly, and always with your beauty and health in mind with a mix of natural genius and simple human common sense.
We only get one body, and we only get one planet. Why not treat them both with the utmost care?
John Masters Organics grew out of John Masters' desire to create a luxury beauty line that treats the earth with respect. Feel good about looking good !