John Masters Organics
Super Natural Beauty for your hair and your skin.
John Masters Organics is a premium organic beauty line that treats the earth with respect, always natural, always earth-friendly, and always with your beauty and health in mind with a mix of natural genius and simple human common sense.
We only get one body, and we only get one planet. Why not treat them both with the utmost care?
John Masters Organics grew out of John Masters' desire to create a luxury beauty line that treats the earth with respect. Feel good about looking good !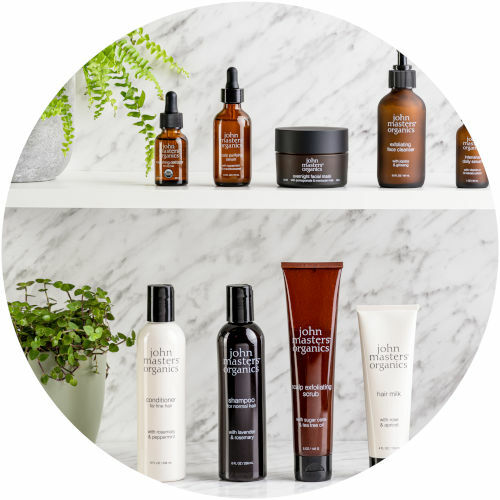 Know more about John Masters Organics
JOHN MASTERS ORGANICS

Conscious of the health risk of conventional hair care products, John Masters proved to be a true pioneer in the organic beauty field by creating the first line of natural hair care products over 20 years ago, in New York in 1991.

Appealing to celebrities and health-conscious women around the world, the emblematic brand that is John Masters Organics has become a global leader in the world of organic hair care and natural beauty products.
History of the John Masters Organics brand
A talented hair artist and colorist, John Masters quickly made a name for himself within the closed circle of American celebrities' hairdressers during the 1970s.

Balancing common sense and sheer genius, he recognized the need for purely natural hair care products that would deliver exceptional results, surpassing those of the traditional cosmetics market.

With this in mind, he dreamt of inaugurating the world's first ecological and organic hair salon, free of toxins and pollutants. He began by welcoming customers in his New York apartment where he only used ammonium-free products and European clay-based botanical hair dyes. Over the years, he continuously built his expertise in natural hair care.

A budding alchemist driven by his groundbreaking vision, John Masters took an interest in blending essential oils and plant ingredients in his kitchen. The year 1991 marked the creation of his first product: the dry hair nourishment and defrizzer, an all-natural hair care product to repair and restore dry, brittle hair. The first luxury brand for organic shampoo and hair care products was born.

After years of research on essential oils, plant and herbal extracts and other natural ingredients, the John Masters Organics line currently includes over 50 eco friendly premium hair care and beauty products and is sold around the world.

The famous efficiency of its cosmetic products has propelled John Masters Organics to the frontline of the luxury organic market, awarding the brand worldwide success.

John Masters, eponymous brand founder
John Masters Organics brand philosophy
John Masters Organics natural hair salon, Soho, New York

In 1994, John Masters made his dream a reality and opened the first organic hair salon in Soho featuring his natural, professional hair care products. Thanks to his faithful clientele, won over by the efficiency of his products, the salon's success was instantaneous.

It was a logical follow-up for John Masters Organics to present its organic cosmetic skincare line in 2001. It received the prestigious Soil Association Award for Best Organic Beauty Product Line in 2004.

The award strengthened John Masters' conviction that taking simultaneous care of oneself and the planet is not incompatible:

" We only have one body and one planet, so why not take great care of them both?"

This frame of thought lead to the creation of the super-natural beauty brand John Masters Organics. John Masters Organics supports a simple and clean approach not just to how the products are made, but also in how they are delivered. You will never see artificial colors, or fragrances in John Masters' ingredients.

In addition, all of John Masters brand packaging is recyclable and uses the minimal amount of ink possible and is printed on 100% recycled and unbleached paper. You can rest easy knowing that what you put into the earth is as clean as Mother Nature intended it to be. Always natural, always earth-friendly, and always with your beauty and health in mind.

Dividing his time between the salon and his research lab, John devotes himself fully to the development of new products and the constant improvement of existing John Masters Organics natural products by taking into account the latest technological and scientific breakthroughs.
John Masters Organics' commitment to the environment
The natural ingredients used in the hair care and skin care products by John Masters Organics are the key element to their success: only the best natural active ingredients can result in the best products.

To ensure the irreproachable quality of its raw materials, the North American organic beauty brand has set up partnerships with local producers. They are selected for an established, historical commitment to preserving the environment and fulfill strict requirements regarding culture, harvesting and storage.

These family-run farms contribute to the preservation of traditional farming methods that are more environmental-friendly. The wild botanical ingredients are collected in their natural environment in accordance with responsible, controlled regulations.

Why use toxic chemical components in shampoos, conditioners and styling products when they were created in the first place to emulate much more efficient natural molecules on a mass-produced scale?

At the moment the USDA organic seal is only approved for products that meet their acceptable edible food standards. This specificity in North-American organic cosmetics is currently evolving, specifically with the creation of a more rigorous certification label. Anticipating the creation of this label, John Masters Organics products follow strict guidelines:

1. Contain at least 70% of organic certified ingredients

2. No Sodium Lauryl Sulfate (SLS), parabens, DEAs, MEAs and TEAs

3. No GMOs (Genetically Modified Organism)

4. No animal testing

5. No artificial colors, fragrances or fillers

6. All plant extracts and essential oils must be certified organic whenever possible

7. All essential oils used must be steam-distilled (as opposed to extracted with propylene glycol, which kills the beneficial effect of the oils)

8. All plant oils must be cold pressed (as opposed to heat distilled, which kills the therapeutic properties of the oils)

9. All ingredients must be proven to be beneficial

10. All ingredients must be harvested in an environmentally-friendly manner

11. All ingredients must be bio-degradable as possible

These strict guidelines ensure the exceptional quality of John Masters Organics products and guarantee the healthy beauty of your hair and skin.
Hollywood stars are fans of John Masters Organics
Nelly Furtado, Jodi Foster, Harrisson Ford, Sarah Jessica Parker...

From TV studios to movie sets, there has been an overwhelming demand in Hollywood for John Masters Organics products. Celebrities in the U.S. are aware of the importance of using natural hair and skin care but are not ready to compromise on efficiency and results. Consequentially, agents, producers, make-up and hair artists, and even celebrities themselves swear by John Masters Organics premium natural beauty products.

Jake Gyllenhaal is, for example, a fan of the evening primrose shampoo for dry hair and the lavender and avocado intensive conditioner, which he recently requested while shooting Source Code.

As awareness grows regarding environmental and health-friendly products, it is not surprising that Hollywood celebrities and their agents have turned to John Masters Organics, the leading brand of professional, organic skin and hair care products.
Photo credit : John Masters Organics
Buy John Masters Organics beauty products