Seed to Skin
Seed to Skin goes beyond the boundaries of natural beauty, combining the powerful healing properties of pure plant extracts with the results-driven efficiency of potent natural actives of advanced green science and cutting-edge biotechnology.
Powered by innovative molecular active ingredient delivery system, Seed to Skin's high-performance skincare is designed to penetrate even the deepest layers of the epidermis. Called Green Molecular Science, this natural cosmetic innovation ensures the best results: rejuvenated, supple and intensely hydrated skin which is visibly lit from within, making you feel beautiful from the inside out.
Made on site in a state-of-the-art laboratory, Seed to Skin beauty products are the result of years of research and development by a team of skincare experts and scientists. Their powerful formulas combine organically-farmed ingredients grown on the Seed to Skin estate in Tuscany and ethically sourced botanicals from all over the world to deliver the unique energetics of wild and adaptogenic plants.
Each Seed to Skin skincare product is a botanical cocktail rich in polyphenols, enzymes, antioxidants, vitamins and minerals to activate skin repair and maximize cell regeneration.
Next to the laboratory where all the products are designed and handcrafted, the Seed to Skin spa in Borgo Santo Pietro is a sanctuary of well-being for the body, mind and spirit. Nestled in the middle of the aromatic herb gardens and overlooking the estate's century-old mulberry tree, it is a true oasis of tranquility where the brand perfects the technicality of its formulas and their sensoriality to make each product a holistic and expert treatment.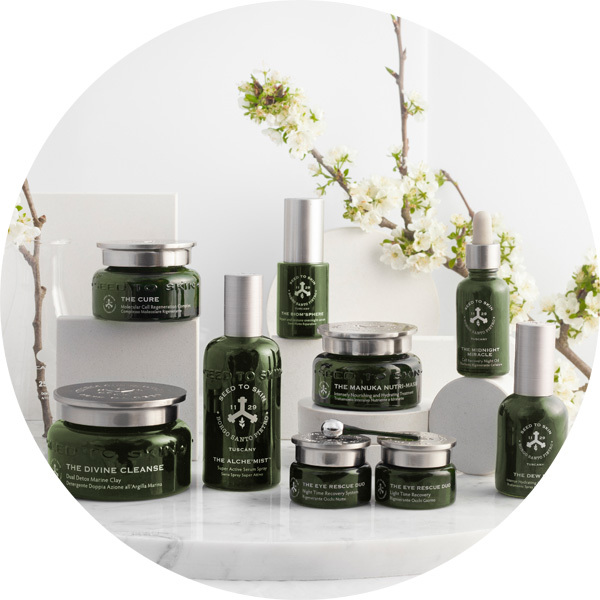 Know more about Seed to Skin
La marque Seed to skin

La marque Seed to Skin propose une gamme de soins naturels premium aux ingrédients purs, aux formules prouvées scientifiquement et aux produits franchement efficaces.

N'utilisant que des ingrédients naturels, biologiques et sauvages de la plus haute qualité, la marque Seed to Skin sélectionne des extraits de plantes cultivés localement de façon durable dans la ferme toscane biologique de la marque ou par de micro-producteurs avec le respect de la planète au coeur.

Toutes les formules sont recherchées et développées par l'équipe de scientifiques et d'experts en soins de la peau, fabriquées exclusivement dans le laboratoire Seed to Skin en Toscane qui jouxte le spa et la ferme où sont cultivées les plantes entrant dans la composition des produits, et testées cliniquement pour une efficacité prouvée.

Une fabrication artisanale et minutieuse, en petite quantité, qui permet une traçabilité et une transparence totales, depuis les matières premières, à la création des formules performantes jusqu'aux emballages éco-responsables des produits de beauté Seed to Skin.
La science moléculaire verte des cosmétiques naturels Seed to Skin
Au-delà des ingrédients naturels haute performance, l'efficacité des soins naturels de la marque Seed to Skin vient de leur capacité à véhiculer en profondeur dans la peau ces actifs. Pour une action soin pas uniquement en surface de la peau.

Innovation de la marque, leur technologie d'administration moléculaire de dernière génération permet à Seed to Skin d'aller au-delà de la simple formulation cosmétique naturelle, et de combiner la puissance des propriétés curatives de la Nature avec l'efficacité axée sur les résultats de la science avancée.

Alors, quelle est la différence ? Eh bien, considérez les faits. Notre peau est composée de plusieurs couches de différents types de cellules. Pour vraiment activer la réparation et la régénération cellulaire, il faut pénétrer chaque couche de la peau.

Seed to Skin y parvient en extrayant les ingrédients naturels les plus puissants et en utilisant un système de distribution moléculaire avancé dimensionné pour pénétrer même les couches les plus profondes de la peau.

Baptisé Green Molecular Science, le coeur des formules des produits Seed to Skin permet d'obtenir les meilleurs résultats : une peau rajeunie, souple et durablement hydratée qui est visiblement plus lumineuse et revitalisée de l'intérieur, vous faisant vous sentir belle à l'extérieur.

Tous les produits de la marque Seed to Skin sont fabriqués à la main
Le laboratoire cosmétique de la marque Seed to Skin

Le laboratoire cosmétique de la marque Seed to Skin

Dans le laboratoire ultramoderne de Seed to Skin à Borgo Santo Pietro en Italie, les ingrédients purs et naturels sont extraits des plantes fraîchement récoltés à la ferme puis encapsulés avec la technologie moléculaire avancée avant d'entrer dans la composition des formules.

Ici, grâce à des recherches incessantes, plusieurs années d'expérience, de nombreux essais et parfois des erreurs, la marque Seed to Skin a créé une collection unique de soins de la peau remarquablement régénératrice.

Une par une, chaque formule Seed to Skin a été méthodiquement et soigneusement développée et testée selon les standards les plus élevés. Pour assurer un contrôle qualité sans compromis, aucune étape de la production n'est sous-traitée à des tiers, tout est fait dans le laboratoire dernier cri de la marque en Italie.

Tous les produits de beauté Seed to Skin sont fabriqués à la main individuellement et se voient attribuer leurs propres numéros de lot, garantissant la plus grande transparence, traçabilité et intégrité.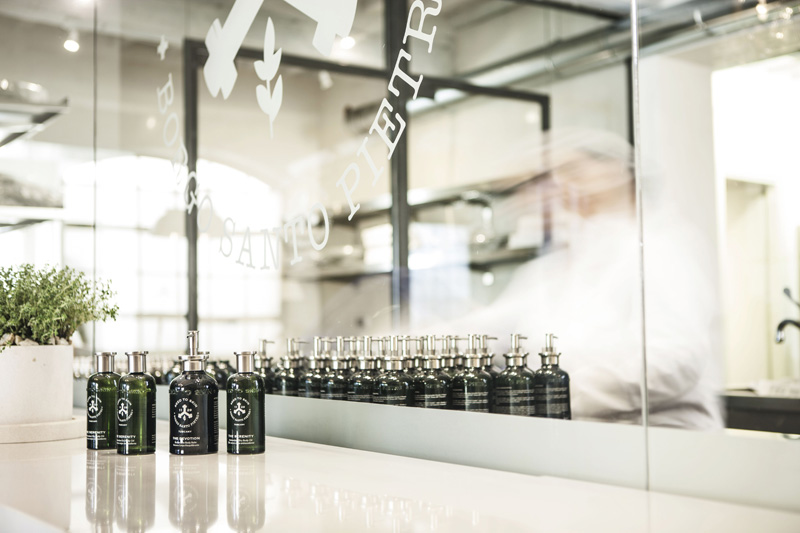 Les engagements clean de la marque Seed to Skin
La marque Seed to Skin propose des soins de la peau hautement efficaces et riches en nutriments en utilisant uniquement les plantes les plus pures et les ingrédients bruts trouvés dans la nature.

Dans les différents soins de la marque, vous pourrez retrouver des plantes aromatiques, des fleurs, du miel et du lait de brebis provenant directement de leur ferme biologique certifiée à Borgo Santo Pietro au cœur de la Toscane.

Ce que Seed to Skin ne cultive pas, provient d'un groupe très sélectif de micro-producteurs soucieux de l'environnement et de cueilleurs sauvages sur terre et en mer.

La qualité exceptionnelle des ingrédients entrant dans la composition des produits Seed to Skin est leur priorité et représente le fondement de l'intégrité de la marque de soins naturels premium italienne.

L'intégralité de la gamme est "cruelty free" (sans cruauté) et donc non testée sur les animaux. Les produits Seed to Skin ne contiennent pas d'ingrédients de "remplissage" pour faire du volume et sans intérêt pour la formule, de molécule toxique ou suspectée de l'être, de conservateurs synthétiques, de colorants ou de parfums artificiels, de parabènes ou d'OGM.

Seed to Skin utilise les meilleurs ingrédients naturels pour ses produits de beauté naturels de prestige.

Crédit photos : Seed to Skin
La ferme bio Seed to Skin à
Borgo Santo Pietro

Champs de calendula bio à la ferme Seed to Skin

La restauration de l'éco-équilibre de la terre et le maintien de l'intégrité du sol sont les principes directeurs de la ferme et du domaine de Seed to Skin en Italie. Le secret pour une concentration optimale en nutriments essentiels dans les herbes et plantes cultivées à la ferme.

À Borgo Santo Pietro, la marque Seed to Skin est engagée à respecter les principes de la permaculture, une méthodologie qui se concentre sur la restauration des écosystèmes naturels grâce à l'agriculture régénérative. Ainsi, des pratiques telles que le rewilding, la conception synergique du paysage, la gestion des ressources en eau, la minimisation des déchets et la biodiversité sont soigneusement utilisées par l'équipe d'agriculteurs et de jardiniers de la ferme Seed to Skin.

De la plantation initiale de 200 000 arbres dans les jardins et les vergers à la culture aux normes biologiques de la propriété s'étendant sur 270 acres, la marque Seed to Skin est résolument engagée envers la durabilité.

Des vignobles, des arbres fruitiers, un champ de noix et un vaste jardin de légumes et d'herbes aromatiques fournissent aux restaurants du domaine des produits saisonniers issus de l'agriculture biologique et des ingrédients cosmétiques naturels frais pour les produits de beauté Seed to Skin : l'églantier, la lavande, le calendula, la menthe poivrée, le romarin et le millepertuis ne sont que quelques-uns des éléments essentiels utilisés dans la création des soins corps et visage de la marque.