Holifrog
Holifrog refers to frogs, which have skin so thin and permeable that it absorbs everything around them. They therefore cannot survive in toxic environments and are even a good indicator for monitoring pollution levels.

Our skin is thicker than that of frogs, but we also live in environments filled with toxins, free radicals and questionable air quality. Effectively but gently cleansing the skin is therefore the essential step: Holifrog offers the most complete range of expert and natural cleansers.

And as during cleaning, our pores are the most dilated and permeable, like those of a frog, Holifrog beauty products are guaranteed without perfumes, essential oils, alcohol, any harmful chemicals... nothing toxic or irritating. Only what the skin needs, when it needs it!

Holifrog's holistic routine is also clean, high-quality skincare formulated with bioactive ingredients that work in harmony with the skin to treat, hydrate and protect while enhancing skin health.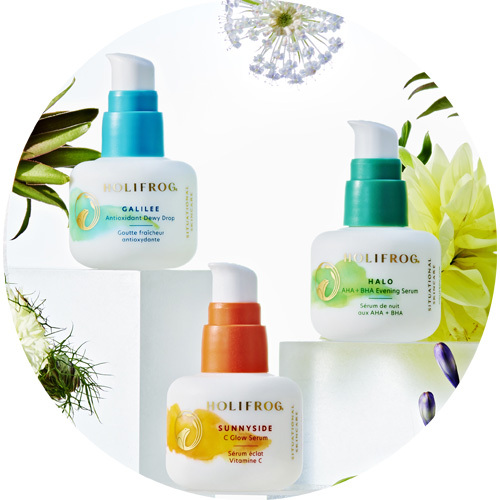 Know more about Holifrog



La marque Holifrog

Holifrog est une marque de produits cosmétiques clean de haute qualité qui tire son inspiration de la fine peau des grenouilles qui, comme celle des humains, absorbe les toxines, les radicaux libres et toutes sortes de polluants.

C'est pourquoi Holifrog s'est fixé pour mission de fabriquer des nettoyants et soins holistiques efficaces quels que soient les besoins de la peau pour protéger son fragile équilibre.

Les produits cosmétiques de la marque Holifrog sont fabriqués à partir d'ingrédients bioactifs qui donnent des résultats rapides et maintiennent la peau du visage en parfaite santé. Rien de toxique, rien d'irritant, uniquement des actifs efficaces et bénéfiques pour la peau !
Histoire de la marque Holifrog
La marque de produits de beauté naturels Holifrog a été créée par Emily Parr et Majeed Hemmat dans l'objectif de créer une gamme de cosmétiques clean et naturels avec des produits de soins de haute qualité, efficaces et qui s'adapte parfaitement aux différents besoins de la peau.

Emily est publiciste de métier et s'intéresse à la beauté depuis de nombreuses années pour essayer de résoudre ses problèmes de peau congestionnée. Après plus de 10 années d'achat de produits cosmétiques et d'essais, voyant qu'aucun soin ne parvenait à nettoyer correctement sa peau et qu'elle n'était pas la seule dans ce cas, elle a commencé à créer des solutions de soins pour nettoyer la peau de son visage.

Majeed, lui, occupait un poste de vice-président dans la mode jusqu'au jour où il a saisi l'opportunité de transiter vers l'industrie de la beauté en découvrant une marque de produits de beauté bio indépendante qui avait besoin de conseils. Fort de ses 10 ans d'expérience, de ses connaissances et de ses relations dans la mode, il s'est rapidement fait un nom dans le monde de la beauté clean et créa son agence de gestion de marques de cosmétiques naturels.

Emily Parr et Majeed Hemmat se sont rencontrés lors d'un événement de lancement presse d'un client commun. Après deux ans de collaboration étroite au service d'autres marques, ils ont décidé de s'unir et de lancer leur propre marque : Holifrog.

Le nom de la marque de cosmétiques clean Holifrog provient de la contraction des termes « Holistique » et « Frog » qui signifie grenouille en anglais.

HoliFrog c'est plus qu'un nom, c'est aussi la science !

En effet, les grenouilles ont une peau fine, très douce et perméable qui absorbe tout ce qui se trouve dans l'environnement, et, de ce fait, elles ne peuvent pas survivre dans des environnements toxiques. Les scientifiques les étudient même pour surveiller les niveaux de pollution !

Notre peau est plus épaisse que celle des grenouilles, mais nous vivons dans des environnements toxiques remplis de radicaux libres et d'une qualité d'air douteuse.

C'est pourquoi les formules des cosmétiques Holifrog sont pensées à partir d'ingrédients bioactifs naturels qui aident activement la peau du visage à rester en parfaite santé malgré les agressions quotidiennes de la vie moderne.

Emily Parr, créatrice de la marque Holifrog

Majeed Hemmat, créateur de la marque Holifrog
« Situational Skincare » : la philosophie de la marque de soins clean Holifrog
Produits de soin du visage Holifrog

Holifrog sait que prendre correctement soin de sa peau ne se résume pas à déterminer une bonne fois pour toute son type de peau.

En effet, de nombreux changements externes et internes, tels que l'âge, les événements de la vie, le stress, les saisons, les climats, les changements de style de vie, peuvent affecter le comportement de la peau et ses besoins.

C'est un organe à part entière, très sollicité, qui essaie de nous protéger tout en s'adaptant en permanence à son environnement extérieur et à la façon dont nous la traitons. Une seule et unique routine appliquée toute l'année et de façon indifférenciée face à ces changements ne permettra pas de maintenir sa peau à un niveau optimal.

Il est donc important d'adapter sa routine de soins de la peau à sa situation. C'est pourquoi la marque de produits de beauté clean Holifrog a créé une ligne complète de nettoyants et des sérums ciblés permettant de gérer n'importe quelle situation et besoin de la peau et pas seulement le type de peau : dans cette approche c'est l'état de peau qui prime sur le type de peau.

Pour cela, chaque ingrédient compte dans la formule des soins clean Holifrog : de la base aux textures, en passant par les actifs, ils sont minutieusement sélectionnés et ont tous une fonction bénéfique pour la peau et l'aide à être la plus saine possible.

Les différents actifs utilisés par Hoolifrog doivent être en quantité suffisante afin d'être bénéfiques pour la peau : les ratios de tensioactifs, d'agents de conditionnement de la peau et d'actifs doivent être équilibrés à leur niveau optimal pour contribuer au mieux à la santé de la peau.

Parce que pour Holifrog, parfois la qualité (du soin) nécessite la quantité (des actifs) !
Engagements et valeurs de la marque Holifrog
Les formules des produits de la marque Holifrog sont conformes aux normes de l'Union Européenne et exemptes de tout ingrédient controversé ce qui nous permet de garantir une parfaite innocuité des soins. Mais la sécurité n'est bien sûr pas le seul objectif des cosmétiques Holifrog.

En effet, un ingrédient peut être inoffensif mais cela ne veut pas dire qu'il est le meilleur pour la tâche à accomplir.

C'est pourquoi, lors de la formulation de ses produits cosmétiques, la marque Holifrog a analysé les données scientifiques étayant l'efficacité et l'innocuité de chaque ingrédient, pour ne retenir que les meilleurs qui remplissaient les critères suivants : ils doivent être efficaces, sûrs, capables de protéger et d'améliorer la santé de la peau et de contribuer au bien-être général.

Les formules des produits de beauté Holifrog sont donc responsables, réfléchies et utilisent des ingrédients qui sont en parfaite harmonie avec la peau.

De plus, Holifrog s'engage pour préserver la Terre en reversant une partie de ses recettes à Land Trust Alliance, une organisation internationale qui crée des fiducies foncières pour assurer la conservation des territoires naturels et protéger les communautés qui s'y trouvent.

Produits cosmétiques de la marque Holifrog
Holifrog : des formules de soins hautement efficaces
Cosmétiques clean de la marque Holifrog

Crédit photos : Holifrog

La fonction première des formules des produits de soins de la marque Holifrog est de favoriser la guérison et la réparation de la peau.

Pour cela, la marque n'utilise pas d'ingrédients desséchants, irritants, sensibilisants ou encore qui perturbent les fonctions de la peau ou qui ont été jugés dangereux par la recherche ou des études scientifiques.

Voici les différentes catégories d'actifs contenues dans les cosmétiques Holifrog pour assurer leur efficacité :

• DES VITAMINES : Holifrog intègre dans les formules de ses crèmes, sérums et nettoyants des vitamines (A, C, E, F, K, B.…) pour leurs capacités nutritives uniques permettant d'aider la peau à fonctionner au mieux.

• DES HUILES VÉGÉTALES SANS PARFUM : Les plantes contiennent des ingrédients hautement bénéfiques pour la peau tels que des acides gras, des acides aminés, des vitamines, des antioxydants et des émollients. Les parfums, ajoutés ou naturels, peuvent irriter les peaux les plus sensibles et réactives, c'est pourquoi Holifrog utilise uniquement des huiles végétales sans parfum.

• DES ANTIOXYDANTS : Holifrog utilise des antioxydants afin de protéger la peau des radicaux libres et de prévenir leurs dommages.

• DES INGRÉDIENTS IDENTIQUES À CEUX DE LA PEAU : Holifrog intègre dans les formules de ses cosmétiques des ingrédients qui imitent les substances conjonctives entre les cellules de la peau (cholestérol, squalane, céramides) et les maintiennent ensemble pour préserver la structure externe de la peau.

• DES EXFOLIANTS DOUX : Il existe deux types d'exfoliation : physique et chimique. L'exfoliation physique implique toute forme d'élimination manuelle des cellules mortes de la peau. Mais cela ne veut pas dire qu'il faut être brutal ! L'exfoliation chimique utilise des acides pour éliminer les cellules mortes de la peau. Holifrog associe de nombreux types d'exfoliants qui sont utilisés dans des proportions différentes, afin de ne pas irriter les peaux les plus fragiles.

• DES INGRÉDIENTS DE COMMUNICATION CELLULAIRE : Holifrog utilise dans les formules de ses produits cosmétiques naturels, des substances qui améliorent la communication intra cellulaire permettant de réguler les dysfonctionnements des cellules de la peau et ainsi de maintenir une peau saine et équilibrée.
Acheter les produits Holifrog à Lyon