Twelve Beauty
Twelve Beauty is a no-nonsense, skin-kind natural beauty brand founded by Pedro Catalá, an independent cosmetologist and pharmacist with specialist expertise in botany.
He wanted to create a clean botanical alternative for sensitive skin and picked 12 natural and exhaustively tested wonder ingredients, ethically sourced and ever gentle, even used at their highest possible potency to formulate Twelve Beauty, an high-performance skincare collection which protects and restores skin as it ages, improving skin functionality and promoting healthier skin.
Fusing botanical expertise with skin-safe science, each Twelve Beauty innovative plant-based formula has been specifically designed to bring much-needed relief to stressed, sensitive and reactive (or allergy-prone) skin. With stunning results 92% of 100 men and women tested confirmed their skin appeared firmer, smoother and clearer after just 4 weeks.
Twelve Beauty is especially suitable for sensitive, or stressed, fine textured skin that tends to become dry or with acne breakouts, skin prone to flushing from temperature changes or when exposed to harsh atmospheric elements (wind, sun, pollution), skin pre-disposed to allergic reactions or experiencing consequences of hormonal changes.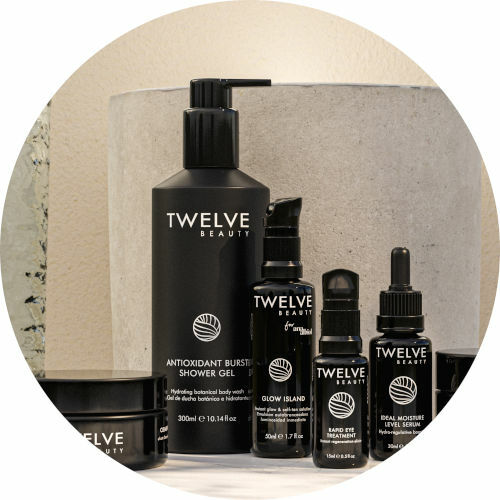 Know more about Twelve Beauty

Why we love TWELVE BEAUTY ?
Its formulas respectful of the most delicate skins
Its complex of 12 botanical active ingredients with proven results
A European indie brand created by an expert pharmacist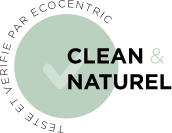 Twelve Beauty

Because the formulation of natural cosmetics is a science, Twelve Beauty offers a reinvented vision of clean beauty where green science is at the service of sensitive skin.

The Twelve Beauty high-performance skincare collection combines botanical expertise with green biotechnology. Each innovative Twelve Beauty formula has been specially designed to provide much-needed relief to stressed, sensitive and reactive (or allergy-prone) skin.
The Twelve Beauty brand story
The Spanish natural skincare brand Twelve Beauty was created by Pedro Catalá.

Pharmacist and cosmetologist, he merges his scientific knowledge in pharmacy, botany and cosmetology with 20 years of expertise in plants and herbology in a unique and modern approach to natural beauty.

Pedro Catalá graduated in Pharmacy from the University of Valencia, Spain in 1998. Immediately after, Pedro then spent four years studying a postgraduate degree at the Botany Department of the University of Valencia. Giving him all the keys to using plants in medicine, and in particular in skin care.

Pedro's passion for natural active ingredients led him to complete a Masters in Cosmetic Science and Technology at the University of Siena, Italy in 2007 and a PhD in Natural and Formulation Technologies.

Pedro used his extensive research and knowledge of plant extracts to dedicate an additional five years to developing and creating Twelve Beauty, his revolutionary line of beauty products perfectly suited to a variety of concerns, especially stressed, sensitive and reactive skin.

Today Pedro Catalá works as a pharmacist in a private hospital based on Harley Street in central London where he helps patients with a variety of skin conditions and issues including irritations, rashes, post treatment -aesthetics, chemotherapy or radiotherapy with the Twelve range of natural beauty products. He also teaches at the University of Siena, formulation of natural and clean skincare.

"Twelve is the result of a lifetime of research to find the best herbal medicines in the world! With proven effectiveness even on the most sensitive skin. Formulated from my 12 hand-picked and exhaustively tested miracle ingredients, all being 100% natural, ethically sourced and still gentle, even when used at their highest possible potency." ».





Pedro Catala, founder of natural skincare brand Twelve Beauty
Twelve Beauty philosophy & commitments



Each innovative Twelve Beauty formula uses botanicals to provide much-needed relief to stressed, sensitive and reactive (or allergy-prone) skin: 92% of 100 men and women tested confirmed that their skin was firmer, smoother and more clear after only 4 weeks of using their Twelve Beauty skincare routine.

Twelve natural beauty products are designed to protect and restore skin as it ages, enhancing its natural functions and promoting a healthier microbiota with powerful hydrating, soothing and regenerating properties that help restructure damaged skin and rebalance its own defenses.

The objective of Twelve Beauty: to offer a botanical and clean alternative to sensitive skins who are looking for formulas that are highly compatible with the delicate structure of their skin.

Having worked as a pharmacist for more than 20 years, Pedro Catala formulates products suitable for sensitive skin without following marketing trends in terms of fashionable active ingredients but using only the cleanest and purest natural and organic ingredients.

In the Twelve Beauty formulas you will not find any ingredients that can potentially irritate the skin, even the commonly used natural ingredients like "sodium phytate" and "potassium sorbate", well known to sensitize the skin.

The entire Twelve face and body care range thus contains only eco-approved ingredients and is completely free of parabens, sulphates, silicones, petrochemicals, glycols... All formulas are plant-based and meet the requirements of green chemistry. Twelve Beauty creams, serums and oils are also naturally scented with floral extracts and traces of essential oils and use only natural emulsifiers.


Twelve Beauty treatments are therefore particularly suitable for :

Sensitive or delicate, fine-textured skin that tends to dry out or has acne
Skin prone to redness due to temperature changes (extreme cold and heat)
Skin exposed to aggressive atmospheric elements (wind, sun, cold, pollution) and chemicals (soap, drugs)
Skin suffering from stress or hormonal changes
Skin prone to allergic reactions
The 12 key natural ingredients of Twelve Beauty
WHITE GENEPI EXTRACT
(Artemisia umbelliformis)
Protects the skin with antioxidant and anti-radical properties. Moreover, it also acts as an antibacterial agent.

EXTRACT OF IMPERATORY SHEET
(Peucedanum ostruthium)
Properties include re-epithelialization (helps repair minor cuts and wounds), hydration, antioxidant functions against free radicals. Also acts as an astringent.

MALLOW FLOWER EXTRACT
(Sylvan Malva)
Has soothing, anti-irritant, emollient and moisturizing properties.

BUTTERFLY TREE LEAF EXTRACT
(Buddleja Davidi)
Provides UV protection. It is also an effective anti-oxidant.

SQUALANE
This clear fluid oil has a natural affinity with the skin, being one of the main components of human sebum and the hydrolipidic film.

HYALURONIC ACID
Forms a thin, invisible, transparent and viscoelastic surface film. The hyaluronic acid film helps preserve the most important characteristics of young and healthy skin, such as suppleness, elasticity and tone.

UPCYCLED GRAIN WAX
Made up mainly of linoleic acid, an essential fatty acid necessary for the regeneration of the epidermal permeability barrier. Excellent for dry, irritated and sensitive skin.

SUNFLOWER OIL UNSAPONIFIABLES
They are the ultimate hydrating agent due to their relipidating ability, which deeply soothes the skin. This precious part of sunflower oil also stimulates the synthesis of key lipids in the epidermis and acts as a cellular cement stimulating the synthesis of key proteins.

FLEISCHER'S WILLOWHERB EXTRACT
(Epilobium fleischeri)
Reduces sebum production and improves skin tone. Reduces pore size.

SHEA BUTTER
(Butyrospermum parkii)
Improves skin smoothness and protects the skin while reducing irritation.

VITAMIN E
(Tocopherol)
A powerful naturally occurring antioxidant extracted from soybeans.

CUPUAÇÚ BUTTER
(Theobroma grandiflorum)
Restores moisture and elasticity, leaving skin soft and comfortable.





Photo credits Twelve Beauty