LESSE
LESSE is a high quality organic beauty brand, founded on a philosophy that "less is more": a short line of transformative, results-driven and high performance skin care.
In a world where skincare routines are increasingly complicated and overload the bathroom with beauty products, LESSE offers an innovative ritual with unparalleled quality, uncompromising efficiency and great simplicity. A range of natural and meticulously formulated face products, which bring together the best botanical active ingredients to offer the skin a multitude of benefits and visible results without multiplying layers or products.
With its new way of thinking and designing organic face care, LESSE's conscious and holistic approach to beauty encompasses all skin issues, organically treating both acne, pigmentation and aging, without however, compromising on experience or performance, which can be seen and felt.
This differentiating approach to organic beauty and conscious approach to luxury skincare that encompasses the true values of today has won over all of California: LESSE is THE most trendy new natural and organic skincare brand in the USA right now.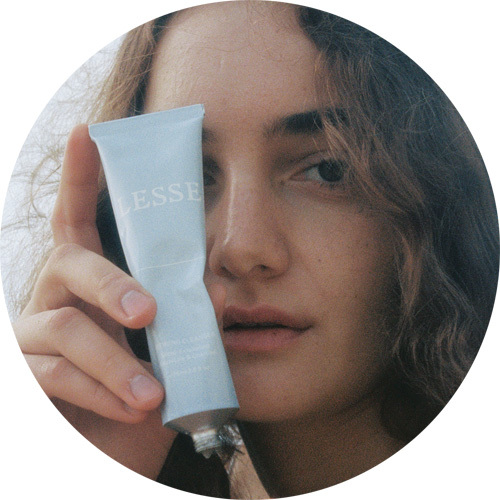 Know more about LESSE
LE BESTSELLER DE LA MARQUE LESSE

Why we love LESSE ?
A practice of beauty as simple ritual, not routine
Its formulations that are uncompromising in their efficacy, safety, and experience
Its minimalist and elegant packaging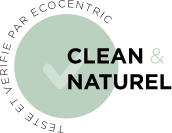 La marque LESSE

LESSE créé de véritables solutions naturelles pour traiter les problèmes de peau courants et chroniques : inflammation, acné, hyperpigmentation, vieillissement cutané et bien plus encore.

Grâce à des formulations innovantes, un approvisionnement éthique et un emballage durable, LESSE s'engage à respecter les normes les plus élevées dans l'industrie de la beauté naturelle.

LESSE propose des produits de soins biologiques respectueux de notre planète et réellement efficaces qui prennent en compte la diversité des problèmes de peau tout en offrant une expérience sensorielle délicieuse.
Histoire de la marque LESSE Skincare
La fondatrice, Neada Deters, de la marque de soins biologiques américaine LESSE, est née à Sydney en Australie et a été élevée dans l'amour de la Nature et l'appréciation des plantes.

Après avoir déménagé à New York pour faire carrière dans la mode, elle est devenue directrice de la rédaction d'une publication numérique internationale qui couvrait la mode, la culture et la beauté.

Neada Deters rencontrait des difficultés pour trouver des rédacteurs spécialisés dans la beauté, elle a alors commencé à rédiger elle-même des articles de beauté, ce qui lui a permis d'interviewer les plus grands experts mondiaux en soins de la peau.

La fondatrice de la marque LESSE a constaté que la plupart des experts qu'elle a interrogés défendaient le principe suivant : utiliser moins de produits pour réduire les dommages causés à la barrière cutanée. Pourtant, la plupart des marques recommandent une routine de huit voire douze étapes.

Neada Deters a également recherché durant de nombreuses années des solutions naturelles pour prendre soin de sa peau réactive et acnéique et a remarqué un manque de formules biologiques réellement efficaces.

Forte de ses années d'expérience en tant que rédactrice et de l'avis d'experts recueillis lors d'entretiens, Neada Deters s'est installée à Los Angeles et a entamé une phase de recherche et de développement rigoureuse qui a duré des années afin de trouver les formulations qu'elle avait toujours espéré voir exister un jour.

C'est à la fin du mois de juin 2018 que la marque de cosmétiques bio LESSE voit le jour avec un produit unique : le Ritual Serum, qui, à ce jour, reste le produit numéro un et essentiel au soin de la peau de Neada Deters.

LESSE est aujourd'hui une marque de soins clean et naturels très en vogue en Californie et maintenant enfin disponible en France et en Europe.

Neada Deters, fondatrice de la marque de skincare LESSE
Philosophie et valeurs de la marque de beauté LESSE
Le masque Bioactive Mask et le nettoyant Refining Cleanser de la marque LESSE

Dans un monde où la surconsommation devient un problème et où les routines beautés sont surchargées, la philosophie « Less is more » de la marque LESSE prend tout son sens.

LESSE propose un rituel innovant de beauté clean basé sur l'essentiel et très efficace, qui donne la priorité à la santé de la peau mais sans oublier le respect de notre planète.

La marque de soins bio LESSE se base sur 4 valeurs fondamentales :

SIMPLICITÉ

Soustraire ce dont on a besoin, pour que seul l'essentiel reste et créer un espace pour une pratique de la beauté comme un rituel, et non comme une routine.

EFFICACITÉ

Sélectionner des ingrédients pour leur capacité à transformer et à soutenir la peau, dans l'immédiat et à long terme, afin de créer les formules des produits LESSE qui sont sans compromis sur l'efficacité, la sécurité et l'expérience.

DURABILITÉ

Trouver des solutions plus douces pour la planète, de la culture, à la production puis à la vente, avec une tracabilité exigeante. Être proactif en saisissant les opportunités d'amélioration au fur et à mesure que de nouvelles plus durables sont disponibles.

COMMUNAUTÉ

Créer des produits qui prennent en compte la diversité des problèmes de peau et répondent aux besoins divers en matière de soin. Être ouverts et transparents envers la communauté dans tout ce que fait la marque LESSE.
LESSE une marque de cosmétiques bio engagée
La marque de cosmétiques naturels californienne LESSE pense que les soins de la peau biologiques sont une nécessité universelle, dépassant les frontières et essentiels à notre santé individuelle et collective.

L'approche de la marque LESSE est sans compromis : elle est axée sur la qualité, la conscience et le respect de la Nature.

L'objectif de LESSE est de créer de véritables solutions pour les problèmes de peau courants et chroniques, grâce à des produits naturels réellement efficaces et respectueux de notre planète.

La marque LESSE s'engage à respecter les normes les plus élevées dans l'industrie de la beauté clean et naturelle.

Des formules innovantes :

LESSE sélectionne rigoureusement des ingrédients issus de l'agriculture biologique. La marque cultive un grand nombre de ses actifs botaniques de façon raisonnée afin de garantir les meilleures formules de soins bio.

Un emballage durable :

La marque de beauté engagée et éco-responsable LESSE utilise des solutions d'emballage innovantes, respectueuses de la planète et écologiques. La marque utilise des matériaux recyclables à l'infini pour le packaging de ses produits de beauté naturels : verre, aluminium et papier 100% recyclé.

Un approvisionnement éthique :

LESSE vérifie la durabilité de toutes ses sources d'approvisionnement. Depuis le premier jour, LESSE s'engage à l'égard de notre planète avec pour objectif la neutralité carbone d'ici 2024.

Le masque bio Bioactive Mask de la marque LESSE
LESSE, un rituel de soins bio pour le visage
Le rituel de beauté naturelle LESSE

Crédit photos : LESSE

La marque de cosmétiques biologiques LESSE propose un rituel de beauté innovant composé uniquement de 4 soins naturels essentiels :

• Refining Cleanser : un soin nettoyant qui exfolie la peau en douceur pour décongestionner les pores et lisser la surface de la peau.

• Bioactive Mask : un masque pour le visage clarifiant et hydratant conçu pour détoxifier et révéler une peau lisse et éclatante.

• Ritual Serum : le produit de beauté iconique de la marque LESSE, un sérum calmant, réparateur et équilibrant qui apaise les peaux réactives, reconstitue la barrière lipidique, atténue naturellement l'acné, minimise les ridules, et estompe les taches brunes.

• Regeneration Mist : une brume tonique réparatrice, hydratante et hautement apaisante pour régénérer et renforcer la peau du visage.

La marque de soins naturels et clean LESSE propose une nouvelle approche de la beauté grâce à sa philosophie « Less is more » qui consiste simplement à utiliser moins de produits mais de meilleure qualité.
Acheter les produits de soins LESSE à Lyon