Alqvimia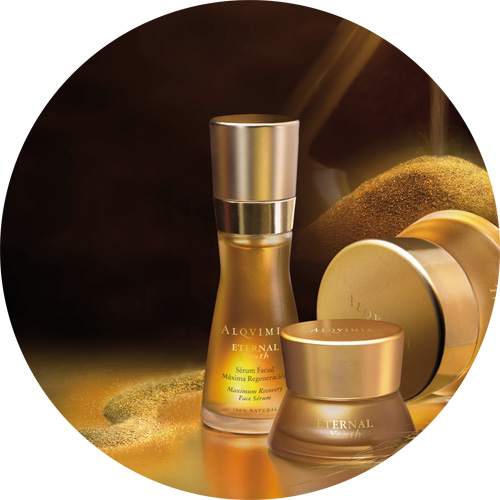 ALQVIMIA 100% natural face and body luxury cosmestics combine the traditions of the ancient schools of perfumery, aromatherapy and alchemy.
Based in the natural settings of the Pyrenees Mountains, ALQVIMIA has produced 100% natural beauty products for the past 30 years from exclusive high quality natural ingredients.
ALQVIMIA's creations are a perfect blend of the wisdom of ancient times with the latest technological cosmetics innovations.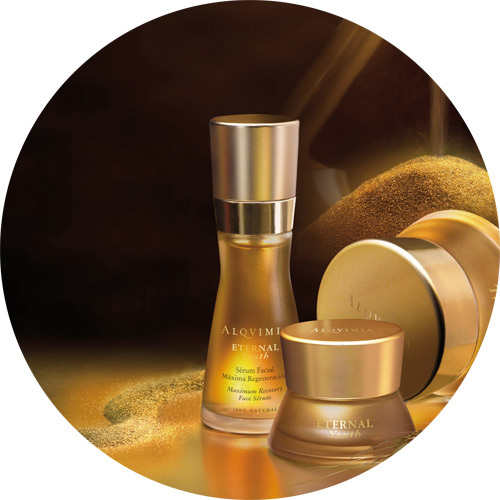 Know more about Alqvimia
ALQVIMIA

Since 1984, ALQVIMIA has been revolutionizing natural cosmetics world mixing ancient alchemy botanical secrets and wisdom, artisanal perfumery and the most advanced modern techniques.

From Nature's purest prime materials from all over the world, ALQVIMIA creates 100% natural skin care products that holistically treat and care for the body, mind and spirit that have made ALQVIMIA the favourite brand of natural beauty connoisseurs and most demanding women.
THE ALQVIMIA BRAND HISTORY
ALQVIMIA company was created in 1984 among the brassy reflections of stills and glass jars with a specific goal: to attain absolute beauty through the transformation of body and mind.

This was the first natural cosmetics and aromatherapy company in Spain, and one of the forerunners in Europe for "green chemistry". A new scientific field that ALQVIMIA investigated in partnership with the Department of Chemical Engineering of the University of Barcelona that provided scientific support

Thanks to its research work and state-of-the-art know-how, ALQVIMIA brand began to combine its scientific expertise to its ancestral knowledge to bring to life its concept of beauty.

In 1990 ALQVIMIA launched the Queen of Egypt range, with reference to Queen Cleopatra, with nourishing properties and rejuvenating effects that are now world-renowned.

These natural body care products were inspired by the beauty secrets that once distinguished the queens of ancient Egypt providing them inner strength, self confidence, beauty, femininity and sensuality.

In 2007, ALQVIMIA launched Sensuality, the most sublime cosmetic product ever created for women. In every drop of this body elixir, the most extraordinary essential oils: Bulgarian Rose, Jasmine from Mysore, Neroli from Morocco and Geranium from Egypt and Ylang-Ylang from Indonesia...

These extraordinary ingredients work together to strengthen femininity acting on the emotional, spiritual and physiological spheres connecting each woman with her inner goddess..

After almost 20 years of research, ALQVIMIA created the Eternal Youth range, the first 100% natural, premium, anti-aging treatmentfor attaining eternal youth in a holistic manner. Luxury skin care products with maximum effectiveness that offers immediate antiageing effects.

Now worldwide famous and sold in the most prestigious and finest beauty spas and its flagship stores (Madrid, Barcelona, Tokyo, Hong Kong, Praha...), ALQVIMIA continues to uphold its values and vision of natural beauty.

ALQVIMIA's laboratory and essential oils library.





Alqvimia store at the Tokyo Imperial Hotel


Eternal Youth range
ALQVIMIA PHILOSOPHY : THE POWER OF THE FEMININE ENERGY
Sensuality, pure feminine essence

The world of beauty is a glamorous one that ALQVIMIA tries hardest to re-invent and re-enchant by restoring its meaning, its intensity, its strength.

Because beauty is not superficial and based on the vitality of every cell of the body, on the well-being of the mind and the energy of life, because everything is interconnected, ALQVIMIA devotes its knowledge to recreate these critical connections.

This very spiritual and holistic approach to beauty assumes that every woman is unique and has immeasurable power in herself. ALQVIMIA skin care and body products intend to rebalance and harmonize this energy.

The alchemy of plants and flowers is used to feed and release the energy of every woman. The results : a complete bliss and a new balance between body, mind and energy.

A complete and customized diagnostic can be done in beauty spas certified by ALQVIMIA to create a bespoke skin care ritual able to sublimate every woman.
ALQVIMIA COMMITMENTS : 100% NATURAL BEAUTY PRODUCTS
Alqvimia was founded on an unwavering commitment to create healthy cosmetics, 100% natural, that would not only create beauty and recover and maintain youthfulness, but also cultivate inner well-being thanks to its purest essential oils, the quality of its floral waters and vegetable oils, their balanced formulas ...
Since 1984, ALQVIMIA has been rejecting chemicals, toxins, and carcinogens, working without parabens or chemical colorants. They use only strictly selected plant ingredients, does not conduct animal testing and uses recyclable packaging manufactured locally in Spain.
ALQVIMIA from its start has been a pioneer in what we now call Corporate Social Responsability (CSR) by choosing company values based on ethics such as justice, solidarity, mutual support, respect and common welfare.