Your e-shop to buy Alqvimia products online
LES ORIGINES DE LA MARQUE ALQIVIMIA
Découvrez et adoptez la marque bio de luxe Alqivimia, pionnier européen de la chimie verte née en 1984, elle est la toute première maison de cosmétique naturelle de luxe espagnole.
Alqivimia combine avancées scientifiques et connaissances ancestrales pour donner vie à une vision de la cosmétique luxueuse et naturelle à travers trois gammes d'exception : "Reine d'Egypte", "Essentially Beautiful" et "Eternal Youth".
Aujourd'hui Alqivimia est présente dans le monde entier et dans les plus beaux spas de la planète.
LES ENGAGEMENTS ALQIVIMIA
La marque cosmétique naturelle Alqivimia a fait le choix des ingrédients botaniques d'exception en rejetant les alternatives chimiques bon marché. Formulés sans ingrédient toxique, sans cancérigène, sans parabens ou colorants synthétiques, les soins Alqivimia sont réalisés exclusivement à partir d'ingrédients végétaux strictement sélectionnés.
La marque espagnole porte la volonté de créer des produits de beauté 100% naturels, avec une réelle performance cosmétique mais également ultra précis tant dans la pureté des huiles essentielles, la qualité des huiles végétales et eaux florales employées.
La marque Alqivimia ne pratique aucun test sur les animaux et utilise des emballages recyclables, fabriqués localement en Espagne.
LE PRODUIT CULTE ALQIVIMIA
Parce que la peau du corps souffre également du temps qui passe, Alqvimia a créé l'huile corps anti-âge Eternal Youth, une huile sensuelle et délicieusement parfumée Un traitement sophistiqué et 100% naturel, formulé à l'aide d'huiles végétales réparatrices, infusé d'huiles essentielles précieuses et riche en antioxydants pour prévenir le processus de dégénération des cellules cutanées.
Alqvimia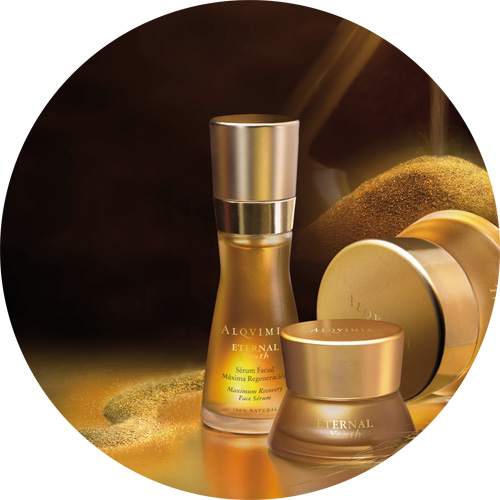 ALQVIMIA 100% natural face and body luxury cosmestics combine the traditions of the ancient schools of perfumery, aromatherapy and alchemy.
Based in the natural settings of the Pyrenees Mountains, ALQVIMIA has produced 100% natural beauty products for the past 30 years from exclusive high quality natural ingredients.
ALQVIMIA's creations are a perfect blend of the wisdom of ancient times with the latest technological cosmetics innovations.