Manasi 7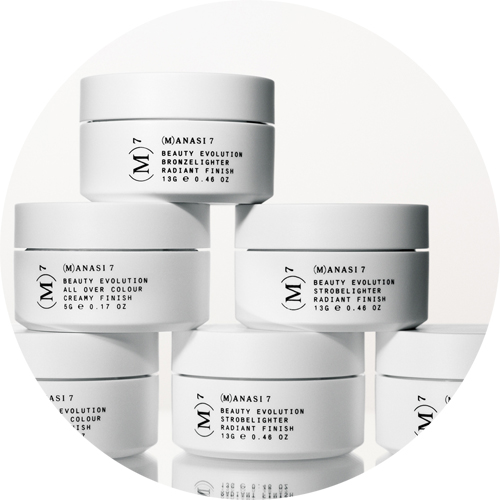 Created by Susanne Manasi who has more than 20 years of experience as a professional makeup artist, Manasi 7 is a swedish beauty brand that merges the high performance and colour pay-off of conventional cosmetics with the nourishing and healing properties of the highest quality natural, wild harvested and certified organic ingredients.
The Manasi 7 make up collection consists in timeless and multifunctional products all made according to the brand's minimum requirements manifesto for uncompromising quality called the declaration of (7).
Highly concentrated and designed to last for a while, Manasi 7 contemporary shades deliver a top-grade sensorial feeling, high pay-off and desired result without negatively impactful synthetic chemicals. This is beauty evolution.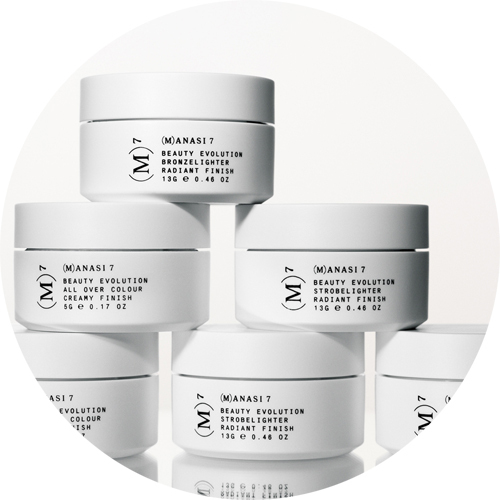 Know more about Manasi 7
MANASI 7

Manasi 7 is a swedish, pure and organic color cosmetic line created by makeup artist Susanne Manasi.

With the aim to merge the performance of conventional beauty with the nourishing properties of natural and organic ingredients, each Manasi 7 product is formulated to hydrate and illuminate vital, radiant skin. Consider it skin healing make up.

Manasi 7 collection is made with the highest quality natural, wild harvested and certified organic ingredients.
History of the Manasi 7 brand
Manasi 7's founder, Susanne Manasi, is a professional makeup artist with more than 20 years of experience.

For years she has been missing a truly natural, clean, non toxic and organic premium cosmetics line with high colour performance.

She decided to do it herself. And so, she spent more than 6 intense years to develop her make up range of natural products. She simply created the brand she had felt was lacking on the market, Manasi 7 was born.

Deeply committed to a healthy and eco-friendly lifestyle, Susanne is very strict in terms of what she puts inside or on her body : she only eats natural non-processed organic whole foods.

She applied the same strict rules to create Manasi 7 beauty products : her 100% natural formulas are made with organic raw butters, waxes and oils and 100% biodegradable to be organically decomposed back into earth.

The whole Manasi 7 makeup collection is designed in Stockholm by Susanne and produced in Italy with the obession to deliver a top-grade sensorial feeling, high colour pay-off and desired result.

A true Beauty Evolution !

Manasi 7, Swedish organic make-up brand applies the codes of Scandinavian aesthetics to beauty
Credits: Manasi 7
The philosophy of the Manasi 7 brand
Natural pigments, plant extracts, precious oils ... the Manasi 7 organic make-up is full of benefits for the skin.
Credits: Manasi 7

To achieve uncompromising quality, Susanne Manasi has created a manifesto to set the minimum requirements for the whole production cycle when creating a product. Here is the spirit of her Declaration of (7).

(1) SLOW

Manasi 7 is all about small batch production at a sustainable pace to minimize water consumption, environmental impact and waste. Contrary to mass production that often goes with unnecessary waste and unsustainable production cycles.

Manasi 7 is all about creating timeless and multifunctional highly concentrated products designed to last for a while. Contrary to a world that demands fast seasonal change of products.

Manasi 7 is all about working exclusively with independent small-scale cosmetics manufacturers, promoting a dynamic relationship with organic farmers.

(2) SELECT

Manasi 7 is all about curated best possible mix of ingredients: carefully selected blend of natural, wild harvested and certified organic butters, waxes, powders and oils together with top grade natural colour pigments, that deliver the best pay-off and desirable results.

Manasi 7 is all about selected high-impact shades, buildable colours in formulas that feel as good as they look, born from Susanne's great knowledge regarding cosmetic formulas and all of the wide range of products and colours that exist on the market.

(3) PURE

Manasi 7 is all about ingredients that are grown ethically, sustainably and in harmony with the environment without any unnecessary fillers or additives and less water. Manasi 7 organic makeup products are always free from alcohol, bha and bht, bismuth oxychloride, canola oil, carrageenan, citric acid, cottonseed oil, dea, tea, mea & eta, formaldehyde or formaldehyde releasing ingredients, gluten, gmos and its derivatives, heavy metals*, lanolin, maltodextrin, milk and its derivatives, mineral oil, nano, palm oil and its derivatives, parabens including those in fragrance blends, peg (polyethylene glycol), peanut oil, phtalates, propylene glycol, safflower oil, silicones/siloxanes and its derivatives, sls & sles (sodium laureth/lauryl sulfate), soy and its derivatives, sunflower oil, synthetic ingredients (raw materials/antioxidants/spf/fragrance blends), triclosan, wheat and xanthan gum.

Manasi 7 is all about animal respect and cruelty free beauty, therefore the makeup is never tested on animals.

(4) NATURAL

Manasi 7 is all about raw materials and natural preservatives extracted from minerals, wild plants and flowers, carefully selected for their quality, colour and scent. These precious ingredients are minimally processed in low temperatures to preserve their moisturizing, healing and nourishing properties and their antioxidant power. Wild harvested ingredients cannot be certified organic because they are non-agricultural, but no toxic pesticides, herbicides, fungicides, chemical fertilizers or genetically modified organisms are used.

(5) SIMPLE

Manasi 7 is all about simplicity and versatility : their multifunctional beauty products are designed to be used individually or combined to create endless possibilities for an effortless everyday makeup routine or on a special occasion as well. Manasi 7 make up products are highly concentrated and a little goes a long way : handle your products with care and they will last for a long time.

(6) SYMBIOTIC

Manasi 7 is all about contributing to take responsibility for each other by minimizing the environmental footprint, because we are all a part of the same whole. Manasi 7 perfectly sized jars are produced in small batches and can have extended life if you clean it and fill it with anything of preference. The handcrafted custom designed paper Manasi 7 natural makeup boxes are made from sustainably produced paper and can be recycled.

(7) CONTEMPORARY

Manasi 7 is all about a timeless selection of shades, finishes and textures inspired by Nature to promote the pleasures of organic beauty. Colour and effect is the most important thing in regards of colour cosmetics. Manasi 7 offers the perfect combination of delicate subtle neutral shades and soft earthy tones combined with a flush of modern hues for a contemporary pop of colour.
Ecological packaging from MANASI 7
Paper boxes

The Manasi 7 products boxes are reusable and recyclable handcrafted custom designed paper boxes.

The material is high quality local and sustainable paper derived from wood that grows in sustainably managed forests. You can reuse the Manasi 7 paper box as a jewellery box or fill it with anything else of preference.

Makeup jars

The Manasi 7 products jars are made of 32% plant-based cellulose material derived from wood that grows in sustainably managed forests, pefc and fsc certified combined with a mix of durable materials from renewable sources not originated from the petroleum industry. Reuse the jars and fill it with a skin balm or anything else of preference.

Makeup compacts

The Manasi 7 powder compacts are made of 32% plant-based cellulose material derived from wood that grows in sustainably managed forests, pefc and fsc certified combined with a mix of durable materials from renewable sources not originated from the petroleum industry. They are absolutely refillable and formula refills available for purchase are under development.

Others

The Manasi 7powder jars and mascara packagings are recycable, please give them a second life.

Manasi 7, beautiful organic makeup
Credits: Manasi 7
Credits : Manasi 7