Leahlani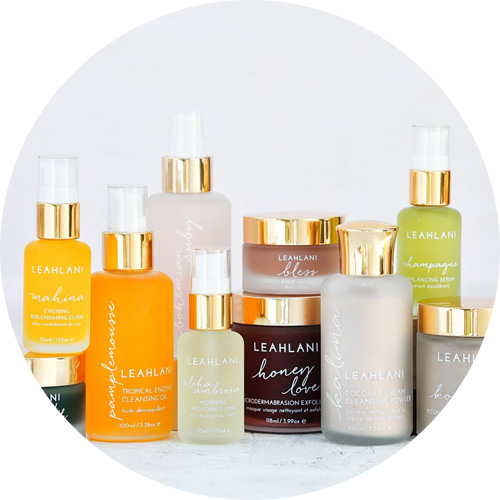 When beauty goes with sensoriality : Leahlani will transform your skincare routine into a ritual of beauty that you will love and look forward too, every day.
This Hawaii based organic skincare line is made from fresh fruit nectars, potent botanical extracts and luxurious, tropical beauty oils making Leahlani Skincare a one-of-a-kind natural beauty brand.
Artisanal and made fresh every week in small batches on Kauai Island, Leahlani products will help you to unveil a balanced and vibrant complexion.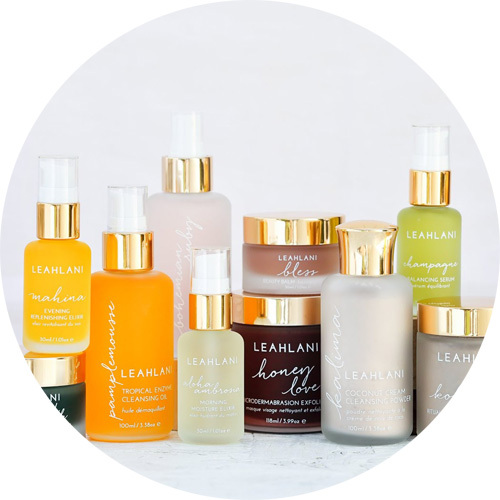 Know more about Leahlani

Why we love LEAHLANI ?
Its natural formulas with extracts of exotic fruits & tropical flowers
Handcraft on an island in Hawaii
Its unique & decadent fragrances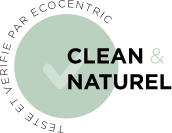 LEAHLANI

Leahkani Skincare brand offers a range of natural face and body care products made on the island of Maui in Hawaii, and formulated with local tropical ingredients such as wild guava, hibiscus flower or passion fruit.

Leahlani products contain the richness of Hawaiian clays, flowers and fruits: these pure and powerful active ingredients are naturally rich in minerals, vitamins and antioxidants.

Leahlani beauty products, with natural and certified organic ingredients, are formulated without water, waxes or emulsifiers for optimal concentration.
History of the organic cosmetic brand Leahlani
With a degree in aesthetics and botanical alchemy, Leah, creator of the Leahlani Skincare brand, is now a certified holistic skin expert.

It all began when Leah studied at Spa Luna, a holistic beautician school on the island of Maui in Hawaii.



From there, her passion for cosmetics and more specifically skin care led her to become the director of a luxury spa in Kauai, another of the Hawaiian Islands.



Affected by severe acne 10 years ago, she became aware through the needs and imbalances of her skin of the importance of the ingredients contained in the products she used.



She eventually found the solution to her skin problems by using formulas made only from natural ingredients that she creates herself.



Continuing her research, she worked to create natural and organic cosmetic products for all skin needs and problems.



She created the Leahlani Skincare brand with the mission of enabling everyone to take better care of their skin.

Leah, Designer of the Leahlani Skincare brand - Credits Leahlani Skincare
The philosophy of the organic brand Leahlani
Aloha Ambrosia natural care elixir by Leahlani - Credits Leahlani Skincare

- A beauty ritual to take care of your skin



Leahlani products turn a beauty routine into a real ritual, so that every moment of care becomes unique, pleasant and memorable.

The Leahlani brand encourages and motivates people to love and care for their skin.



- Quality ingredients made in Hawaii



Leahlani uses only fresh Hawaiian nectars and luxurious, tropical beauty oils with concentrated, powerful botanicals in its products.



Leahlani's skin care products, both for the body and the face, are exclusively handcrafted on the island of Maui in Hawaii.



They contain the active ingredients of natural, mineral-rich clays, tropical fruit extracts and the lush plants of the archipelago.



- Unforgettable scents that make you travel



The scent of flowers and fruits when you open the Leahlani glass bottles transports your mind to Hawaii. Some of the lotion bottles even contain energising gemstones.



The organic tonic Bohemian Ruby contains the gemstone Rose Quartz, which is purified by the sun and sea. It transmits waves of love, comfort and healing.



The regenerating Citrus and Citrine lotion contains a Citrine stone, purified by the sun and the sea. It transmits waves of joy, energy and abundance and fights negative waves.



Leahlani is a cosmetic brand that combines authenticity and efficiency with poetry and sensoriality.



- An "Aloha" state of mind



"Aloha" means love in Hawaiian. More than just a word, Aloha reflects a lifestyle and a state of mind. It teaches us how to treat others with respect and love.



Its definition invites us to start by loving ourselves and then pass on our love to others. This true teaching perfectly illustrates the spirit of Leahlani Skincare. The search for perfection with an always positive energy are the key values when manufacturing Leahlani natural products.



It is in this sense that the creator, Leah, signs the end of the list of ingredients of each product with the word LOVE, which testifies to the love she has for their manufacture.
The commitments of the Leahlani brand
• A clean composition



Leahlani products contain organic and local ingredients that are typical of the Hawaiian islands, such as coconut milk, rice powder, wild guava, hibiscus flower, wild banana, sea salt, vanilla, oats, coconut and shea butter, orange blossom, honeysuckle flower and essential oils of mandarin, orange and vanilla.



These vitamin-rich and antioxidant ingredients are the secret of the magical, exotic and enchanting cocktails of Leahlani skin care products.



Leahlani products are exclusively free of water, waxes and emulsifiers. They are guaranteed to be natural and contain 100% pure and powerful active ingredients.
This of course excludes all petrochemical derivatives, silicone, preservatives, synthetic perfumes and dyes, PEGs, etc., and all animal testing.



- Eco-Friendly & Vegan



Leahlani also offers Eco-Friendly & Vegan wooden brushes for the application of products. They are easy to use and easy to hold in the hand to optimise the unique beauty experience of the Leahlani skincare ritual.
The bestsellers of the Leahlani brand
Mask Mermaid de Leahlani

- Credits Leahlani Skincare

Kalima cleansing powder from Leahlani

- Credits Leahlani Skincare

MERMAID MASK - LEAHLANI

• An exceptional moisturising mask!



The emerald green colour of the Mermaid Masque takes any user to the heart of the mermaid magic in Hawaii.



Through the green beauty of this mask, Leahlani offers a cocktail of skin hydration while renewing the complexion and stimulating blood circulation to combat skin breakouts. Every cell on the face will be strengthened, nourished, purified and softened.



- Natural ingredients made in Hawaii



The special colour of the mask comes from two algae rich in minerals and trace elements, Chlorella and Spirulina, which are well known for their superfood status.



The Leahlani mask is made exclusively from natural ingredients from the Hawaiian Islands such as essential oils, seaweed and honey.

KALIMA CLEANSING POWDER - LEAHLANI

• A unique cleansing treatment



"Kalima, which means "cream" in Hawaiian, promises a cleansing ritual like you've never experienced before!

Silky coconut milk, soothing oatmeal, vitamin and antioxidant rich fruits, softening clays and vanilla beans combine to create the most exotic and luxurious cleanser ever tested.



- Exceptional ingredients



Organic Hibiscus flower, Camu Camu fruit and Vitamin C work together to stimulate collagen production, which is responsible for skin firmness, while evening out skin tone.



- An original use



On contact with water, the powder transforms into a magical pink potion that gently exfoliates the skin, leaving it soft, velvety and silky with a delicate scent of vanilla and citrus.



- For all skin types, even the most sensitive



Used as a mask, Leahlani Kalima deeply cleanses the skin by removing oils and impurities.

Activated by water, it will magically reduce scars, acne, eczema and other skin problems while evening out the complexion.
Credits : Leahlani