Absolution x C. Danchaud
The famous makeup artist Christophe Danchaud requested on stage by the greatest actresses (Keira Knightley, Julia Roberts, Monica Bellucci, Vanessa Paradis, Marion Cotillard, Mélanie Laurent ...) and natural cosmetics brand Absolution combined their talents to create the Sweet & Safe makeup collection.
Combining skincare and colours, organic and natural formulas, ease to use and professional result... #sweetandsafebeauty is free of any toxic ingredients.
9 lipsticks and eye essentials: concealer, eyeliner and mascara are already available.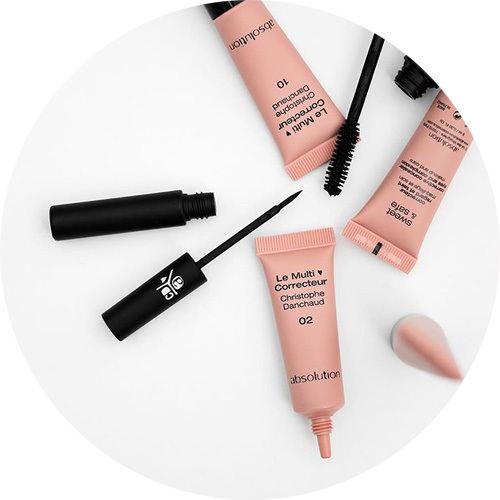 Know more about Absolution x C. Danchaud
Le maquillage ABSOLUTION X C. DANCHAUD

Isabelle Carron, la créatrice de la marque de cosmétiques bio Absolution, avait depuis longtemps envie de créer une gamme de maquillage bio. Ce rêve est devenu réalité grâce à une collaboration avec Christophe Danchaud, le célèbre maquilleur de stars français.

Absolution X Christophe Danchaud c'est une ligne de maquillage clean et made in France, qui allie parfaitement soin et couleur authentique, bio et naturel, le tout, avec un résultat professionnel.

La ligne de cosmétique bio Sweet & Safe Absolution x Christophe Danchaud est idéale pour les peaux sensibles et réactives, les formules des produits de maquillage sont saines, écologiques, certifiées bio et sans aucun ingrédient suspect.
Christophe Danchaud, le maquilleur des stars
Christophe Danchaud est l'un des plus célèbres maquilleurs professionnels français, il maquille de nombreuses stars et collabore avec de grands noms de la mode, du cinéma et même de la photographie.

Depuis son enfance, Christophe Danchaud est passionné pour le spectacle, il a toujours su qu'il évoluerait entre ombre et lumière.

C'est tout d'abord comme danseur qu'il s'épanouit professionnellement et personnellement.

Au fil des années, il acquière de nombreuses expériences au sein de différentes compagnies de danse, participe à plusieurs comédies musicales à travers le monde, ce qui a permis à Christophe Danchaud de découvrir différents univers, variés et tous très enrichissants.

Ces années d'expériences lui ont également permis de faire des rencontres et de devenir chorégraphe. Christophe Danchaud a notamment participé en tant que danseur et chorégraphe à tous les shows de Mylène Farmer.

Par la suite, son désir de nouveauté et d'apprendre, le pousse à accepter une nouvelle aventure : le maquillage. C'est le maquilleur de cinéma Jacques Clemente, conscient de la sensibilité artistique de Christophe Danchaud qui lui propose de devenir son assistant.

Christophe Danchaud comprend immédiatement qu'il a trouvé à travers le maquillage une nouvelle manière d'exprimer sa créativité, en utilisant le maquillage, mélangeant les couleurs et les textures, pour raconter une histoire, révéler des émotions, transformer un visage, sublimer les femmes.

A travers sa maîtrise et sa créativité, Christophe Danchaud se fait une place unique dans le monde du maquillage et de la cosmétique. On lui reconnaît une grande spontanéité, une curiosité intacte, une technicité remarquable et une vraie capacité à s'adapter à tous les univers que ce soit la mode, le cinéma ou encore la publicité.

La richesse de son parcours lui permet de collaborer avec de grands photographes et réalisateurs tels que : Jean-Baptiste Mondino, Ellen Von Unwerth, Peter Lindbergh ou encore Dominique Issermann. Il a travaillé sur des films à succès comme Assassin's Creed et Da Vinci Code.

Christophe Danchaud a collaboré avec un grand nom de la mode : Karl Lagerfeld et a participé à de nombreux défilés de prestiges : Dior, Lanvin, Fendi, Galliano, Comme des garçons… Il maquille les plus grandes stars : Vanessa Paradis, Monica Bellucci, Audrey Tautou, Nicole Garcia, Sharon Stone, Catherine Deneuve, Marion Cotillard, Anouk Grinbergh, Jeanne Moreau, Chiara Mastroianni…

Il a également travaillé sur d'importantes campagnes de publicités notamment pour Dior, Chanel, Fendi, Hugo Boss, Mercedes-Benz ou encore Givenchy.

Son parcours professionnel de prestige, sa technique et sa créativité, on permit à Christophe Danchaud de collaborer avec la marque de cosmétiques bio et naturels Absolution afin de créer ensemble la gamme de maquillage ultra-clean et bio baptisée Sweet & Safe.

Le Multi Correcteur, la poudre, la Crème du Teint et le Lip Gloss Absolution X Christophe Danchaud
Présentation de la gamme de maquillage bio Absolution X Christophe Danchaud
La Crème du Teint, la poudre et le Multi Correcteur Absolution X Christophe Danchaud

Les rouges à lèvres Absolution X Christophe Danchaud

La gamme de maquillage bio Absolution est le résultat d'une collaboration avec le maquilleur professionnel Christophe Danchaud. Ensemble ils ont créé la collection idéale de maquillage aux formules saines et écologiques, qui combine soin et couleur, bio et naturel pour un résultat professionnel.

Cette ligne de maquillage naturelle allie parfaitement l'expertise des soins bio d'Absolution à celui du maquilleur de stars pour vous offrir les meilleurs produits de maquillage certifiés bio, vegan, made in France qui subliment la peau tout en en prenant soin (hydratation, protection anti-oxydante).

La ligne de maquillage bio d'Absolution X Christophe Danchaud a été appelée Sweet & Safe pour parler de douceur et de santé. Elle écarte tout ingrédient suspect, et ne conserve que des ingrédients doux pour la peau, ce qui fait d'elle la gamme de maquillage naturel idéale pour les peaux sensibles et réactives.

Le maquillage bio Absolution X Christophe Danchaud s'inscrit dans une démarche éthique et écologique et s'engage à respecter la peau et l'environnement, à travers des produits naturels non testés sur les animaux, des formules irréprochables contenant en moyenne 96,4% d'ingrédients naturels, respectueux de la santé et de la planète et des contenants et emballages écologiques et recyclables.

Absolution et Christophe Danchaud ont créé des produits cosmétiques certifiés bio pour sublimer le visage, les yeux et les lèvres tout en prennent grand soin d'hydrater, de protéger, de réparer la peau du visage et des lèvres en un seul geste.
Zoom sur les produits de maquillage bio de la gamme Sweet & Safe Absolution X Christophe Danchaud
Sweet & Safe d'Absolution X Christophe Danchaud est une gamme de maquillage bio complète mais simple pour un make-up naturel, bon pour la peau et pour la planète.

Maquillage bio pour les lèvres :

Absolution X Christophe Danchaud propose des rouges à lèvres et baumes teintés naturels longue tenue, à la texture douce, riches en huiles végétales de Jojoba ou encore de Karité, pour une bouche protégée, sublimée et bien hydratée.

Maquillage bio pour le teint :

La peau de votre visage change au fil des années, elle est souvent l'expression de nos émotions, du stress ou de notre environnement. C'est pourquoi Absolution X Christophe Danchaud ont mis au point un produit de maquillage unique pour le teint qui sublime et prend soin de la peau : La Crème du Teint. C'est le produit cosmétique bio idéal pour les adeptes des BB crèmes, La crème du Teint d'Absolution est riche en Tamanu, Thé Vert et Thermus Termophilus, aux propriétés protectrices, régénérantes et anti-oxydantes.

Absolution X Christophe Danchaud propose également les Multi Correcteurs qui dissimulent à merveille une nuit trop courte ou des petites imperfections, grâce au chlorella, à l'huile de jojoba et au bleuet qui nourrissent, décongestionnent, apaisent et aident à raffermir le contour de l'œil et à lutter contre les rougeurs et les cernes.

Maquillage bio pour les yeux :

Sublimer le regard est l'une des priorités d'Absolution à travers sa ligne de maquillage Sweet & Safe en collaboration avec Christophe Danchaud.

Le mascara bio Absolution X Christophe Danchaud sépare, allonge, épaissit, protège, nourrit et redéfinit les cils grâce à sa formule bio à base de cires d'Abeille et de Carnauba et d'huile d'Abyssinie.

L'eye-liner bio Absolution X Christophe Danchaud avec sa pointe ultra-fine glisse tout en douceur sur les paupières pour un regard de biche. Enrichi en eau de Bleuet et en extrait d'Ortie pour apaiser la peau et renforcer les cils.

Le Smoky Absolution X Christophe Danchaud est un crayon fard à paupière intense qui prend soin des yeux, c'est un véritable baume pour la peau qui la nourrit en profondeur, prévient la déshydratation et aide à apaiser les tiraillements. Sa texture crème est facile à travailler, pour un rendu sur mesure et un confort incomparable.

Rouge à lèvres bio Absolution X Christophe Danchaud

Les Multi Correcteurs bio Absolution X Christophe Danchaud

Crédit photos : Absolution
Acheter les produits Absolution X C. Danchaud à Lyon