Your e-shop to buy Absolution products online
LES ORIGINES DE LA MARQUE ABSOLUTION
Découvrez et adoptez Absolution, une marque de cosmétiques bio française, créée en 2009 à Paris par Isabelle Carron. Absolution, c'est la garantie de produits de beauté efficaces, naturels et tendance à travers une gamme ultra-lisible au design unique.
LES ENGAGEMENTS ABSOLUTION
Absolution propose une nouvelle approche de la cosmétique, à la fois libre et créative. À l'écoute de toutes les peaux, les produits de beauté Absolution combinent actifs naturels et huiles végétales, certifiés bio, de haute qualité et adaptés à chacun et chacune. La marque de produits cosmétiques écologiques Absolution propose des crèmes, des sérums et des soins eco-responsables parfaitement adaptés à un mode de vie urbain.
LE PRODUIT CULTE ABSOLUTION
Le sérum anti-soif est le must-have de la marque Absolution ! Il convient à toutes les peaux assoiffées qu'il va hydrater durablement. Sa texture légèrement gélifiée et non grasse au fini parfaitement mat et son parfum hespéridé en font un soin hydratant parfaitement mixte.
Absolution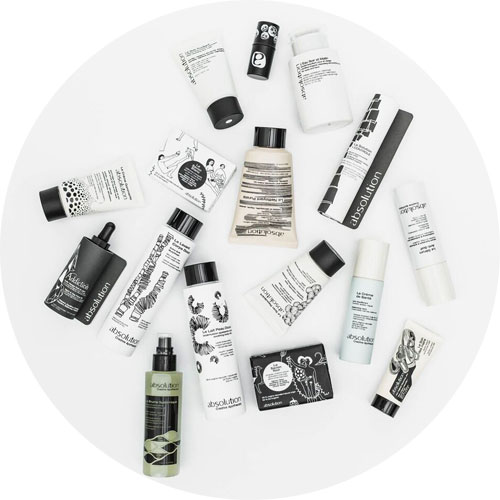 Absolution organic skincare is an innovative green and clean beauty solution. Your skin is unique: it reflects your emotions, your environment, your intimacy. Like you, its needs change everyday.
This is why Absolution was created, a certified organic, anti-aging, unisex and made to measure skincare range, easily adaptable to your skin's moods and requirements.
Absolution offers a new approach of beauty : more simplicity, highly organic skincare that are customizable to the different skin's moods, each day as it comes... for men and for women.
The first unisex bespoke certified organic cosmetics brand.