Novexpert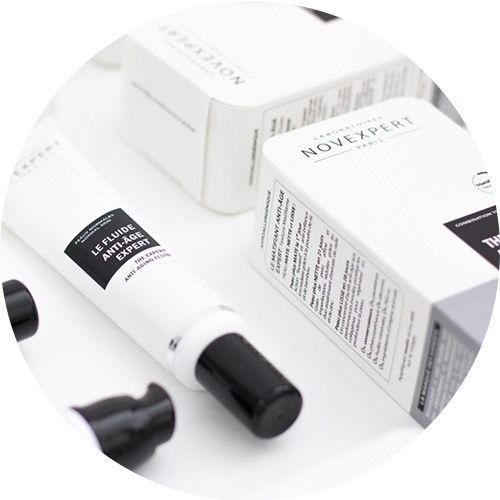 When dermocosmetics become organic: Novexpert Laboratories offer a complete range of certified natural skin treatments specially developed for all skin types, including fragile and sensitive skin.
Rooted in science and nature, Novexpert skincare products use the best of natural cosmetic ingredients combined with the cutting-egde innovations in green biotechnology : safety and effectiveness with a true dermocosmetic solution without the fear of parabens and other harmful ingredients.
Created and made in France, Novexpert beauty treatments are the result of the dermatological expertise of 4 French doctors who put the priority on making skincare synonym of efficiency, progress and high tolerance.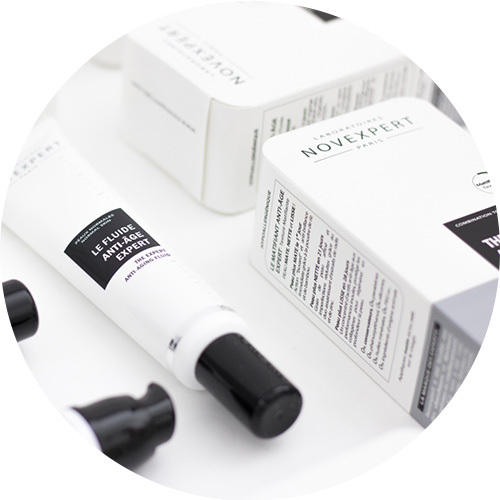 Know more about Novexpert
NOVEXPERT

Novexpert brand is a high-tech skincare laboratory, committed to green beauty for more than 20 years, who creates clean and effective organic skincare products.

Novexpert philosophy is based on quality, transparency, and technology.

Novexpert beauty products are natural formulations without toxic ingredients, inspired by the latest discoveries in anti-ageing medicine.
History of the NOVEXPERT brand
Cyrille Telinge, cofounder of Novexpert, was inspired by his parents to develop his skincare brand. In 1977, Telinge family created the Cyrillus fashion brand for children, in reference to their son's first name. Cyrillus' label values are the expertise, the quality, and the heart. Cyrille created Novexpert with the same values in mind.

In 1996, Cyrille and his father created Bioware laboratory specialized in skincare formulation for pharmaceutical or luxury brands. To be in line with its ecological and ethical values, he further decides to develop his own brand, no longer working with brands that are not respectful of the skin, health or environment.

That is how the Novexpert natural and organic skincare brand was born, founded in 2008 by Cyrille Telinge who worked with beauty industry experts with solid backgroung in skin ageing science :

Daniel Colletta: Phd in organic chemistry, galenic specialist, former member of the Kanebo skincare research center (Japanese luxury skincare brand).

Jacques Leclere : Phytotherapy and skin biology expert, former Shiseido brand manager and former top manager at Nuxe.

Karl Lintner: Phd in biochemistry, expert in peptides, former team leader at Sedema (laboratory specialized in the production of anti-ageing molecules) awarded by Maison G. De Navarre Medal Award 2012 attributed by the society of beauty chemists and winner of the In-cosmetics lifetime achievement Award 2013.

Sharing the same desire to develop efficient and high-tech natural skincare products, these four experts worked together and combined their knowledge to create clean and biodegradable formulas, based on natural ingredients from biotechnology, without any single drop of toxic chemicals.

Novexpert beauty products are all designed by this highly skilled team of founders who share all their expertise in various fields such as skin biology, phytotherapy, green chemistry and dermatology. The result is high-tech new generation natural skincare formulas for healthier skin.

Novexpert natural facial products are infused with cosmeceuticals from cutting-edge anti-aging science, with much higher active principles concentration than common dermocosmetic products.

Hypoallergenic, free from allergens, and dermatologically tested, Novexpert high-tolerance formulas are a great solutions for sensitive skin types.

Founders and doctors of the Novexpert - crédits Novexpert
The commitments of the Novexpert brand
Magnesium Range from Novexpert - crédits Novexpert

Made in France natural beauty

Novexpert laboratories are based in France. The products are designed, manufactured, assembled and packaged in France. Most of the ingredients come from France or Europe.

Beauty Products with transparency

Novexpert natural skincare brand consider that consumers have the right to know the composition and full ingredients list of the products they apply to their skin. The brand always writes the percentage of natural ingredients, that is between 95% and 100%, on the packaging of its products.

Novexpert sometimes uses high-technology clean synthetic ingredients that are very safe and 100% biodegradable, for example stabilized vitamin C and glycolic acid.

Efficient natural skincare products

In nearly all Novexpert products, you will find Novaxyline. This patented natural complex combines a brown algae extract with a sugar molecule to help reduce one of the main cause of skin ageing that is oxidative stress. This innovation has won 18 beauty awards !
Description of NOVEXPERT natural cosmetics
Novexpert products for sensitive skin

Magnesium range, created by Karl Lintner, is composed of 6 products to moisturize, calm, and protect sensitive skin.

Novexpert products for tired skin

Hyaluronic Acid range provides intense moisturizing in order to smooth tired skin. This range also helps fight wrinkles.

Novexpert products for oily skin

Trio-Zinc range is two-in-one range: purifying and anti-ageing. These skin products with antioxidant properties also work to reduce imperfections and shine, leaving skin smoother and clearer.

Novexpert products for mature skin

Collagen range is a global anti-ageing skincare line based on antioxidant ingredients with preventive and curative effects on wrinkles and skin's firmness.

Novexpert products for dull complexion

Vitamin C range restores radiance to dull complexion due to pollution and stress. It also prevents hyperpigmentation.

Novexpert products for dry skin

Omega range is composed of only one product: omega booster serum, combining all omegas for a powerful nutrition power.

Novexpert tinted skin products

Pro-Melanin range provides skin with healthy glow and flawless complexion.

Trio-Zinc Range from Novexpert

Collagen Range from Novexpert
Credits : Novexpert