In Fiore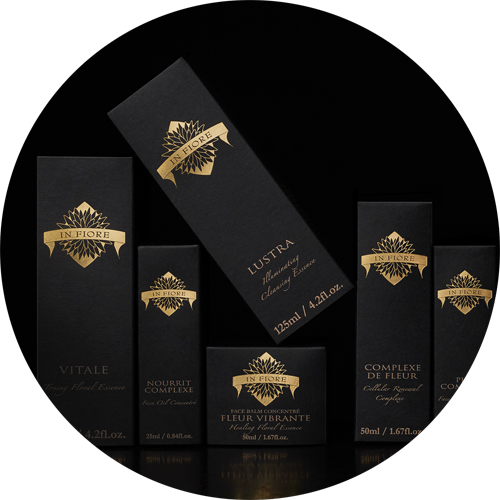 In Fiore is a luxury botanical beauty line that harnesses the transformational power of plant therapy and applies a deep understanding of aromachology to stimulate the senses while offering hydrating and curative effects to the skin.
The indulgent, targeted In Fiore formulations are proven to optimize skin function and stimulate healing, while offering remarkably nuanced fragrances that allow nature's floral gifts to speak on their own.
The secret to beautiful skin starts here : foundation of any In Fiore skincare regimen, the In Fiore 4-2-4 method works beneath the surface of the skin to enliven the entire body, awaken the senses and replenish the skin.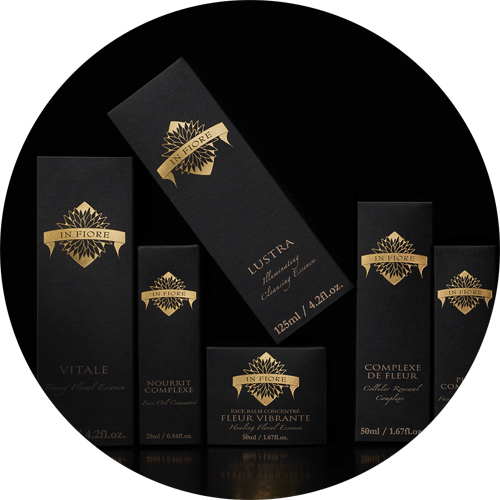 Know more about In Fiore
IN FIORE

"Total floral seduction for the skin and for the soul." These are the words of in Fiore founder Julie Elliott and we can only agree with this perfect description of these amazing luxury natural beauty products !

In Fiore is a premium botanical beauty range that uses the transformational power of plant therapy to create targeted treatments proven to optimize skin function and stimulate healing.
History of the brand In Fiore
In Fiore beauty line was created by Julie Elliott who has a very unique backgroung that we can call a modern day apothecary.

Studying anthroposophy, Julie Eliott describes herself as a blender, a parfumeur, and a world traveler. She is inspired by Old World apothecaries and history's alchemists to practice her craft and promote the centuries-old wisdom.

In Fiore remains true to its original vision: combine the accumulated wisdom of ancient tradition and the proven modern science in order to achieve dramatic health benefits.

Julie is guided by an intuition for scent and blending, a passion that emerged in childhood as she pried through her mother's French cosmetics.

As if a scent spiritually imprints itself, Julie remains the intuitive creatrix behind every handcrafted formula and blend. Guided by elemental appeal of raw florals and herbs, she absorbs an intimate knowledge of each essence like a character study.

This uncommon ability translates into remarkably nuanced fragrances where perfumery is like medicine. Applying a deep understanding of aromachology, In Fiore beauty products stimulate the senses while offering hydrating and curative effects.

Each small red glass bottle of the In Fiore brand concentrates botanical actives and flower essences.
The philosophy of the NATURELLE IN Fiore brand
In Fiore skin treatments are made of 100% natural high quality ingredients.

In Fiore beauty products are the result of centuries-old regimens proven to optimize skin function and stimulate healing, while incorporating all latest proven modern green science discoveries. It is all about making you feel good by offering transformative results to your skin : In Fiore is committed to bringing you only the highest quality skincare.

Ancient wisdom

For centuries, humans have used floral essences as a way to seduce, protect, transform, transcend, and heal. In Fiore proprietary blends are reinterpretations of ancient medicinal knowledge and aromatic benefits to awaken the senses and replenish the skin.

Proven modern science

New science suggests that the skin is a sense organ with many olfactory receptors, just like in our nose. Stimulating them could effect biochemical reactions in the body : studies that test the skin's olfactory responses to natural floral essences have observed stimulated tissue repair and accelerated healing in the skin.

Ingredients

In Fiore endeavor is to produce the most effective products without any chemicals or toxins. Julie Eliott scouts the world to source the highest quality ingredients, precious floral oils and potent plant extracts : rich in nourishing vitamins, minerals, enzymes, proteins, vitality, and energy.

Of course like all other natural skincare products on Ecocentric, In Fiore products are never formulated with parabens, pthalates, synthetic fragrances, PEGs, and SLSs.

Botanical integrity
In Fiore skin care products use the highest quality natural, certified organic and wildcrafted ingredients from conscious growers across the world and in their truest forms. All formulation processes (extraction or infusion) are created in-house to ensure precision, consistency, and quality. It includes maintaining a very low temperature to preserve the raw plant full potency, that is the reason why the products are richely pigmented (heat destroys natural oils colours).
The 4-2-4 method: the beauty ritual of the in Fiore brand
"The 4-2-4 works beneath the surface of the skin to enliven the entire body as there is a connection between the areas of the face and the systems of the body."

Julie Elliot

Inspired by the famous and complete cleansing rituals of Asian women, the 4-2-4 Method is the foundation of any In Fiore natural skincare ritual.

This 10 minutes cleansing ritual optimizes the skin and restores balance, leaving it plump, glowing, and ready to receive skincare.

4 MINUTES

Massage your face, neck, and décolleté with Lustra Illuminating Cleansing Essence for 4 minutes. This lipophilic cleansing oil penetrates deeply to remove impurities.

2 MINUTES

Layer Treate Gentle Cleansing Emulsion on top and massage for 2 minutes. This water-based cleanser treats without stripping the skin or disrupting its protective pH balance.

4 MINUTES

Rinse with warm water for 2 minutes, followed by a rinse with cold water for 2 minutes. This helps stimulate circulation and lymph to revitalize your skin. Follow with Fleur Vibrante Face Balm Concentrate and layer Vitale Toning Floral Essence to tighten pores.

The In Fiore products for 4-2-4 method to optimize skin
Photo credits : In Fiore