Josh Rosebrook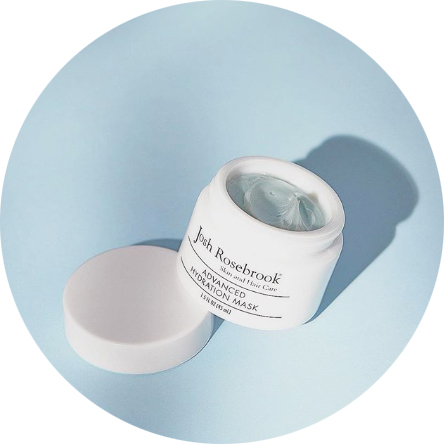 Josh Rosebrook is a unique collection of scientifically-proven premium skin, hair and scalp treatments using the greatest lab ever created: Mother Nature.
To help you realize your true beauty, Josh Rosebrook products are conscientiously-formulated using the pure, regenerative power of raw plants and herb extracts with uncompromising quality, potency and freshness standards.
For achieving your best skin and hair, Josh Rosebrook's unique philosophy is holistic and supports skin and hair health the way it actually works to discover, protect, and sustain your beauty while remaining faithful to ethical, sustainable and fair-trade practices.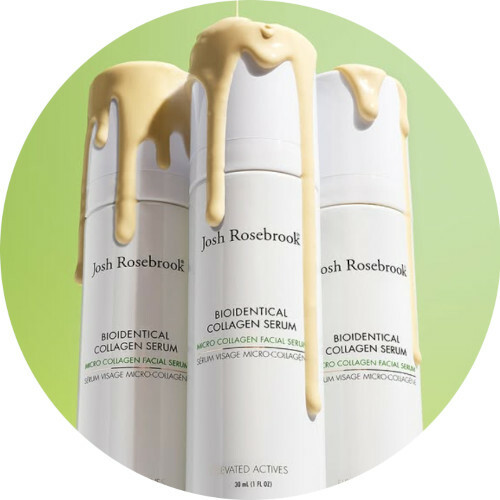 Know more about Josh Rosebrook
JOSH ROSEBROOK

Beauty in harmony with nature : Josh Rosebrook formulas expertly combine plant's rich bioactive constituents with remarkable ability to benefit skin, scalp, and hair function, structure and health to help you realize your true beauty.

The natural and organic ingredients used in Josh Rosebrook products are always cruelty-free, biodegradable, fair trade, and consciously grown, harvested, and produced.

This powerful herbal synergy makes Josh Rosebrook beauty products truly unique and effective : scientifically-proven luxury skin, hair and scalp solutions.
History of the Josh Rosebrook brand
Josh Rosebrook grew up in Portland, Oregon, where he opened his first salon when he was only 10 years old ! He was styling and fixing the hair of all the kids in the neighborhood, thanks to an antique barber's chair found in his parents' basement.

It is like it all came naturally to him : he instinctively knew how to make an haircut that gave each kid the look he wanted.

When he was a teenager Josh Rosebrook started his interest in skin care, comparing results and reading skin products labels and asking a lot of questions. He soon made the connection between natural ingredients and true health and beauty. This is the beginning of his fascination with natural ingredients.

It's finally quite logical that he decided to attend a cosmetology school after highschool : he mooved to Los Angeles in his early 20s and started his career as a hairdresser. Josh Rosebrook began looking for products containing specific, natural ingredients and he could not find them anywhere on the market.

He expanded his background in hair and scalp to the biochemistry of the skin in order to create his own natural beauty products. The results of the first Josh Rosebrook skin care products were astounding.

The Cacao Antioxidant Mask was the first of them. As he was using it all the time,

his clients began noticing the real results delivered to his skin. Josh Rosebrook soon shared his amazing face mask with them as they wanted to experience the same changes in their skin. The idea of selling them came out when friends who suffered from severe acne experienced transformative results and visible improvements in their skin.

Josh Rosebrook was thrilled to be able to help people feel better about themselves thanks to his natural skin care products. Helping people feel more beautiful and confident is Josh's energy and source of inspiration every day to create the most effective and clean beauty products that make a difference.

Josh Rosebrook products support and protect healthy function and structure, and accompany you towards a whole body-mind balance that is the foundation of great skin and hair.

True to this philosophy, Josh Rosebrook beauty brand is now a unique collection of professional, high-quality, efficacious skin and hair products for truly beautiful skin, scalp, and hair.

Josh Rosebrook, "True Beauty is a way of living, a way of loving yourself"
The philosophy of the Josh Rosebrook organic brand
Josh Rosebrook skincare is a short & expertly formulated range.

Josh Rosebrook's unique philosophy is holistic : it includes addressing whole body and mind health relating to Diet-Gut, Allergy, Exercise, Stress, and Sleep balance. Each of these fundamental aspects are necessary for achieving your best skin and hair.

When every aspect is in balance, the professional Josh Rosebrook skin and hair products can be used to support skin and hair health the way it actually works : holistically.

Supporting and protecting the skin vital functions - skin has the extraordinary ability to heal itself - and preserving its natural structure helps create our best and healthy skin and with continuous care slow skin decline and premature skin ageing. This is the mission of Josh Rosebrook skin care products : they facilitate the skin powerful regenerative process and provide the natural nutrients to support it. The result is an ultimate skin function, luminosity, and health.

Our diet is first in delivering the specific nutrients the body needs for beauty and vitality. After come the topical application of the appropriate skin care products to supplement and help to reach the optimum skin appearance and prevent accelerated cellular aging.

The body is natural, so the best source of nutrients necessary is Nature : phytonutrients bio-match as they share distinct molecular and structural similarities and have the same natural regenerative abilities as the oils and nutrients in the body. High-quality plants and herbs are best to support healthy skin, hair, and scalp natural function.

This is exactly the same for hair : beautiful, strong, thick, shiny and healthy hair begins with the food we eat and a healthy digestive system. The phytonutrients travel in our bloodstream and reach the scalp to activate, nourish, and protect the skin there and more particulary the cells that divide and grow the hair shaft in the follicle.

Josh Rosebrook natural hair products can then support, accelerate, and protect this incredible process with their pure topical plant and herb extracts and oils. These proven organic ingredients in professionally formulated natural hair care work to facilitate the scalps hair growth, nourish the hair cells and protect scalp function.

To restore oil, shine and soften the hair while repairing the damages created by the sun, heat, cold, wind, styling, coloring and other chemical treatments, Josh Rosebrook shampoos and conditioners are formulated with specific oils.

The Josh Rosebrook beauty approach is so all about the right and high quality nutrients. They work to source the highest quality, certified organic, organic and wild-crafted ingredients available that meet Josh Rosebrook uncompromising standards, ethics, and sustainability.

It is thanks to strong, long-term relationships with his suppliers that Josh Rosebrook has access to the freshest, highest quality, and maximum potency of these ingredients.

Their absolute purity and the brand's zero toxicity commitment is guaranteed by an independent third-party laboratory that tests all of Josh Rosebrook products regularly along with any new ingredients.
Josh Rosebrook's natural skin beauty ritual
CLEANSE

Morning and evening cleansing promotes a clear, even complexion by removing dirt, pollution, and unbalanced oils in order to support and protect the delicate acid mantle balance.

Josh Rosebrook's face cleansing natural products : Complete Moisture Cleanse & Herbal Infusion Cleansing Oil

EXFOLIATE

Twice weekly exfoliation removes unwanted dull & dead cells, reveals healthy new skin and stimulates regeneration. Proper exfoliation is also key to boosting the effectiveness of all other skin care products and techniques.

Josh Rosebrook's face exfoliating natural product : Active Enzyme Exfoliator

ACTIVATE

Weekly skin activation treatments stimulate and accelerate the body's own natural healing process, restoring circulation, relieving stagnation, and clearing impurities to support firm skin and a toned, bright complexion.

Josh Rosebrook's skin activating natural product : Cacao Antioxidant Mask

HYDRATE

Minimum twice daily skin hydration is crucial for maximum effectiveness in all other phases of skin care, creating an essential delivery system for nutrients and actives to penetrate and benefit the skin. Continual hydration supports cell health and circulation but also enhances moisturizers for plump, firm skin.

Josh Rosebrook's face hydrating natural product : Advanced Hydration Mask

NOURISH

Twice daily skin nourishment is fundamental to cell regeneration, protection, and optimal skin health. Antioxidants, vitamins, minerals, amino and fatty acids and dense phytonutrients are bioavailable in pure, organic plants and herbs that support effective skin function and slow skin deterioration.

Josh Rosebrook's face nourishing natural product : Active Infusion Serum

MOISTURIZE

Twice daily moisturizing further supports circulation, nourishment and protection from dehydration (and drying due to cold temperatures) by binding surface skin cells and reinforcing the lipid barrier. Properly sealing in hydration maintains a soft, plump and bright complexion.

Josh Rosebrook's face moisturizing natural product : Vital Balm Cream

PROTECT

Daily environmental protection is essential to effective skin care. Nutrient-dense moisturizers that contain rich plant antioxidants help offset skin damage from pollution, while Broad Spectrum, high SPF coverage with natural, non-nano Zinc Oxide sunscreen protect skin cells from free radical damage.

Josh Rosebrook's face protecting natural product : Nutrient Day Cream SPF 30

Simple looking bottles and jars for expert and ultra-concentrated natural formulas

Josh Rosebrook also offer a complete range of natural hair care products

Credits : Josh Rosebrook
Buy Josh Rosebrook skincare and haircare products