Mahalo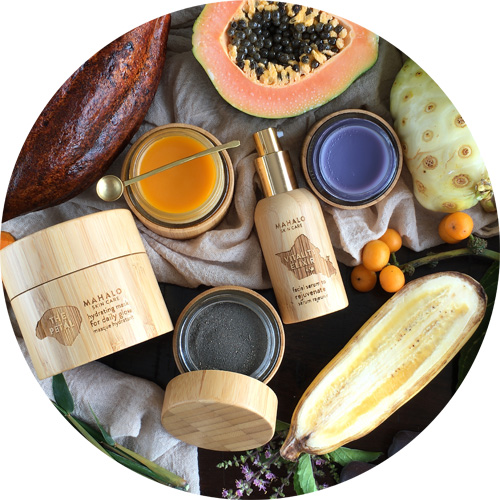 The natural beauty experience from Hawaii :
Mahalo
offers a high-performance skin care collection made from powerful botanical ingredients from the flora of this Pacific archipelago.
Noni, Kukui, Tamanu, Hibiscus, Guava, Turmeric, Chia seed...
Mahalo organic beauty products gather all the benefits of the rich and preserved Polynesian nature. Handcrafted on the Kauai island, Mahalo skin care is formulated using 100% clean and pure ingredients provided by the Earth, and no chemical additives at all.
Famous for their hand-engraved bamboo packaging, the Mahalo products, a word which locally means "thank you", will provide your skin a luxurious and advanced treatment.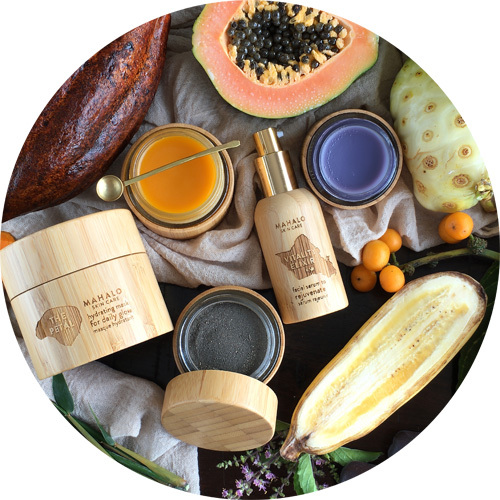 Know more about Mahalo
MAHALO

MAHALO Skin Care is a natural face care brand, established in 2014, using Hawaiian botanicals to provide the skin with an ultra high-performance and luxurious treatment. MAHALO products target skin inflammation, signs of ageing and intensely nourish the skin for a visibly healthier and radiant complexion.



MAHALO is the result of a fervent desire to redefine the boundaries of natural beauty. It is a Hawaiian enchantment that cares for your skin every day.

Buy Mahalo brand products
History of the Mahalo brand
The MAHALO brand of handcrafted and exotic skincare products was created by Maryna on the Hawaiian island of Kauai.



As a young girl, her grandmother taught her about the benefits of Hawaiian plants and ancient medicine. Almost every summer, they would organize expeditions to the forests and fields to gather medicinal plants.



Years later, Maryna developed severe acne. So naturally she turned to her "roots" using the herbs, plants and oils of her childhood. It was obvious to her that to take care of her skin, having the right organic skincare rituals was essential for a balanced well-being.



So she started creating her own chemical-free blends in an effort to save her skin.



Not only did Maryna overcome her skin problems and acne, but her concoctions revealed the natural radiance and beauty of her skin. Her self-image has been transformed!



The idea of MAHALO was born: Maryna decided to make 100% natural and luxurious products, with the ambition to encourage women and men to regain awareness and confidence in their beauty through healthier and more beautiful skin.



By combining her knowledge of plants, aromatherapy and her experience with her own skin, Maryna was able to create MAHALO high performance organic skincare products using 100% natural ingredients, harvested directly from the earth and not generated in a laboratory.



Maryna founded MAHALO to redefine the boundaries of natural beauty. The brand's products are a Hawaiian enchantment, a source of inspiration to take care of yourself, to offer multiple gifts to your skin, your spirit, while respecting the environment.



Maryna now works with over 40 ingredients. If she had to choose the one she likes best, it would be turmeric. It is a plant with multiple benefits, which eliminates cancer cells, relieves digestive problems, balances the mind, relaxes the nervous system, reduces inflammation and treats many skin diseases (including acne, eczema, allergic flare-ups and even chickenpox). If plants were money, then turmeric would be gold! She says she uses it in all MAHALO beauty products.



Maryna's greatest joy is knowing that every day she is doing the best for the earth, for the body and for every person who uses a MAHALO product.

Maryna, creator of the Mahalo brand
MAHALO brand philosophy
The PELE mask from MAHALO

The Hawaiian beauty brand works only with organic products and plant extracts, supporting local co-operatives and biodynamic farms. MAHALO oils are extracted using a cold press or CO2 extraction method to deliver the purest and most potent extract available.



In her MAHALO skincare products, Maryna uses only the finest natural ingredients, clinically tested active ingredients and refined flavours to take organic cosmetics to a new level.



Powerful bioactive plant blends, precious super-oils and plant butters rich in antioxidants and earth minerals envelop you in the well-being of the Hawaiian sun, the dew of tropical mornings and the invigorating power of volcanic soil.



Behind every MAHALO product is love, passionate dedication and a desire to provide the most effective and luxurious skin experience. All thanks to the miraculous benefits of plants created by Nature and born from the Earth. By the way, MAHALO is the Hawaiian word for "thank you".



The natural Hawaiian brand offers eco-chic skin products, designed with the finest ingredients for a unique and luxurious skincare experience. So stop time, relieve stress and reveal yourself as you are, radiant and comfortable in your skin.
The ecological commitment of MAHALO care
MAHALO guarantees a 100% clean product composition: no synthetic substances, no parabens, no phthalates, no colouring agents and no animal testing. It is a true ecological and "cruelty-free" brand.



The Hawaiian cosmetics brand is committed to responsible, ecological products, made in Hawaii and handcrafted in small quantities, all in compliance with the most demanding standards.



The brand's irresistible jars are made from bamboo, proudly bearing engravings of the different islands of the Hawaiian archipelago.



Each formula is unique, combining ancestral Polynesian know-how and Western and Eastern healing knowledge with scientific advances in natural beauty to offer a treatment inspired by Hawaiian rituals that is both body and environmentally friendly.



Being good to yourself is good for you.

Maryna draws on Hawaiian culture and flora
Credits : Mahalo