Your e-shop to buy Soapwalla products online
LES ORIGINES DE LA MARQUE SOAPWALLA
Découvrez et adoptez les déodorants naturels imaginés par la New-Yorkaise Rachel Winard qui a créé la marque SoapWalla en 2002. Alors en quête de produits de soin de la peau sains et performants, elle décide de "cuisiner" elle-même ses propres cosmétiques dans sa cuisine à Brooklyn, selon des recettes saines.
Le déodorant Soapwalla c'est une formule 100% naturelle et une efficacité éprouvée depuis maintenant plus de 10 ans !
LES ENGAGEMENTS

SOAPWALLA
Dans la philosophie Soapwalla seuls des ingrédients comestibles entrent dans la composition des cosmétiques.
Pour ses déodorants, la marque propose une formule unique qui régule la transpiration mais ne la bloque pas, la transpiration étant nécessaire à l'organisme pour évacuer les toxines et réguler sa température. Pour éviter la dégradation de cette transpiration en mauvaise odeur par le développement de bactéries vous pouvez compter sur le cocktail d'huiles essentielles du déo Soapwalla.
La texture est à base de beurre de karité et d'huiles de rose musquée et de jojoba, des ingrédients infiniment plus sains que les redoutables sels d'aluminium, l'alcool ou autres produits chimiques présents dans les déodorants habituels.
LE PRODUIT CULTE

SOAPWALLA
Une forme particulière pour le déodorant Soapwalla qui se présente en pot et s'applique au doigt directement sur les aisselles. Une texture crème légèrement granuleuse avec un fini très sec. Le secret : des poudres végétales super fines et de l'argile blanche qui absorbent l'humidité et donc la transpiration. Décliné en deux senteurs, Arbre à thé ou Citrus, le déodorant Soapwalla est LA solution anti odeur de transpiration naturelle à avoir dans sa salle de bain.
Soapwalla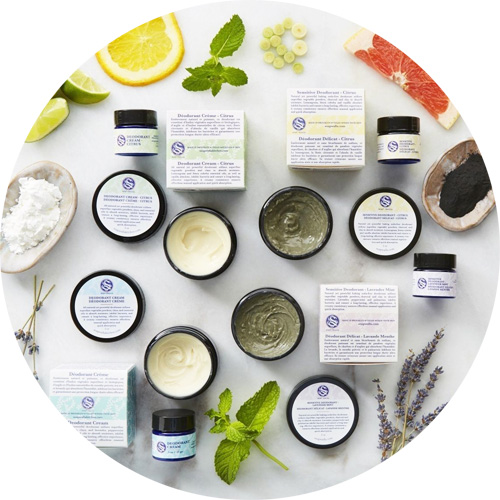 Soapwalla Kitchen was born in 2002 in the kitchen of Rachel Winard's apartment in Brooklyn - New York.

Being diagnosed with a chronic, systemic autoimmune condition, Rachel had to avoid all chemicals found in conventional deodorants. She decided to create her own formulas, now available for the public with Soapwalla brand, with a stringent constraint simple to state but difficult to implement: do not use ingredients that one is not willing to eat!
So when you know that her organic deodorant cream is certainly the most effective natural deodorant ever created, you can only agree with the Soapwalla philosophy and adopt its cult deodorant cream and soaps.
| | |
| --- | --- |
| | Shop here all Soapwalla deodorants |