Soapwalla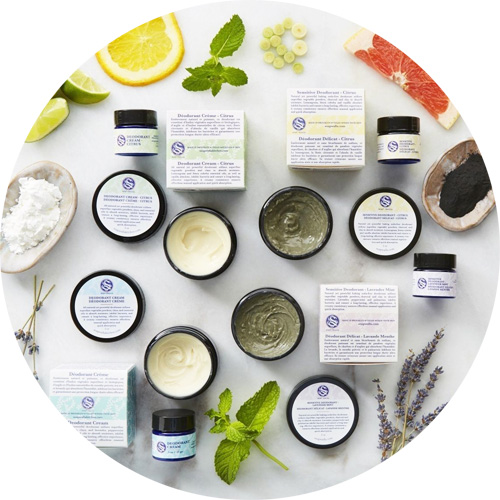 Soapwalla Kitchen was born in 2002 in the kitchen of Rachel Winard's apartment in Brooklyn - New York.

Being diagnosed with a chronic, systemic autoimmune condition, Rachel had to avoid all chemicals found in conventional deodorants. She decided to create her own formulas, now available for the public with Soapwalla brand, with a stringent constraint simple to state but difficult to implement: do not use ingredients that one is not willing to eat!
So when you know that her organic deodorant cream is certainly the most effective natural deodorant ever created, you can only agree with the Soapwalla philosophy and adopt its cult deodorant cream and soaps.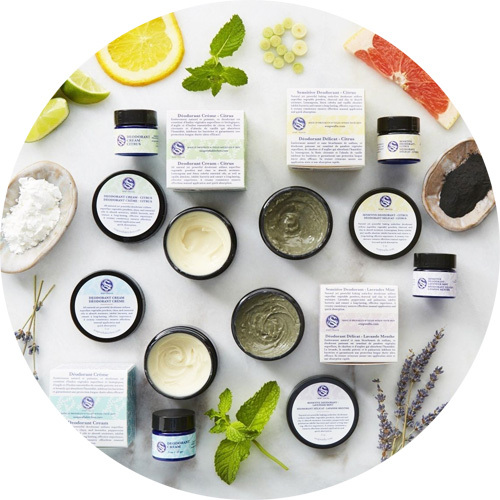 Know more about Soapwalla
SOAPWALLA

Created to meet the needs of sensitive skin, SOAPWALLA is a brand of organic cosmetics, entirely formulated from edible ingredients.

Natural deodorant care ultra healthy and effective!
History of the brand Soapwalla
New Yorker Rachel Winard created the SoapWalla brand in 2002, when her sensitive skin could no longer tolerate any cosmetic products.


In her search for healthy and effective skin care products, she found only products with unpronounceable names in the mainstream market that she could not bring herself to apply to her skin.


So she decided to cook her own cosmetics in her Brooklyn kitchen, according to healthy recipes. Her philosophy: only edible ingredients are used in the products.


Indeed, the skin is the largest of our organs and in order for it to function at its best, it must be nourished with healthy products.


A real change of direction for this lawyer-turned-cosmetic-cook, who creates high-quality holistic face and body products that she wants to be accessible to the general public.


Each product is formulated according to the needs of the "cook" who invented the recipe for the now famous Soapwalla deodorant.

Rachel Winard, creator of the SOAPWALLA brand
Soapwalla: a holistic approach
With Soapwalla, Rachel Winard creates products based on medicinal plants and food ingredients.

In order to cope with the heavy treatments she has been taking for lupus, a chronic autoimmune disease she has suffered from since 2006, she decided to further study aromatherapy, nutrition and the therapeutic properties of essential oils.


From tradition to current scientific research on plant-based therapies and cell regeneration, she is open to all cosmetic knowledge. She even went to India to study Ayurvedic treatments and practice Ashtanga yoga.


Building on her success, Soapwalla is expanding her product range to include two deodorants as well as soap bars, face serums, body oils, lip balms, body washes and soaking salts, created only from natural oils, clays, powders, herbs and essential oils. Each product is handcrafted in small batches to ensure quality, freshness and the utmost attention to detail.
The cult Soapwalla deodorant
Soapwalla is a 100% natural formula, a proven effectiveness for more than 10 years now!


A particular form for this deodorant which comes in a jar and is applied with the finger directly on the armpits. A slightly granular cream texture with a very dry finish. The secret: super fine vegetable powders and white clay that absorb moisture and therefore perspiration.


Because as its name suggests, Soapwalla deodorant cream is not an antiperspirant but a deodorant. To avoid the degradation of this perspiration into a bad smell by the development of bacteria you can count on the cocktail of essential oils chosen by Soapwalla.

For the classic Soapwalla deodorant cream: lavender, bergamot, peppermint and tea tree - the latter dominates the very aromatic scent.

For the Soapwalla Citrus deodorant cream: grapefruit, lime, bergamot, lemongrass and may chang - an explosive mix that smells like delicious lemon shortbread!

The texture is based on shea butter and rose hip and jojoba oils. These ingredients are certainly healthier than the dreaded aluminium salts, alcohol or other chemicals found in the usual deodorants.


A formula that regulates perspiration but does not block it, as perspiration is necessary for the body to evacuate toxins and regulate its temperature! The Soapwalla deodorant brings a real comfort to the application which certainly contributes to the feeling of well-being and freshness.
Vegan soaps soapwalla
Soapwalla's bar soaps are famous for their much longer shelf life than traditional cold-saponified soaps, but also for their naturally intoxicating fragrances, rich in plant essences and without synthetic perfumes.


Their formulas, concentrated in glycerine and free of toxic ingredients, make these soaps gentle and moisturising for the skin and respectful of the environment (100% biodegradable).


Each Soapwalla soap is formulated according to the needs of the skin, they all act on specific problems, such as stretch marks and scars, eczema and psoriasis, or acne and oily skin.


Deep cleansing of the skin while preserving its hydrolipidic film is now possible with these vegan soap bars with high quality, body-safe ingredients.


In addition, most of the ingredients used in Soapwalla soaps are of organic and/or food origin, they are handcrafted and cut by hand.

Exfoliating vegan soap with almond and oat by SOAPWALLA
Credits : Soapwalla