Gressa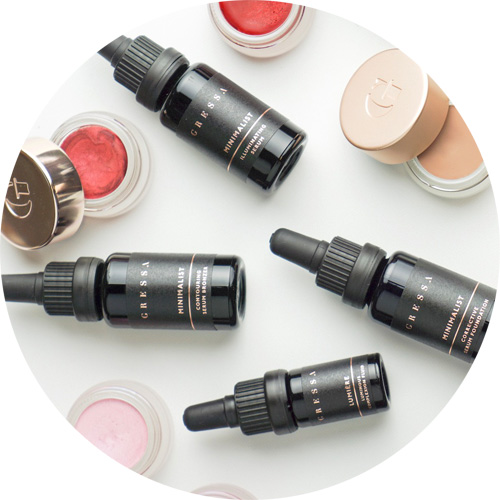 Born out of a passion for traditional herbalism and science, Gressa elevates green beauty and makeup with luxurious botanical blends.
With the philosophy that cosmetics and makeup should be skincare-driven - effective and rich in natural and organic active plant extracts -, Gressa fuses the power of ancient ingredients with the beauty of natural pigments in modern formulations.
The proprietary formulas of Gressa makeup line are enriched with vitamin-rich botanicals like organic broccoli seed oil and rosehip seed oil, both incredibly emollient and clinically proven ingredients for clarity, even skin tone and more graceful aging.
Remaining true to its natural beauty ethos and being made in-house, Gressa makeup products use only the best-sourced ingredients and are free of harmful silicones and preservatives.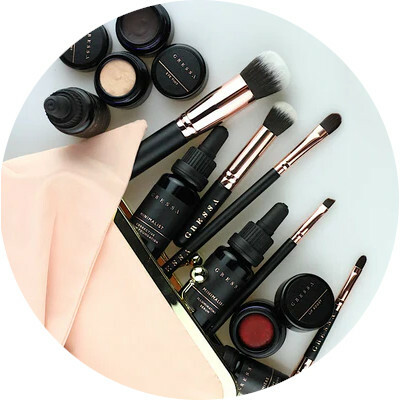 Know more about Gressa

Why we love GRESSA ?
Its organic & fair trade ingredients
Its artisanal production in small batches for absolute freshness
Its medical glass packs to preserve all the skin benefits of the formula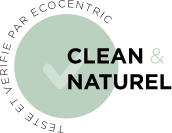 GRESSA

Founded in 2009, clean, vegan American cosmetics brand Gressa Skin offers a full range of makeup made with high-quality organic ingredients rich in phytonutrients and vitamins for natural, petrochemical-free cosmetics.

Developed in the brand's Seattle laboratory, each Gressa makeup product has been meticulously formulated to work in perfect synergy with the skin, to hydrate, illuminate and heal it. Gressa beauty products are handcrafted in very small batches to ensure extreme freshness and unparalleled quality.

Gressa's organic make-up offers divine textures and luxurious fragrances for glamorous cosmetics with care formulas inspired by apothecary rituals.
History of the Gressa Skin brand
Svetlana Zakharevich, the founder of the GRESSA Skin brand, is originally from Russia, where during her childhood traditional herbal medicine was the main source of prevention and treatment of everyday illnesses. Drawing on this culture and knowledge of plants, and with a scientific background, Svetlana has formulated each Gressa product based on herbal medicines and their properties.

With no professional experience or training in the world of cosmetics, Svetlana's passion for make-up is personal and cultural. Having grown up in a family context where beauty was intimately linked to nature and its virtues, and always with great simplicity, Svetlana has long been in search of a make-up solution in line with her desire for a simple life and in contrast to modern habits of over-consumption.

But for Svetlana simplicity does not mean sadness or a lack of glamour and luxury. She has therefore imagined her own make-up brand Gressa as a natural, simple yet precious and "couture" range: so that Gressa organic make-up products represent what every woman deserves.

The Gressa brand was born from Svetlana's desire to offer something different, to shake up the world of green beauty by creating natural and vegan make-up products, adapted to the demands of contemporary women, simple cosmetic products with an effective care action and respectful of delicate skin.

Objective achieved! Gressa is now a clean and natural make-up brand that celebrates glamour, luxury and simplicity without any enemies for the skin: silicones, preservatives or anything harmful to our health have no place in Gressa Skin organic make-up formulas.

Svetlana Zakharevich, creator of the make-up brand Gressa Skin
The philosophy of the organic cosmetics and make-up brand Gressa


Gressa organic foundation

After her academic background in medicine and health and wellness, Svetlana wanted to link her field of expertise with her culture for her organic cosmetics and make-up brand Gressa. She therefore merges her knowledge of bio-chemistry with traditional herbal medicine to create the exclusive and natural formulas of Gressa skincare and cosmetic products.

With her brand Gressa Skin, Svetlana seeks to transcend the stigma of clean beauty and the stereotypes that plague the world of natural beauty. While strictly respecting the rules of organic cosmetics, each product is formulated with quality, certified organic ingredients and natural mineral pigments, she breaks the codes with formulas with new textures (a liquid foundation serum with a powdery finish), surprising bottles (a blush or a foundation in a pipette bottle) and a 2-in-1 approach: make-up must also be used to care for the skin.

These simple (no long or incomprehensible INCI list) but effective and sensorial formulations make Gressa a pioneering and revolutionary brand.

Gressa is also a brand committed to sustainability and limiting its environmental impact: its purple Miron glass bottles are 100% recyclable. Gressa's Minimalist foundation serum was the first to adopt this type of packaging. Today, the entire range, from Lumière blush to Lip Boost lip balm and Eye Tint eyeshadow, are all offered in these glass containers, which are reusable, recyclable and effectively protect the active plant ingredients of the formula.

A militant brand with feminist overtones, Gressa also wants to free women from certain beauty diktats, simplify their routine and therefore their daily lives to offer a more holistic, obvious, absolute approach to natural beauty with emancipating power.

Svetlana writes: "My dream is to invade every woman's bathroom, handbag and bedside table with a beautiful glass bottle, which inspires each woman to be authentic, shameless and fearless. "
ORGANIC MAKE-UP BY GRESSA SKIN: colour as care
The Gressa Skin make-up brand uses the finest natural, organic and fair trade ingredients from renewable sources. Here are some of the key ingredients used in Gressa cosmetics:

Rosehip oil
Rich in vitamins A, C and E, this oil is valued for its ability to repair damaged skin, fade post-acne scars and prevent the signs of aging. Its high concentration of essential fatty acids allows Gressa make-up to nourish dry, stressed and dehydrated skin.

Calendula extract
For centuries, calendula flower oil has been used to heal and soothe irritated and inflamed skin. The Gressa brand also uses its petals, which are rich in carotenoids that keep the skin young by protecting it from environmental aggressors.

Roman chamomile oil
Chamomile is the ultimate anti-stress agent: widely used in herbal medicine as a relaxing tea infusion, chamomile is used in Gressa make-up to also calm red and sensitive skin and promote skin cell rejuvenation.

Sea Buckthorn Oil
This oil is a "super-ingredient" with anti-ageing power. It is the only plant source that contains omegas 3, 6, 7 and 9, as well as a high concentration of vitamins A, C and E and over 200 other essential nutrients. It's what makes Gressa foundation work wonders to keep wrinkles, acne and eczema at bay.

Macadamia oil
Macadamia nut provides a nutrient-rich oil that, despite its richness, is quickly absorbed by the skin. It has a restorative effect on dull skin and relieves dryness without clogging the pores.

Jojoba oil
This light, golden oil is actually a wax ester, which makes it almost identical to the oil that the skin naturally produces. Often used in Gressa beauty products for the complexion or lips, this versatile and powerful natural ingredient hydrates, balances and keeps the skin healthy.

Hazelnut oil
Hazelnut oil has a dry texture that is incredibly invigorating and balancing while being rich in linoleic acids, which enhance skin elasticity. Hazelnut oil is particularly beneficial for minimising pores and moisturising oily skin.

Grape seed oil
Grape seed oil gently moisturises and regulates sebum production. It provides Gressa organic cosmetics with all its free radical fighting antioxidants, anti-inflammatory polyphenols, beta-carotene and vitamins D, C and E.

Ylang ylang oil
The oil of this sweet-smelling tropical flower has powerful antiseptic and antibacterial properties that keep the skin balanced and healthy and help to preserve Gressa Skin make-up formulas naturally.

Organic Eye Tint eye shadows by Gressa Skin
The best organic foundation: Minimalist corrective serum foundation by Gressa
The Minimalist foundation by Gressa Skin is available in 11 shades

Gressa's flagship make-up product is the Minimalist Foundation Serum.

A real star in the organic foundation department, this little black bottle has a loyal following all over the world. The Gressa Foundation Serum's formula is right on target: 100% natural, it covers all redness and blemishes without ever looking pasty and heavy, while giving the skin a healthy and beautiful appearance.

The Minimalist foundation is of course silicone-free, does not smother the skin, does not mask the skin and gives an ultra-natural make-up result. These amazing foundation droplets provide ultra long-lasting, sheer wear that evens out skin, conceals and even treats blemishes, while allowing the skin's true colours and freckles to show through.

Make-up as a personalised skincare routine, in the elegant smoked glass bottle that is the signature of the Gressa brand, with a delicate fragrance. The ideal organic foundation!

The formula of Gressa Minimalist Foundation:

*Brassica oleracea (Broccoli) Seed Oil, Caprylic/Capric Triglyceride, Silica, GRESSA Healing ComplexTM : *Silymarin, *Neem (Azadirachta indica) Extract,*Horsetail (Equisetum arvense) Extract, *Lemon Balm (Melissa officianalis) Extract, *Barberry (Berberis vulgaris) Extract, *Sea Buckthorn (Hippophae rhamnoides) Seed Extract, *Elder Flower (Sambucus nigra) Extract, *Bitter Melon (Momordica charantia) Extract, Licorice Root (Glycyrrhiza glabra) Extract, Tocopheryl Acetate Non-GMO, Coenzyme Q10, Ascorbyl tetraisopalmitate, (Vitamin C), *lecithin, *glycerin, mica, iron oxides, titanium oxide
Gressa Skin face beauty products
To prepare the skin for make-up, the Gressa brand has developed a complete range of effective organic beauty products for all skin types, based on high quality natural ingredients for healthier and more beautiful skin, day after day.

These natural skincare products with formulas concentrated in plant oils such as grape seed oil, Roman chamomile, sea buckthorn, rose hip, jojoba and macadamia, rich in vitamins A, C and E, help to moisturise, soothe, repair and prevent the signs of ageing of the skin, for a unified, luminous and relaxed complexion.

Gressa's natural face care range is made up of top-of-the-range products with velvety, rich and light textures and enchanting, gentle and soothing fragrances, divided into 4 actions:

Cleanse
With the cleansing oil and the purifying cleansing gel that
effectively remove impurities and make-up residues while gently purifying the skin of the face and maintaining its natural pH.

Treat
With the detoxifying mask and the regenerating exfoliating mask that deeply remove impurities and toxins, clarify, exfoliate and moisturise the skin of the face, for a visibly healthier skin.

Nourish
With light moisturizing oil and anti-aging night elixir with powerful hydrating properties for silky smooth skin.

Tone
With the Rose Floral Mist and Neroli Floral Mist that tone, moisturise, soothe, purify and refresh facial skin.

With its range of facial cosmetics, Gressa offers a complete organic skincare routine for beautiful, natural skin even without make-up!

Gressa Skincare facial care products for the beauty of the skin
Photo credits : Gressa
Buy Gressa brand beauty products