Your e-shop to buy Ren products online
LES ORIGINES DE LA MARQUE REN
Découvrez et adoptez la marque de cosmétiques REN, créée en Angleterre par Antony Buck et Robert Calcraft en 2000. Ces deux visionnaires de la cosmétique moderne voulaient créer des produits de beauté performants aux formulations propres. Ensemble ils imaginèrent le concept de « Clean Skincare » et baptisèrent leur marque REN, qui signifie « propre » en suédois. Packagings épurés, soins efficaces, plaisir des sens et respect de l'environnement sont les principes fondateurs de la marque de beauté naturelle REN.
LES ENGAGEMENTS REN
La cosmétique selon REN est une cosmétique aux formulations bioactives avancées, sans ingrédient synthétique nocif pour la peau (sulfates, silicones, colorants synthétiques, phtalates, dérivés pétrochimiques...). Les produits cosmétiques REN contiennent ainsi jusqu'à 97% d'extraits de plantes et de minéraux naturels pour une efficacité optimale.
Les soins naturels REN, sérum, masque, gommage ... sont à la pointe de la technologie verte pour proposer des formules qui vont stimuler les mécanismes naturels de protection de la peau, de réparation ou de renouvellement cellulaire.
La marque de cosmétiques REN est une marque éco-responsable engagée qui reverse au minimum 2,5% de ses profits à des associations.
LE PRODUIT CULTE REN
Le masque glycolactic de REN est LE soin éclat incontounable. Formulé à base d'un cocktail d'acides de fruits naturels (citron, ananas, fruit de la passion) et d'enzymes de papaye, le masque Glycolactic assure un peeling naturel doux mais performant qui favorise le renouvellement cellulaire et laissera la peau lisse et belle, comme neuve !
Ren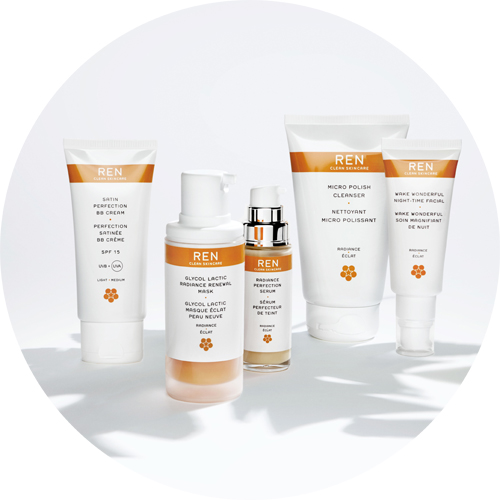 Since 2000, REN Clean Skincare has been formulating face and body treatments that respect your skin and our planet.
REN beauty products are mixed-sex, efficient, modern, natural and formulated with bioactive ingredients from advanced technology that work in harmony with the skin to deliver clinically proven results, without irritation.

100% recyclable packaging, refillable solutions, bottles with reclaimed ocean plastic... REN is working toward a more eco-friendly beauty with the ambition to quickly become a zero waste skincare company. Every action of REN skincare is embodied by its desire to be « Clean to Skin. Clean to Planet ».