Ren
Since 2000, REN Clean Skincare has been formulating face and body treatments that respect your skin and our planet.
REN beauty products are mixed-sex, efficient, modern, natural and formulated with bioactive ingredients from advanced technology that work in harmony with the skin to deliver clinically proven results, without irritation.

100% recyclable packaging, refillable solutions, bottles with reclaimed ocean plastic... REN is now en eco-friendly beauty brand and a zero waste skincare company using only recycled and recycable packaging. Every action of REN skincare is embodied by its desire to be « Clean to Skin. Clean to Planet ».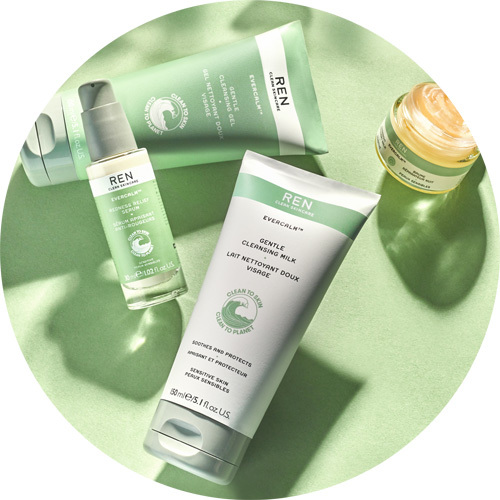 Know more about Ren
REN

REN's philosophy of Clean Skincare can be summed up in three words: Performance, Purity, Pleasure.

REN's products are free from skin-unfriendly synthetic ingredients, and give you the groundbreaking product formulation with the latest hi-tech actives.

REN skincare products are efficient and make you feel good.
History of the REN brand
The brand REN was created by Antony Buck and Robert Calcraft. They wanted to formulate clean cosmetic products to give a healthier and more beautiful skin that looks younger for longer.

When she was pregnant, Antony's wife had an allergy to cosmetics. They decided to study products' formulation and they were fascinated and disappointed at the use of synthetic ingredients in classic cosmetic products.

So they decided to found their own natural cosmetic brand !

They wanted to make products 100% plant, modern, efficient, formulated with the latest hi-tech with a unique texture and fragrance so that they are enjoyable, and free from skin-unfriendly chemical ingredients.

They called this innovative concept "Clean skincare" and the brand REN, which means "clean" in Swedish.

Then, Antony Buck and Robert Calcraft met a brilliant French pharmacist who graduated from a Doctorate in Dermacosmetology. She allowed them to launch the first range of natural cosmetic products in 2000 in more than 30 countries all over the world.

Antony Buck et Robert Calcraft, REN founders
ren skincare brand philosophy: performance, purity, pleasure
REN Bio Retinoid anti-ageing serum

Working drawing packaging, efficiency, sensual pleasure, respect for the environment, health and beauty are the guidelines of the brand REN.

Antony Buck and Robert Calcraft said: "We believe that the texture, fragrance and experience of using REN can make the world a slightly nicer place to be and make us feel slightly nicer being here".

REN's philosophy is cosmetics products free from skin-unfriendly chemical ingredients like synthetic fragrance, mineral oil, sulfate detergents, synthetic colours, PEG's and parabens with more than 97% plant and mineral derived actives to give an optimal efficiency.

Pleasure is one of the core values of REN's philosophy. That's why texture and fragrance are unique.

Right ingredients

Healthy products free from synthetic fragrance, mineral oil, petrolatum, sulfate detergents, synthetic colours, animal ingredients and parabens, propylene glycol, PEG's, PPGs, urea, D.E.A, T.E.A, PABA and other synthetic sunscreens, aliphatic alcohols/hydrocarbons, phthalates, fumarates, amines, alkanolamines, synthetic AHAs/BHAs, polyacrylamide, metacrylate, elastomer, poloxamer, styrene, vinyl, polyquaternium, synthetic chelating agents, nylon, nitriles, nitrates, nitrosamine releasers, bromates, fluor, aluminum and alumina.

Right science

REN's goal is to be state-of-the-art and to discover the latest hi-tech actives to give formulas which stimulate the cell renewal to repair and protect the skin.

Right experience

It is based on pleasure with products that have silky textures and which are not oily with divine fragrances to offer a very unique beauty "me-time". A real whirl of pleasure!

Right respect for the environment

The brand REN put back more than 2.5% of its profits into associations which protect environment and poor people.

Furthermore, REN cosmetics are free from synthetic fragrance and colours, PEG's, propylene glycol, phthalates, sulphates, silicones and parabens.

Cosmetics REN are free from animal ingredients and are not tested on animals.
Focus on natural cosmetics ren skincare
Chose the right skincare product has never been easier thaks to REN specific colour code created to identify the different ranges : 7 colours adapted to each skin type or a specific need.

REN Evercalm for Sensitive skin

REN range blue-grey colour: anti-inflammatory and antioxidants ingredients clinically proven results to sooth and protect delicate skin.

REN ClearCALM for blemishes

REN range green colour: natural ingredients to reduce the excess of sebum, dead skin cells and bacterium to give a clean, purified and soothed skin without irritation.

REN Radiance for dull complexion

REN range orange colour: products specially formulated to give a radiant and healthy skin.

REN Clarimatte for Combination skin

REN range khaki colour: natural ingredients to clean, reduce pore size and protect the skin without irritation.

REN Bio Retinoid for Sagging skin

REN range violet colour: anti-ageing ingredients to fight against wrinkles and fine lines, blemishes and patches of colour to give a smoother skin.

REN Ultra Moisture for Dry skin

REN range lilas colour: ultra gentle ingredients to nourish, sooth redness to intensely moisture the skin.

REN Vita Mineral for Normal skin

REN range light blue colour: bio extracts to revitalize moisture and give a radiant complexion.

REN has also created a nightcare range for all skin types to revitalize and regenerate the skin during the night.

Even if REN's cosmetics are mixed, the brand has created a short men's facial skincare range especially for shaving.

And there is the famous and luxurious Moroccan Rose bodycare range: a cocktail of precious rose oils to offer pleasure and a silky skin.

These products are acclaimed by women all over the world as this body range is just exquisite!

REN anti-ageing range

REN radiance range

REN Rose bodycare range
Stars & cosmetics ren skincare
Kate Moss, one REN celebrity user

Kate Moss, Lilly Allen, Jude Law, Kate Beckinsale, Sadie Frost, Jade Jagger, Sienna Miller, Uma Thurman, Kate Winslet, Alanis Morrisette…

Celebrities are aware of the importance of using natural cosmetic products but they do not want to compromise on efficiency and results.

That is one reason why REN Skincare products are adulated by Hollywood celebs.

For instance, Jude Law loves Invisible Pores Detox Mask by REN, and Uma Thurman uses

Frankincense Revitalising Night Cream which is her favorite skincare product.

Kate Moss is specially keen on REN bodycare products while Sienna Miller loves the whole range.

Furthermore, makeup artists swear by N°1 Purity Cleansing Balmduring fashion shows.

Thanks to the performance and the purity of its products, REN is currently enjoying a huge success wherever it goes. A new generation of clean and effective skincare is born with REN Clean Skincare.
Credits : Ren