Douces Angevines
Beauty you can believe in, from women you can trust ! The Douces Angevines are 7 women who handcraft the world's most concentrated, super potent and targeted 100% natural beauty treatments.
Stunning results delivered without a single drop of synthetic chemical: The Douces Angevines cultivate their own ingredients in their farm in France and manufacture their beauty products in small batches so that they are as fresh as possible when they get to you.
With an average of 20 - up to 40 in the antiaging range - active natural ingredients in every bottle, Douces Angevines' beauty serums are multiactive formulas delivering real results !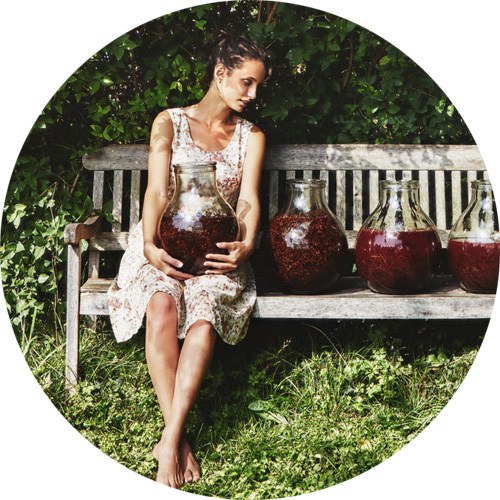 Know more about Douces Angevines
DOUCES ANGEVINES

Founded in 1994, Douces Angevines is all about promoting a modern, health-conscious natural beauty lifestyle that's committed to safety, honesty and sustainability.

Neither cream nor oil, Douce Angevines' beauty elixirs are unique in the world of natural cosmetics and completely free of synthetic and chemical ingredients to deliver stunning results, without putting your health at risk.
THE DOUCES ANGEVINES BRAND HISTORY
Michel Cros initially read literature but then decided to increase her knowledge about the medicinal and aromatic plants which reminded her of her childhood at her grandparents in the South of France.

Fascinated by all this new knowledge she wanted to share a concrete way, she began to realize her own beauty recipes for personal use and for her family. Testing whenever new plants, refining each of her formulas... Due to the success and the growing effectiveness of her elixirs, the idea of selling them came naturally.

She then gather with other beauty professional women and this is in 1994, in the heart of Anjou, Soucelles in one of the villages of the famous "Douceur Angevine" of Joachim du Bellay, that Michèle Cros creates Douces Angevines a true pioneer brand of organic cosmetics.

Inspired by the tradition of the "good women" - in the France of the Middle Ages, these women believed in the power of plants and were herbalists, healers, midwives, and finally some kind of witches ... Michèle Cros wished to place her brand Douces Angevines in this tradition of ancestral knowledge and craftsmanship.

So she began by creating her garden of organic beauty, a living and poetic herbarium, where plants flourish naturally and are picked according to the seasons and the lunar cycles to capture the essence of their power.

Michel Cros, Douces Angevines brand founder
THE DOUCES ANGEVINES PHILOSOPHY
In the organic beauty garden

Purity

Douces Angevines natural and organic beauty products are certified by Ecocert.

This international organic label guarantees traceability and organic composition of the cosmetic product that you purchase.

Douces Angevines beauty elixirs go well beyond the requirements of Ecocert with 95% to 100 % organic ingredients. With no additives : 0% synthetic. 100% non-toxic.

Results-oriented

Douces Angevines' formulas contain unprecedented concentrations of active ingredients – an average of 20 per bottle while the average skincare available typically contains between 1-3!

Douces Angevines belive that every ingredient in a product should benefit your skin, that's why their products contain no water nor useless fillers.

This unique formulation gives the Douces Angevines' products a greater tolerance and a perfect assimilation by the skin. The skin breathes, naturally regenerates and does not feel clogged or greasy.

Quality

Not all natural ingredients are created equal. Douces Angevines use only the highest grade available.

Douces Angevines are their own manufacturere. Owning the whole production process from start to finish ensures high quality every step of the way and in every bottle.

Grown in the Douces Anevines' beauty garden, the plants are processed locally and by hand : no machine , no biotech or chemical manipulation. They manufacture in small batches every month so that the products are always as fresh as possible.

No animal testing

At no stage of the development or manufacturing proccesses, and for no ingredient! Douces Angevines is a member of the One Voice association for Animal Welfare.
THE ECOLOGICAL COMMITMENTS OF DOUCES ANGEVINES
At Douces Angevines, they believe that businesses should take responsibility for the environmental repercussions of their actions, so they live Sustainability daily since 1994.

With the primary objective of providing a cosmetic made of 100 % organic ingredients , the environment is at the heart of the concerns of the brand. Thanks to 100% artisanal manufacturing process, their production methods are gentle and non-polluting .

Around 40 % of the plants used in Douces Angevines' beauty products come from the brand's beauty garden on the outskirts of the production facilities and the picking of wild plants (20% of ingredients) is made with respect in preserved places. All activity is kept in one place to cut down on the carbon footprint

For the remaining 40%, essential oils and exotic plants, most come from small producers of Anjou and France with the highest quality standards.

For exotic oils from abroad, Douces Angevines gives priority to suppliers who develop fair trade programs.

Douces Angevines' certified lab