Your e-shop to buy Egyptian Magic products online
LES ORIGINES DE LA MARQUE EGYPTIAN MAGIC
Découvrez et adoptez le baume multi-usage 100% naturel Egyptian Magic. D'après la légende, sa formule remonterait à l'époque des pharaons... Lancé en 1991, le baume "magique" nous vient en réalité tout droit des USA où il est devenu en l'espace de deux décennies un produit de beauté incontournable.
LES ENGAGEMENTS

EGYPTIAN MAGIC
L'Egyptian Magic est fabriqué à partir d'un mélange unique d'ingrédients naturels dont la propolis, le miel et la gelée royale. Adoptée dans le monde entier, la crème Egyptian Magic a de très nombreuses vertus, elle peut être utilisée comme soin nourrissant corps ou visage, soin nettoyant, baume démaquillant, remède contre l'eczéma et le psoriasis, baume pour les lèvres et masque pour les cheveux. Le baume Egyptian Magic peut être utilisé comme soin assouplissant contre les vergeture, baume anti-rides et il aide à réduire visiblement l'apparence des cicatrices.
LE PRODUIT CULTE

EGYPTIAN MAGIC
Soin protecteur ultra nourrissant apprécié par toutes les beautystas averties, Egyptian Magic est LE produit cosmétique tout-en-un indispensable à avoir impérativement toujours avec soi !
Egyptian Magic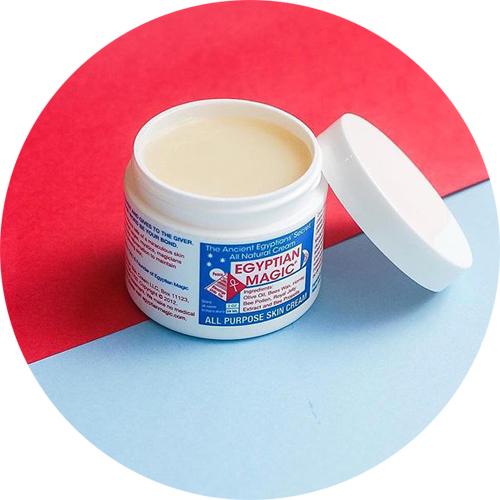 Egyptian Magic is an all-purpose skin cream with all-natural healing ingredients that is legendary among celebrities (Madonna, Cara Delevigne, Kate Hudson...) and a must-have tool for professional make-up artists.
Claimed as the exact formula for a cream found in ancient Egyptian tombs, Egyptian Magic cream is a phenomenal healing balm that people often start using to solve a skin problem such as a rash or burn or scar, and then continue using it when they discover that Egyptian Magic offers many other uses as well.
Amazing moisturizer, natural hair conditioner, lip balm, after-shave, hand & cuticle cream, makeup remover... Egyptian Magic is a serious miracle worker.
| | |
| --- | --- |
| | Shop here Egyptian Magic all purpose skin cream |