Egyptian Magic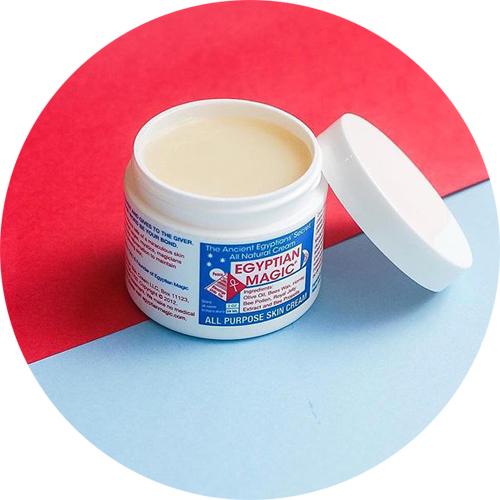 Egyptian Magic is an all-purpose skin cream with all-natural healing ingredients that is legendary among celebrities (Madonna, Cara Delevigne, Kate Hudson...) and a must-have tool for professional make-up artists.
Claimed as the exact formula for a cream found in ancient Egyptian tombs, Egyptian Magic cream is a phenomenal healing balm that people often start using to solve a skin problem such as a rash or burn or scar, and then continue using it when they discover that Egyptian Magic offers many other uses as well.
Amazing moisturizer, natural hair conditioner, lip balm, after-shave, hand & cuticle cream, makeup remover... Egyptian Magic is a serious miracle worker.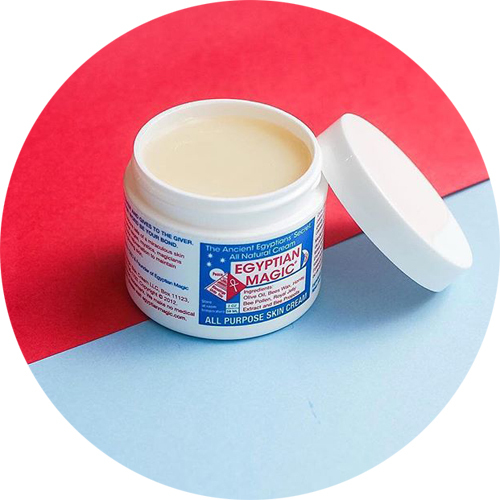 Know more about Egyptian Magic
Why we love EGYPTIAN MAGIC ?
Its simple but potent formula
A multifunctional product for the whole family
Without fragrance or essential oils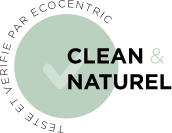 Great for :

Scars, Skin tightness, Irritations, Redness, Acne, Blackheads, Itching, Allergy
Add to shopping bag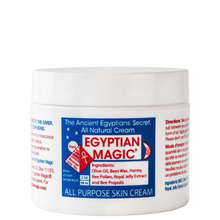 Egyptian Magic
Egyptian Magic - All purpose skin balm
from 10,00 €
EGYPTIAN MAGIC

Egyptian Magic honey balm is a true ancestral remedy. This all-natural balm is a multi-purpose care product with an ultra-clean composition based on ingredients from the beehive, which can be used by the whole family. With its many virtues, it can almost stand alone in the toiletry kit.
History of the brand Egyptian Magic
In 1991, the brand Egyptian Magic launched its cult product: the Egyptian skin cream, a unique all-in-one product. It comes in the form of a jarred balm with a "magical" power that has in fact lasted for centuries.



Inspired by an ancient Egyptian formula, Egyptian Magic Miracle Cream was secretly used by sages, healers, and magicians to regenerate the skin.



It is said to have been a favourite beauty product of Cleopatra, who used it to keep her skin glowing. Now it is the beauty secret of celebrities such as Kate Hudson, Madonna, Eva Longoria, and is adopted by many make-up artists for its multi-purpose and incredible benefits.



Egyptian Magic is made using a patented process based on a formula created thousands of years ago in the land of the pharaohs.



The secret of Egyptian Magic cream is the handmade blend of its 6 natural ingredients: olive oil, beeswax, honey, pollen, royal jelly and propolis.



Egyptian Magic is an all-in-one skincare product, a 100% natural balm that melts on contact with the skin and transforms into an oil with multiple virtues: nourishing, soothing, healing, moisturising... a simple and natural beauty gesture with amazing results.
The 6 ingredients of the Egyptian Magic multi-use cream
This all-purpose balm from Egyptian Magic is additive-free, preservative-free, fragrance-free, chemical-free, paraben-free and not tested on animals. This rich skin care cream combines only 6 natural and versatile ingredients:



Olive oil



Olive oil is rich in vitamins, minerals and fatty acids that help soften, nourish and tone the skin for radiant skin. Known for its emollient properties, the olive oil contained in Egyptian Magic cream protects the skin from dehydration. Rich in antioxidants, olive oil plays a protective role on the cells and acts against skin aging. Very gentle, olive oil is a friend of the most sensitive skins.



Honey



Honey is the star ingredient of Egyptian Magic Balm. With a long list of properties, honey combines nourishing, soothing, softening, regenerating and moisturising properties. Rich in vitamin A, nutrients and minerals, honey promotes healing to relieve skin prone to imperfections. Famous for its purifying and antiseptic properties, honey prevents the development of micro-organisms thanks to its acid pH. It therefore helps to clear and purify oily skin. Its antioxidant power reduces wrinkles and thus delays the appearance of the signs of ageing.



Pollen



Pollen is very rich in nutrients and nourishes the skin perfectly. Ideal for acne-prone skin, pollen has healing benefits. Its content of vitamin E and fatty acids contributes to cell renewal and protects the skin against skin ageing. The pollen content of Egyptian Magic's multi-purpose balm helps to keep the skin hydrated by maintaining water in the cells.



Beeswax



Beeswax is an ancient remedy used in Egyptian Magic's natural product that deeply soothes and nourishes the skin. Vitamin A gives it a protective action on the cell membranes, which allows it to retain water in the cells for moisturising properties. It will create a protective barrier on the skin to protect it against external aggressions. Beeswax is also known for its repairing properties.



Royal jelly



Royal jelly is a key ingredient in Egyptian Magic to fight the signs of ageing. Its antioxidant properties help to reduce wrinkles and fine lines. Its amino acid content contributes to the cell renewal process that restores the skin's elasticity. Royal jelly combats signs of fatigue, leaving the skin revitalised and radiant.



Propolis



Propolis is renowned for its antibacterial, antiseptic, healing and antimicrobial actions. Its anti-ageing action fights against free radicals to delay the ageing of the skin. The propolis used in the natural formula of Egyptian Magic Balm nourishes the skin and gives it a new softness.
The different uses of Egyptian Magic balm
Egyptian Magic moisturises and repairs the skin



Combining the benefits of its 6 natural ingredients to provide an ultra-moisturising natural cream for all skin types and the whole family, Egyptian Magic's product gives the skin the moisture it needs and also helps to fight wrinkles.



Egyptian Magic soothes burns



Super moisturising, super healing, Egyptian Magic natural balm is perfect for soothing burns, whether it's sunburn or artificial burns.



Egyptian Magic helps heal cuts, scrapes and abrasions



Apply Egyptian Magic cream in a jar to minor injuries such as cuts, scrapes and abrasions to help them heal. Ideal for children, their sores will be a bad memory.



Egyptian Magic is a very good healing agent



With the help of the natural composition of the Egyptian Magic pot cream, scars can be prevented or repaired.



Egyptian Magic relieves skin problems



The 100% natural Egyptian Magic melting balm is ideal for soothing skin diseases such as eczema or psoriasis.



Egyptian Magic as a conditioner



Egyptian Magic's natural product works wonders on the hair. When used as a conditioner, say goodbye to frizz. The hair is nourished and regains its shine and strength thanks to the olive oil. Honey will moisturise, eliminate dandruff and soothe itchy scalp.



Egyptian Magic as a lip balm



The texture is perfect as a lip balm. Egyptian Magic natural cream provides intense hydration to dry and chapped lips. Simply apply a thin layer to the lips morning and evening.



Egyptian Magic as an after-shave



This multi-purpose balm is used by men to moisturise and soothe their razor-sensitive skin. They love Egyptian Magic because it leaves their skin free of redness and pimples caused by shaving.
Egyptian Magic after sun balm



The Egyptian Magic balm in a jar is also a very good after-sun balm. It will soothe and nourish the skin after sun exposure, to avoid overheating and redness.



Egyptian Magic hand and cuticle cream



Egyptian Magic can also be used as a hand cream. The moisturising properties of the cream leave your hands soft and nourished and it is an excellent balm for your cuticles.



Egyptian Magic as a make-up remover



Many people use Egyptian Magic cream as a make-up remover to gently cleanse and remove make-up from the skin. To do this, simply heat a small amount of the balm and it will turn into oil. Applied all over the face, Egyptian Magic natural balm dissolves even the most stubborn make-up without drying the skin.



Egyptian Magic as an eye contour cream



This melting honey cream is ideal as an eye contour cream. Wrinkles are reduced and the eye area is moisturised and relaxed.



Egyptian Magic as a massage balm



This care product is used as a massage oil. After heating the Egyptian Magic balm in your hands, its melting texture allows you to massage for a moment of intense relaxation and a nourished skin.



Egyptian Magic soothes and heals after a tattoo



After getting a tattoo, apply this balm to soothe and help the tattoo heal.



Egyptian Magic moisturises and softens babies' skin



With its safe formula, made with 100% natural ingredients, Egyptian Magic moisturises and softens babies' sensitive skin. This balm is also widely used to relieve diaper rash.



Egyptian Magic during and after pregnancy to fight against stretch marks



To be applied on the breasts, stomach or thighs, Egyptian Magic's natural product is recommended to prevent or heal stretch marks during weight variations.



Egyptian Magic as a make-up base



It is possible to use this natural balm as a make-up base. It is used to give a more radiant look to make-up. It is also used by some stars as an eyebrow fixative.
Egyptian Magic Moisturizing Face Mask



Its ingredients are renowned for their moisturising and repairing properties and are ideal for repairing dull and dry skin. The Egyptian Magic balm in a jar is the best ally to regain a radiant and hydrated skin, in only 30 minutes.



Egyptian Magic to moisturise dry areas



Egyptian Magic cream is effective for the driest areas of the body, such as elbows and heels.



Egyptian Magic to relieve itching



The Egyptian Magic brand product works very well on itching like an insect bite. By applying this balm, the itch will be alleviated within seconds.
Buy Egyptian Magic Balm in Lyon