Egyptian Magic - All purpose skin balm
Description
Egyptian Magic all-Purpose skin and hair cream
Egyptian Magic Cream is a phenomenal healing balm with legendary powers due to its unique mixture of all natural ingredients : olive oil, bees wax, honey, pollen, royal jelly and propolis. No additives, preservatives, fragrances, chemicals nor parabens !
Models and makeup artists are crazy about this little jar packed with nature's most effective healing ingredients.
You can use Egyptian Magic cream for pretty much anything :
- as a skin moisturizer to repair skin
- as a lip balm to heal chapped lips
- to moisturize patches of dry skin (elbows, knees...) and relieve itching
- as a natural hair conditioner to add sheen and texture
- as a make-up remover or primer
- to heal scars and treat cuts and scrapes
- as an hydrating face mask
- to fight acne and blackheads
- as a hand and cuticle cream
- to prevent and heal diaper rash
- to soothe eczema and psoriasis
- to help combat stretch marks during and after pregnancy
- as an after shave
- as an after sun lotion
- as a tatto aftercare
- to repair cracked heels
- as a massage balm...
Key ingredients
Olive –

rich with unsaturated Omega-9 fatty acid (oleic acid), palmitic acid, squalene, phenolic compounds and phytosterols this oil is ideal care for dry and damaged skin

Honey –

promotes healing; moisturizing and emollient properties

Bees wax – moisturizing; protects the skin against external aggressions
Pollen –

rich in antioxidant vitamins; prevents from skin aging

Royal jelly – rich in amino acids it is both revitalizing and harmonizing ; the richest natural ingredient in vitamin B5 (or pantothenic acid) which favors growth and strength of the skin
Propolis – skin protection and antibacterial properties ; stimulates total skin renovation
Natural multi purpose cream for all skin types.
Directions
How to use Egyptian Magic cream :
Rub a moderate amount of Egyptian Magic cream in your palms and apply gently on the skin or hair once liquid.
Daily use
Egyptian Magic is safe to use on babies and infants. As with any skin care product, please consult your pediatrician before use and do not apply if your baby may have an allergy to bee products.
Complete INCI list of ingredients
×
100% of ingrédients are of natural origin
Ingredients
Olive oil, beeswax, honey, pollen, royal jelly, propolis
We always update changes when noticed, but please refer to the information on your product packaging for the most up-to-date list of ingredients. Always check and follow the instructions for use written on the packaging.All sales are final on this unsealed product.
Complete your natural beauty routine
Add to shopping bag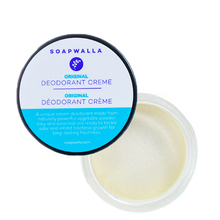 Soapwalla
Deodorant Cream
from 10,00 €
Add to shopping bag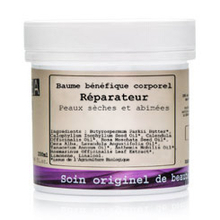 Hévéa
Repair body balm
30,00 €
Great for :

Dark circles, Anti-puffiness, Dehydration
Add to shopping bag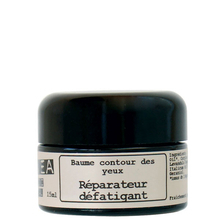 Hévéa
Organic eye contour balm - Relaxing & Repair
16,00 €
Reviews & Questions
Your reviews about :
Egyptian Magic - All purpose skin balm
J'utilise ce baume depuis un moment déjà, c'est le deuxième pot que j'entame en deux ans donc c'est vraiment une affaire car je l'utilise comme baume à lèvres, masque pour mes pointes sèches, coups de soleil, piqûres, etc. Parfait !
C'est un baume à tout faire vraiment efficace. Il a fait des merveilles sur mes pieds et avant-bras très secs à cause du froid. Seulement, je n'arrive pas à l'utiliser en baume à lèvres car à chaque application je fais une grosse allergie..
J'adore ce baume! Une vrai petite merveille qui hydrate, "repulpe", et affine le grain de la peau. Bien que fondant et riche, il ne laisse pas de film gras et convient à ma peau mixte. Un must have!
Your questions about : Egyptian Magic - All purpose skin balm
Puis je utiliser le baume Egyptian Magic en tant que masque la NUIT ? ( méthode du slugging). J'ai une peau grasse , comédogène et acnéique .
Le slugging consiste à appliquer un soin assez occlusif en dernière étape de sa routine le soir. Le baume Egyptian Magic contenant de la cire d'abeille il pourra remplir cette fonction. Cette dernière est cependant assez comédogène. L'huile d'olive d'indice 2 est peu comédogène. La propolis, le miel et la gelée royale seront bénéfiques pour soigner votre acné et aider à la cicatrisation des boutons. Vous pouvez faire un test, quitte à commencer par un soir sur 2 ou 3 pour voir comment votre peau réagit. Et dans tous les cas votre pot d'Egyptian Magic vous servira toujours, ce produit est tellement multifonction qu'il ne sera pas perdu s'il ne vous convient pas en masque de nuit.
par Ecocentric
Bonjour, puis-je utiliser le baume égyptien sur mon nourrisson ? Merci
Bonjour, le baume Egyptian Magic peut être utilisé sur un nourrisson sans problème, le baume ne contenant pas d'huiles essentielles.
par Ecocentric
About : Egyptian Magic
Egyptian Magic is an all-purpose skin cream with all-natural healing ingredients that is legendary among celebrities (Madonna, Cara Delevigne, Kate Hudson...) and a must-have tool for professional make-up artists.Claimed as the exact formula for a cream found in ancient Egyptian tombs, Egyptian Magic cream is a phenomenal healing balm that people often start using to solve a skin problem such as a rash or burn or scar, and then continue using it when they discover that Egyptian Magic offers many other uses as well.Amazing moisturizer, natural …