Ere Perez
Pioneer of clean beauty, the cosmetics brand Ere Perez Natural Cosmetics is based on science, the power of plants and Nature to create the best of natural, vegan and cruelty-free beauty.
Ere Perez creates innovative makeup and skincare products for those seeking minimal, ethical, healthy beauty products without silicones, petrochemical derivatives or harmful chemicals.
All the formulas of the Ere Perez products contain only natural superfood ingredients selected for their performance and their revitalizing and moisturizing properties for the skin, even the make-up becomes skincare to go beyond the color.
Ere Perez spreads an holistic vision of clean beauty that is not limited to what is inside the bottle : it also concerns product packaging and all aspects of manufacturing, from the arrival of raw ingredients in the laboratory to the shipment of skincare and make-up products.
The entire life cycle of Ere Perez beauty products is clean, sustainable and committed to always improve and make the most !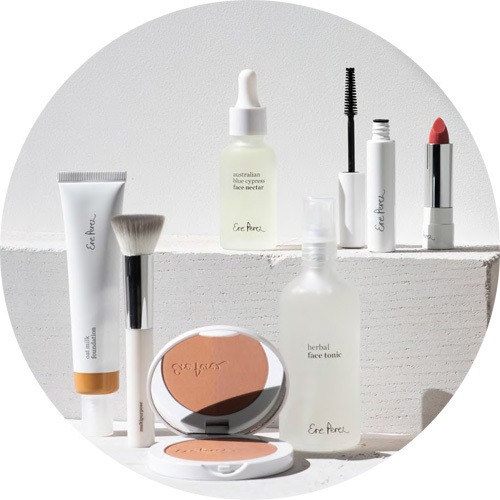 Know more about Ere Perez

Why we love Ere Perez ?
Its natural, vegan and cruelty-free makeup
Its sustainable approach of beauty
Its range of natural skincare essentials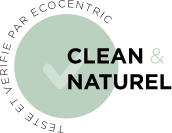 La marque Ere Perez

Forte de plus de 20 ans d'expérience dans le domaine de la beauté clean, la marque Ere Perez sait prendre soin de la peau avec des ingrédients naturels et des actifs performants ultra nourrissants issus de la Nature sans aucune pétrochimie.

Ere Perez Natural Cosmetics valorise la simplicité et adopte la philosophie du "less is more" avec des soins et des produits de maquillage multifonctions aux formules innovantes et riches en nutriments végétaux bons pour la peau.

La marque de cosmétique végane et naturelle Ere Perez propose à la fois des soins du visage et du maquillage, si possible rechargeable dans une démarche zéro déchet, et qui respecte toujours la santé, le bien-être mais également la planète.
Histoire de la marque de beauté green Ere Perez
Au début des années 2000, il était difficile pour les femmes de trouver une alternative au maquillage traditionnel rempli de produits chimiques.

C'est pourquoi en 2002 Ere Perez lance sa marque de produits de beauté clean et naturels, du même nom, avec un seul et unique produit : le mascara à l'amande.

Ere Perez a passé toute son enfance au Mexique avec un grand-père médecin et une mère passionnée par les remèdes maison et les recettes de beauté qui ont éveillé sa curiosité pour la Nature et ses capacités de guérison.

Elle a alors obtenu une licence en nutrition et une certification en naturopathie, fleurs de Bach et acupuncture, puis a émigré en Australie avec son riche héritage culturel tout en rêvant déjà de créer sa propre ligne de produits de beauté naturels.

Son rêve s'est réalisé et Ere Perez Natural Cosmetics est née à Bondi Beach, à Sydney et fut l'une des premières marques à proposer du maquillage non toxique très performant : tenue longue durée, rendu coloriel parfait, application facile, textures agréables.

En 2018, la marque de maquillage responsable Ere Perez a élargi sa gamme en proposant également des soins de la peau clean et naturels et est fière d'être l'une des rares marques naturelles à proposer à la fois des soins de la peau et du maquillage clean pour prendre soin de vous du lever au coucher.

Chaque produit cosmétique Ere Perez fait avancer le monde des soins de la peau et de la beauté vers un niveau d'exigence supérieur, grâce à son ingéniosité, à la recherche d'ingrédients performants et à la découverte de nouvelles technologies.

Pour la créatrice de la marque Ere Perez Natural Cosmetics, la beauté naturelle est liée à la façon dont vous vivez votre vie, dont vous vous connectez au monde et dont vous nourrissez votre corps, à l'intérieur comme à l'extérieur.

Ere Perez représente l'alchimie de la nature généreuse et du mode de vie écologique de l'Australie, avec un soupçon de couleur mexicaine et de culture vibrante.Ce sont toutes ces jolies influences et la sincérité des engagements qui font d'Ere Perez une marque comme nous les aimons chez Ecocentric.

Ere Perez créatrice de la marque du même nom

Mascara à l'amande de Ere Perez
Ere Perez Natural Cosmetics : des produits de beauté éthiques et éco-responsables
L'approche de la marque Ere Perez est celle d'un nouvelle génération de l'industrie de la beauté et inscrite dans l'air du temps et les exigences environnementales actuelles : la beauté éthique. Une beauté consciencieuse qui respecte la santé, le bien-être et la planète, et qui se fait avant tout avec le cœur.

La marque de maquillage Ere Perez s'efforce d'utiliser des ingrédients clean et d'assurer une démarche de commerce équitable, avec des solutions durables, de la diversité et de l'inclusion, de la gentillesse et de l'attention dans tout ce qu'elle fait.

Ere Perez est partisane d'une beauté durable, minimale, sans chichi, et encourage à consommer moins et à consommer mieux, c'est à dire des produits de qualité.

La mission de la marque de cosmétiques naturels Ere Perez est de faire évoluer les habitudes de consommation des beautystas et adeptes de maquillage en les poussant à faire des choix de vie plus conscients pour leur santé et la planète.

Adopter les produits de beauté Ere Perez c'est faire le choix de cosmétiques naturels "sans culpabilité".

En tant que pionnière de la beauté naturelle et des cosmétiques clean, la marque Ere Perez relève chaque jour le défi d'être plus propres, plus verts et plus durables pour garder son rôle de leader et de marque en avance sur son temps.

Pour Ere Perez Natural Cosmetics, la beauté propre ne se limite pas aux formules des produits de beauté : elle concerne l'emballage des produits, le transport, les opérations de transformation et de fabrication des produits au laboratoire, la gestion des déchêts, la consommation d'eau, l'empreinte carbone...
Ere Perez : des produits de beauté aux formules clean et naturelles
La marque de beauté green Ere Perez se base sur la science et le pouvoir des plantes et de la Nature pour créer du maquillage et des soins de la peau innovants avec des ingrédients superfood uniques et des actifs ultra performants sélectionnés pour leur action revitalisante et nourrissante pour la peau.

Les cosmétiques naturels Ere Perez valorisent la simplicité avec des soins et des produits de maquillage multifonctions aux formules innovantes et sans ingrédients toxiques.

Ere Perez sélectionne minutieusement les ingrédients de ses produits de beauté : plantes médicinales exceptionnelles, des ingrédients indigènes australiens, des vitamines et des enzymes essentielles connues pour favoriser la guérison.

Les formules des produits et soins cosmétiques de Ere Perez sont très performantes, non toxiques, et riches en antioxydants et en nutriments encourageant la jeunesse et l'hydratation de la peau.

Fond de teint au lait d'avoine de la marque Ere Perez
Engagements et promesses de la marque de maquillage clean Ere Perez
Evolution du packaging d'un produit de beauté Ere Perez

Crédit photos : Ere Perez

La marque de produits de beauté Ere Perez s'investit pleinement pour minimiser son empreinte écologique.

Ingrédients cosmétiques ultra clean

Ere Perez choisit des ingrédients puissants et nutritifs mais largement disponibles, et évite les ingrédients qui sont rares ou menacés par la surproduction. Elle fait également le choix de ne pas utiliser des ingrédients source d'OGM.

Produits de maquillage multifonctions

La marque a élaboré des produits aux multiples usages, comme un 2-en-1 ou même un 3-en-1, en choisissant l'un de ses produits on économise beaucoup de matériaux et de ressources.

Produits de beauté vegan

Ere Perez n'utilise pas d'ingrédients d'origine animale (à l'exception de son mascara aux amandes qui contient de la cire d'abeille).

Marque de beauté engagée

Ere Perez est signataire du Pacte mondial des Nations unies et s'est engagée à respecter les principes de durabilité des entreprises en matière de droits de l'homme, de travail, d'environnement et de lutte contre la corruption.

Ere Perez soutient la production durable d'huile de palme en achetant des crédits qui soutiennent ces pratiques. Les mascaras teintés de la marque contiennent de l'huile de palme provenant de sources durables.

cosmétique Neutre en carbone

La marque de produits de beauté naturels Ere Perez est certifiée neutre en carbone, depuis 2016, par le Carbon Reduction Institute. Elle compense le carbone de tous les éléments de sa production pour contribuer à des initiatives durables. Même leurs expéditions sont neutres en carbone.

Cosmétique ans cruauté "Cruelty Free"

Les produits Ere Perez ne sont pas testés sur les animaux et aucun des ingrédients de leurs formules n'est soumis à des tests sur les animaux. Ere Perez est certifiés cruelty free par PETA et Choose Cruelty Free Australia.

Emballages cosmétiques durables

Les emballages de la marque Ere Perez ont évolué au fil du temps et de nombreuses décisions - petites et grandes - ont été prises pour être plus respectueux de l'environnement. Actuellement, 23 % de leurs emballages peuvent être recyclés à l'infini et 14 % de leurs produits sont dans une démarche zéro déchets.

• Produits de maquillage rechargeables

Ere Perez propose toujours plus d'options rechargeables pour ses produits de beauté, afin d'épargner à la planète des emballages supplémentaires.

• Sans plastique

La marque remplace le plastique dans l'emballage de ses produits par un matériau recyclable à l'infini comme le verre ou l'aluminium et utilise des matériaux biodégradables ou compostables sans plastique pour l'expédition. Toutefois lorsque du plastique est tout de même utilisé dans l'attente d'une alternative, il s'agit principalement de plastique recyclé PCR (Post-Consumer Recycle).

• Mono matériaux

Ere Perez utilise uniquement toujours un seul et unique matériau pour chaque partie de l'emballage de ses produits (verre brut, carton FSC, aluminium pur) afin de faciliter le recyclage.

• Zéro déchet

Certains produits de la marque sont conçus avec un impact aussi faible que possible sur l'environnement, avec le moins de déchets possible pendant le cycle de vie du produit, avec notamment des emballages recyclables et des biomatériaux.

Promesses d'avenir pour une beauté moins polluante

Ere Perez s'engage à évaluer les caractéristiques écologiques de ses produits existants et ses futurs produits. A court terme la marque s'est engagée devenir :

• 90% sans plastique

• 20% de produits zéro déchet

• 95% de mono matériau

• 50% des plastiques seront des PCR

• 100% sans miroir, colle et aimant

• 100% recyclable et 30% réutilisable

• 18 produits rechargeables fabriqués à partir de récipients 100 % recyclables

Ere Perez est une marque en mouvement et en constante réévaluation afin de minimiser son impact environnemental.
Acheter les produits de maquillage Ere Perez à Lyon