La Fervance
LA FERVANCE is the world's first indie beauty brand to create a Franco-Australian fusion, driven by pure innovation and born out of a desire to create high performance natural skincare with scientifically proven results.
Formulated using only active, traceable ingredients from 100% natural origins, LA FERVANCE offers a new philosophy of multi-ritual and multi-correctional clean beauty with transformactive textures which make it a pleasure to use and achieve visible results while embodying the quintessence of pure, luxurious beauty.
Made in France, LA FERVANCE skincare represents authenticity, pure luxury and excellence in French savoir-faire. To meet the highest standards of natural beauty LA FERVANCE collaborates with the most renowned cosmetic scientists, researchers in cosmetology and artisans to create a product which meets their extremely meticulous specifications in the most exacting way possible. A proven and sensorial experience like no other !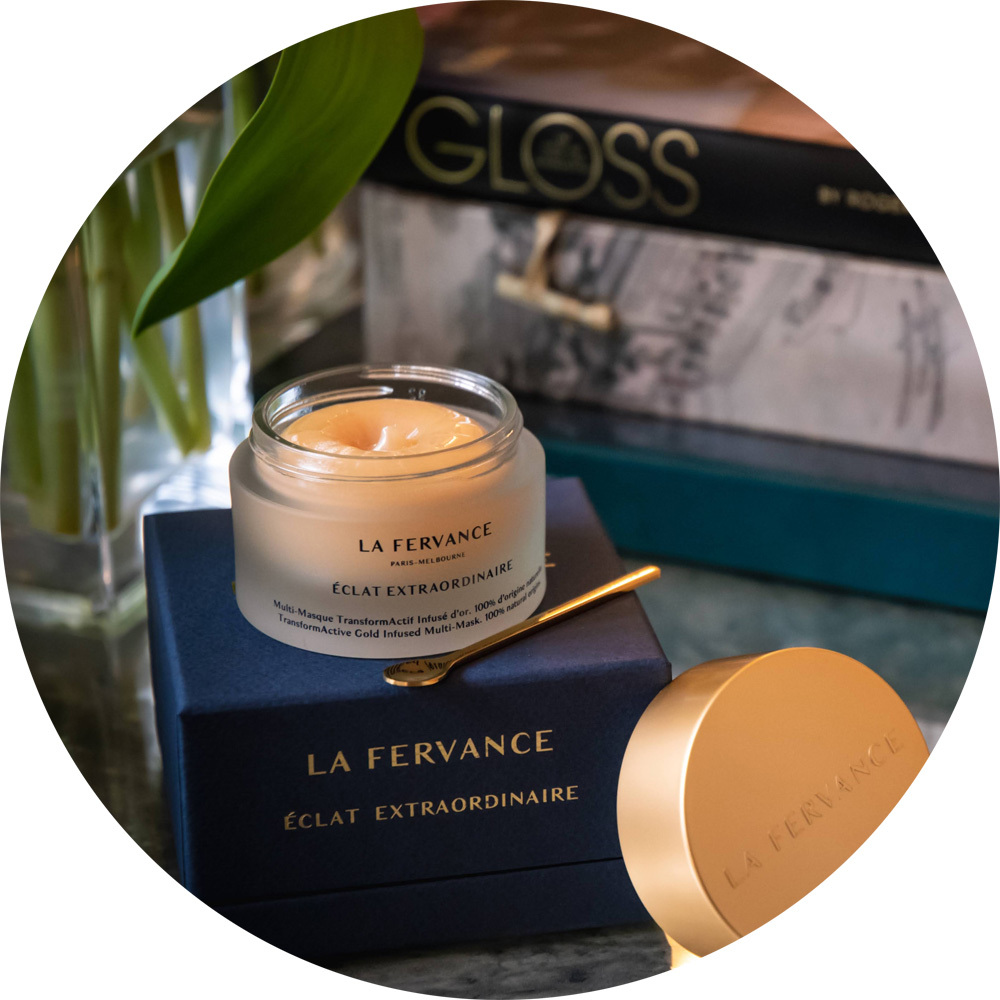 Know more about La Fervance
Great for :

Dehydration, Skin tightness, First wrinkles, Lack of firmness
Add to shopping bag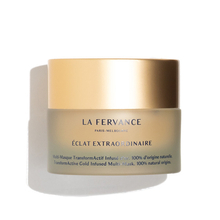 La Fervance
Éclat Extraordinaire - Transformactive Gold Infused …
195,00 €
Great for :

Dull complexion, Blemishes, Dilated pores, Hyperpigmentation, Dark spots
Add to shopping bag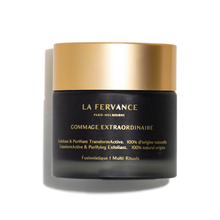 La Fervance
Gommage Extraordinaire - Transformactive & Purifying …
110,00 €
Add to shopping bag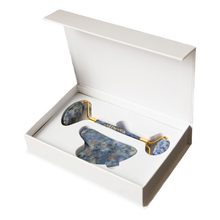 La Fervance
Blue Sodalite Crystal Facial Tool and Roller Sculpting …
59,00 €
La Fervance

La marque LA FERVANCE crée des soins de peau précieux, 100% naturels et à la sensorialité unique nés de la fusion entre le savoir-faire français et les bienfaits de la flore australienne.

Portée par la volonté de concentrer le meilleur de la cosmétique naturelle avec des actifs innovants à l'efficacité cliniquement prouvée, LA FERVANCE propose une gamme courte de soins multifonctions et ultra concentrés pour garantir des résultats visibles et rapides.
Histoire de la marque de cosmétique naturelle La Fervance
L'histoire d'amour de Melissa avec la France a commencé alors qu'elle étudiait à l'Institut de la mode de Paris dans les années 90. Elle a travaillé avec les plus grands noms du monde de la mode, étendant ces expériences à des postes de direction en Australie, suivi d'une brillante carrière dans le monde de l'art.

La passion de Melissa pour la beauté clean l'a amenée à travailler au développement et la commercialisation de la première gamme de produits de beauté 100% naturels fabriqués en Australie puis jusqu'à vouloir créer sa propre marque.

En quête de perfection absolue, Melissa s'est installée en France avec son mari et leurs enfants pour collaborer avec les leaders mondiaux de la cosmétique. Ces experts ont été séduits par l'enthousiasme, l'intégrité du projet et la détermination de Melissa à créer des soins d'exception à partir d'ingrédients actifs d'origine 100% naturelle.

Après trois années de recherche intense, de développement et de tests approfondis, LA FERVANCE est née.

Melissa Obeid, Fondatrice de LA FERVANCE
La philosophie de la marque La Fervance

Les produits de la marque LA FERVANCE

La marque de cosmétique de luxe LA FERVANCE est née de la rencontre entre la France et l'Australie. Elle s'inspire ainsi de l'expédition napoléonienne « Terre Napoléon » de 1800, partie pour l'Australie et revenue trois ans plus tard avec plus de 200 000 espèces de la flore et de la faune australienne, dont le mimosa.

Les ingrédients de chaque produit LA FERVANCE sont traçables, pour comprendre d'où vient chaque actif de soin et à quoi il sert, et d'origine 100% naturelle, et tous les ingrédients sont issus de sources durables et certifiés COSMOS.

Les soins La FERVANCE utilisent des ingrédients comestibles et peu transformés, car c'est en nourrissant la peau de nutriments essentiels et en lui donnant tout ce dont elle a besoin pour se protéger, se réparer et rester saine que la marque sait pouvoir obtenir les meilleurs résultats.

Tous leurs ingrédients biologiques sont certifiés par Ecocert. Tous les emballages de la marque LA FERVANCE sont 100 % recyclables, en verre et en carton FSC, sourcés localement et certifiés COSMOS également.
Les actifs naturels clés de la marque La Fervance
Myrte (anetholea anisata)
Un arbre originaire de la forêt tropicale des montagnes australiennes. Il donne des feuilles parfumées avec un riche arôme d'anis traditionnellement utilisées comme tonique aborigène avec des effets revitalisants.

C'est un source d'antioxydants, de lutéine, de folate, de vitamine C, de vitamine E et de vitamine A. Le myrte contient également des minéraux comme le zinc, le magnésium et le calcium qui sont nécessaires à la synthèse et à l'autoréparation de l'ADN.

Poivre des montagnes (tasmannia lanceolata)
Une plante originaire des terres montagneuses du sud-est de l'Australie. C'est une espèce rustique, tolérant des températures hivernales froides et survivant sur des sites rocheux et exposés au vent.

La feuille de poivre de montagne contient une molécule active appelée Polygodial qui est associée à des activités antimicrobiennes et anti-inflammatoires.

Hibiscus (hibiscus sabdariffa)
Une fleur sauvage aussi appelée rosella originaire des montagnes de l'extrême nord de l'Australie. La rosella sauvage est connue pour ses vertus médicinales.

Les feuilles chauffées étaient traditionnellement appliquées sur les plaies et les ulcères pour accélérer la guérison. Elle contient des protéines, des glucides, des anthocyanes, des AHA (acide citrique et acide malique) et de la vitamine C.

Prune de Kakadu (terminalia ferdinandiana)
Un petit fruit acide originaire d'Australie devenu une superstar de la beauté naturelle car c'est une source incroyable de vitamine C, essentielle pour une peau éclatante ; son action raffermit la peau, aide à estomper les taches brunes, peut aider à estomper les cicatrices d'acné et améliore la façon dont la peau réagit aux rayons UV. C'est aussi un anti-acné naturel.

Les prunes de Kakadu sont utilisées par les tribus aborigènes d'Australie depuis des milliers d'années - et elles sont particulièrement connues comme remède antibiotique et anti-inflammatoire traditionnel. Appliquée sur la peau, elle peut réduire l'enflure, les rougeurs et même aider à se débarrasser de l'acné induite par les bactéries.

La prune de Kakadu regorge également d'antioxydants comme l'acide gallique (bon pour restaurer la barrière naturelle de la peau) et l'acide ellagique (aide à restaurer l'élasticité de la peau) qui aident à protéger la peau des dommages environnementaux, causés par les UV et la pollution, et sont essentiels à la bonne santé de la peau.

Mimosa (acacia dealbata)
Un actif naturel qui réveille le teint et rafraîchit la peau terne. Le mimosa est particulièrement bénéfique pour les peaux grasses, sensibles ou irritées grâce à l'un de ses constituants clés, le Lupeol, à l'action anti-inflammatoire. Il est aussi riche en polyphénols, aux puissants effets antioxydants, anti-inflammatoires, anti-âge et cicatrisants.



Éclat Extraordinaire est le produit multifonction emblématique de la marque La Fervance



Gommage Extraordinaire est un exfoliant multifonction qui révèle l'éclat et sublime l'apparence de la peau.



Crédit photos : @Jolene Denes &
LA FERVANCE
Acheter les produits LA FERVANCE à Lyon