Lily Lolo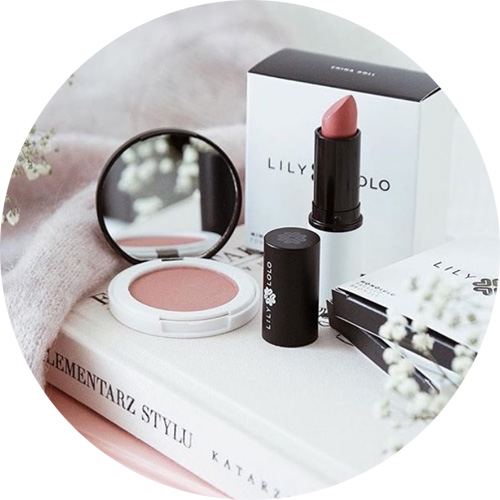 Vikki Khan began mixing up her own gorgeous mineral creations at home over 10 years ago. She has never stopped her search for the very best in natural beauty and her brand Lily Lolo is now a complete collection of makeup and beauty accessories.
Lily Lolo products are certified cruelty free and made using only ingredients that are proven to nourish and protect the skin. You will never find any harmful chemicals.
Whatever your style, age and skin colour, whether your skin is dry, oily or anywhere in-between, Lily Lolo mineral makeup gives a flawless and seamless complexion without clogging or irritating.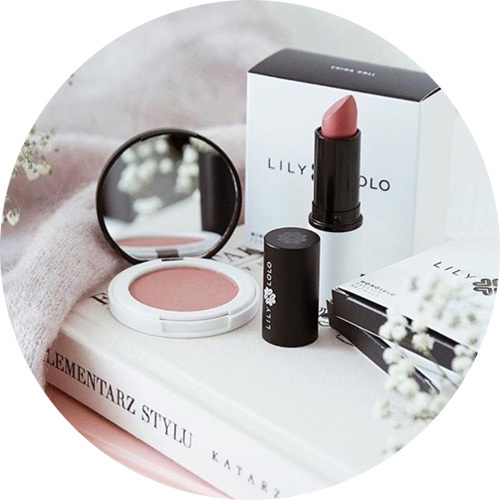 Know more about Lily Lolo
LILY LOLO

It is the reference brand for 100% mineral and natural make-up. Sublime colours, flawless ethics and formulas with proven benefits: the Lily Lolo brand has it all.



For fans of mineral foundation and other sublimating powders, here is the history and commitments of the Lily Lolo brand to discover the make-up range and make up your mind.
History of the Lily Lolo brand
In 2006, the Lily Lolo brand was born after many years of research into the development of effective and natural mineral make-up formulas.



Vikki Khan, founder of the brand after studying Arts and Sciences at the University of Reading in England, gave it the name Lily Lolo in reference to her two sisters Lisa and Lorraine.



Through her makeup brand, she wishes to offer a range of mineral, vegan and 100% natural makeup and thus offer women a light, natural, quality makeup, preserving their skin while sublimating it.



As a testament to its commitment and quality, Lily Lolo was awarded the 2010 Beauty Award by Natural Health Magazine in Great Britain, and its products were also recommended by The Green Beauty Bible Award. A guarantee of the quality and effectiveness of Lily Lolo mineral make-up.



Lily Lolo is now known for its high-quality, eco-friendly mineral powders and mascara.

Vikki Khan, founder of mineral and natural make-up brand Lily Lolo
Lily Lolo make-up philosophy
The glamorous world of the British mineral makeup brand Lily Lolo

100% natural products, good for your skin



Lily Lolo offers a range of mineral and ecological make-up for all skin types, whether dry, sensitive, lacking in moisture, combination or even oily or acne-prone.



Lily Lolo products do not cause irritation due to their quality ingredients and do not clog pores: they allow the skin to breathe, unlike non-natural products such as silicones, which tend to suffocate the skin and even aggravate its defects.





Products adapted to everyone's needs



These products are designed for all women, regardless of their age, style or skin colour. Each Lily Lolo product is available in a variety of shades to suit all skin types and to help them correct their imperfections (redness, spots) or enhance them.



Lily Lolo make-up powders have a 2-in-1 action: they will give the skin a flawless make-up result by camouflaging imperfections while treating them.

The skin is healthy, it breathes and remains healthy while benefiting from the makeup beauty.





Healthy and controlled ingredients



Lily Lolo products are made exclusively with clean, skin-friendly ingredients that nourish and protect the skin.

The use of zinc oxide, a natural anti-inflammatory, anti-bacterial and soothing agent, is perfect for skin that is prone to acne and pimples.

The Lily Lolo brand is constantly renewing itself and creating new references, with colours that are in tune with the times, adapted to each season and each style, but also to each new need. It will quickly become a must-have in your green make-up kit.
The bestsellers of the Lily lolo brand
The foundation powder, Mineral Foundation SPF 15 is the true icon of the brand.



SPF 15

This foundation powder with SPF 15 filter guarantees natural protection of the skin against the sun's rays.



HIGH PERFORMANCE

Contains Mica, a light-reflecting agent,

perfect for minimizing fine lines and other imperfections

Waterproof foundation.

Available in 19 shades!



CLEAN COMPOSITION

Mineral oil free, paraben free, synthetic fragrance free, talc free and preservative free.



NON-COMEDOGENIC AND ANTI-BACTERIAL

Contains anti-bacterial agents.

Suitable for oily or acne-prone skin as it does not clog the pores of the skin.



VEGAN & CRUELTY FREE

It does not use ingredients of animal origin in its composition and is not tested on animals (cruelty free).


The mascara is also one of Lily Lolo's flagship products.



OPTIMAL EFFICIENCY

Fast drying, long lasting, clump-free results.



CLEAN COMPOSITION

Fragrance-free, silicone-free and alcohol-free.



CONTROLLED QUALITY

Ophthalmologically tested, suitable for sensitive eyes.



CRUELTY FREE

Mascara not tested on animals.

The Lily Lolo mascara is often voted as the best organic mascara!
The commitments and values of the Lily Lolo brand
100% natural and non-toxic ingredients



Lily Lolo products are certified free of parabens, phthalates, synthetic fragrances, artificial colours, talc, preservatives, nanoparticles, bismuth oxychloride, petrochemicals and animal fats.





An ecological commitment



Concerned and respectful of the environment, the Lily Lolo brand is committed to the protection of animals, as shown by its Cruelty Free label, which means that its products are not tested on animals. In addition, it uses recyclable packaging for all its products.





Efficiency and quality



With Lily Lolo make-up, it is possible to combine the effectiveness of the products with their benefits on the skin while respecting nature and animals.



The Lily Lolo brand was created by Vikki Khan around values and commitments in line with the environment, but also around a passion, that of make-up and in particular the way it can transform a woman's feelings and self-confidence by sublimating her appearance.



In short, Lily Lolo is about the ethics of clean make-up without giving up on beautiful colours for all tastes and all skin types.
Lily Lolo make-up products finally in Lyon
The Lily Lolo mineral make-up range is now available in Lyon.



It is finally possible to find and buy the Lily Lolo brand at the Ecocentric boutique located at the Grand Hotel Dieu, 9 Rue Marcel Gabriel Rivière.



On the menu: bestsellers and the entire Lily Lolo make-up range as well as expert advice from the shop team on how to use Lily Lolo natural cosmetics.
Credits : Lily Lolo