Grown Alchemist
Australian unisex beauty label Grown Alchemist born in Melbourne in 2008 is now globally recognized as being at the forefront of efficacious anti-aging technology. Drawing its innovations from its network of research laboratories based in London, Paris, Switzerland, Spain and Australia, Grown Alchemist aims to create the most advanced topical cosmeceutical treatments capable of transforming the skin from the outside in.
Based on a perfect understanding of the cell renewal process and the metabolism of nutrients by the skin, Grown Alchemist formulates innovative natural treatments capable of influencing the way the body repairs and regenerates the skin.
It is at the forefront and at the crossroads of fields such as medicine, nutrition, pharmacology, dermatology, genetics and psychology that the holistic scientific approach of Grown Alchemist beauty products is anchored.
As a groundbreaking clean beauty company that looks to the future but builds on nature treasures, Grown Alchemist aims to harness the body's natural ability to slow down and, in many cases, reverse the aging of the body and in particular of the skin, thanks to natural active ingredients that directly improve the health of skin cells.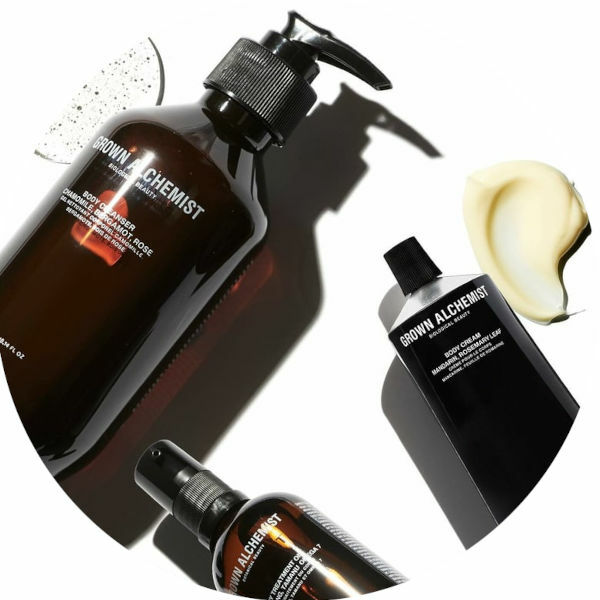 Know more about Grown Alchemist
Why we love GROWN ALCHEMIST ?
An expert routine with

powerful anti-aging results

Cutting-edge formulas with a holistic approach
Its eco-designed modern apothecary packs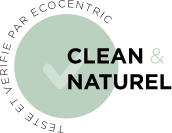 La marque Grown Alchemist

Grown Alchemist est une marque de soins naturels pour le visage, les cheveux et le corps aux formules innovantes qui propose une expérience de soin de la beauté unique et holistique.

Aujourd'hui, la marque australienne Grown Alchemist a conquis de nombreux fans à travers le monde avec ses produits de beauté clean reconnus comme étant à la pointe de la technologie anti-âge.
Histoire de la marque Grown Alchemist
La marque cosmétique d'origine australienne Grown Alchemist, a été créée à Melbourne en 2008 par les frères Keston et Jeremy Muijs, avec pour objectif de développer une gamme de soins qui alliait leur passion pour le design et le développement de produits de beauté avec des compositions naturelles à base d'actifs clean et anti-âge comme l'acide hyaluronique, les antioxydants végétaux ou encore les peptides pro-collagène.

Après 20 ans de recherche et de développement, les deux frères ont prouvé avec leurs produits que l'utilisation continue d'ingrédients actifs naturels améliore directement la santé des cellules cutanées, optimisant la fonction de la peau et inversant par conséquent les signes du vieillissement de la peau.

C'est ainsi qu'est née la marque Grown Alchemist, avec des formules clean et une synergie unique entre la biologie et la chimie cosmétique verte, créant le concept de « Bio-compatible Beauty » : des soins de la peau, des soins corporels et des soins capillaires biologiquement avancés et parfaitement assimilés et compris par l'organisme.

Jeremy and Keston Muijs, créateurs de la marque de cosmétique naturelle Grown Alchemist
La philosophie de la marque Grown Alchemist








Grown Alchemist est aujourd'hui largement reconnue pour sa gamme complète de cosmétiques naturels anti-âge et de soins experts pour le visage, du nettoyant à la crème hydratante ou au sérum régénérant pour la peau, toujours dans une perspective d'efficacité anti-âge et de formulation clean.

L'ensemble des produits cosmétiques de Grown Alchemist sont à base d'actifs puissants (extraits de plantes, peptides, phytonutriments, antioxydants...). Même le soin qui peut sembler le plus basique contient des actifs végétaux de pointes pour agir sur la peau à chaque étape de la routine avec par exemple un nettoyant pour le visage formulé avec des essences florales de bergamote, de rose et de géranium.



La santé de la peau au coeur du système de soin Grown Alchemist


Certaines des conditions de peau les plus chroniques (acné, eczéma et inflammation) sont des réponses biologiques à l'accumulation de toxines dans le corps humain. Notre peau est constamment exposée à des facteurs de stress externes qui déclenchent des réponses : pollution, lumière bleue ou actifs synthétiques nocifs trouvés dans les soins de la peau conventionnels par exemple.

C'est pourquoi la routine de soin du visage Grown Alchemist accorde une telle importance au processus de détoxification, un processus de restauration des fonctions qui concerne autant ce que les produits de beauté de la marque apportent à la peau que les ingrédients toxiques qu'ils laissentde côté.

C'est parce que les toxines entravent le fonctionnement de la peau, qu'une fois éliminées avec le sérum détox, le système de soin Grown Alchemist se concentre ensuite sur l'activation de la peau au niveau cellulaire. C'est cette prise en charge de la peau en deux étapes qui rend la marque Grown Alchemist unique et différente et surtout garantit de vrais résultats.



Les soins bestsellers de la marque Grown Alchemist


Parmi les soins du visage proposés par la gamme Grown Alchemist, le best seller est la crème hydratante Hydra Repair à la fleur de camélia et au géranium. Cette crème pour le visage de Grown Alchemist est le soin dédié pour les peaux déshydratées. La crème hydratante culte sublime la peau, booste l'hydratation tout en resserrant les pores, apporte du confort et ne laisse pas de résidu gras.

Grown Alchemist c'est aussi une routine complète allant du sérum à la niacinamide au baume à lèvres ou encore au gel douche ou crème pour le corps. Dans cette gamme de soins, Grown Alchemist propose notamment des produits très nourrissants comme l'Intensive Body Cream. Cette crème pour le corps réconforte les peaux très sèches grâce à sa texture riche qui nourrit en profondeur, restaure l'élasticité et le confort de la peau tout en étant protégée contre les agressions extérieures.

Engagée pour la planète, Grown Alchemist est une marque qui s'inscrit dans une démarche pour l'environnement avec des produits comprenant des matériaux recyclables et recyclés sans pour autant nuir au design des packagings avec ses flacons d'apothicaire, chic et moderne adoptés aussi bien par les stars d'Hollywood que de très nombreuses personnes soucieuses de la santé et de l'apparence de leur peau.
Questions fréquentes sur la marque Grown Alchemist
En quoi Grown Alchemist est-elle une marque de « clean beauty » ?
Tous les produits visage et corps de la marque Grown Alchemist sont certifiés EWG, Think Dirty et sans produits toxiques, avec des ingrédients certifiés biologiques, cruelty-free - sans cruauté envers les animaux, et bien sûr non testés sur les animaux.

Est-ce que la marque Grown Alchemist a également une démarche écologique ?
Les emballages de leurs soins sont le plus possible en matériaux à l'impact environnemental reconnu comme moindre car recyclés et infiniment recyclables comme le verre et l'aluminium. Les emballages en plastique utilisés par la marque Grown Alchemist sont sans BPA et sont fabriqués à partir de PET qui est mondialement reconnu comme un matériau d'emballage sûr et recyclable. En n'utilisant aucun des ingrédients qui sont problématiques pour l'environnement tels que les parabènes, le peroxyde de benzoyle, les PEG, les dérivés du pétrole, les huiles minérales, le propylène glycol, le laurylsulfate de sodium, les colorants et parfums artificiels, le talc, les nanoparticules et les additifs agressifs, Grown Alchemist participe à éviter la pollution des eaux lors de la fabrication et bien sûr de l'utilisation de leurs cosmétiques.

Les produits Grown Alchemist sont-ils naturels ?
Oui, tous les produits de la marque Grown Alchemist sont 100% naturels.

Les produits Grown Alchemist sont-ils certifiés biologiques ?
En tant qu'entreprise, la marque Grown Alchemist a la certification biologique australienne, mais tous les produits ne sont pas enregistrés auprès de l'ACO (label bio Australien). Ils se sont efforcés d'incorporer autant d'ingrédients biologiques que possible car ils ont l'avantage d'être exempts de traces d'engrais et de pesticides et sont plus riches en antioxydants, sels minéraux, acides aminés essentiels et acides gras essentiels que les ingrédients non biologiques.

Les produits Grown Alchemist peuvent-ils être utilisés en cas d'eczéma ou de psoriasis ?
Bien qu'il n'y ait rien dans les formulations des produits Grown Alchemist qui provoque ou exacerbe directement les symptômes de l'eczéma ou du psoriasis, rien ne permet de garantir aucune réaction de la peau. Cela étant dit, plusieurs produits de la gamme Grown Alchemist contiennent des extraits botaniques aux propriétés calmantes, apaisantes et anti-inflammatoires connues pour aider les peaux sensibles.





Credits photo Grown Alchemist
Acheter les produits Grown Alchemist à Lyon