Tranquility candle - English lavender, sweet basil & jasmine
Tranquility candle - English lavender, sweet basil & jasmine
Classé dans : Scented candles
Description
Neom Luxury Organics Tranquility natural scented candle
with vegetable wax & English lavender, sweet basil and jasmine pure essential oils
Unmistakable lavender, but with a fresh twist. English lavender is typically a little cleaner smelling than French and coupled with clean Basil and a pretty jasmine this is a heavenly relaxing scent.
A deeply relaxing pre bedtime scent that let's your shoulders drop in an instant. This Neom organic scented candle has won numerous awards because of it's fantastic relaxing properties, and in our tests, 9 out of 10 women felt more rested the morning after using a Tranquillity scented tincture.
Neom Luxury Organics natural scented candles are made using only vegetable wax and pure essential oils rather than synthetic fragrances so they burn without releasing harmful pollutants, toxins or soot. Remember, they work as powerful holistic treatments as you breathe in the scented air so it best to burn them for 2-3 hours at a time!
This product has nothing to hide
Complete INCI list of ingredients
×
Ingredients
Vegetable wax, Essential Oils
Neom luxury organics candles are guaranteed 100% plant-based. The scents are derived from precious botanical essential oils that are carefully blended throughout the wax to ensure a long-lasting, natural and delicate scent. They do not contain any synthetic fragrances, perfumes, dyes, chemical enhancers or boosters and the wick is made from metal-free unbleached cotton.
The wax is made from soy beans, a renewable natural resource that supports sustainable agriculture. It is biodegradable and environmentally friendly. Soy wax candles burn cleaner and longer than paraffin. Soy wax candles are practically soot free and do not emit black soot deposit (BSD) characteristic of paraffin candles.
We always update changes when noticed, but please refer to the information on your product packaging for the most up-to-date list of ingredients.
Add to shopping bag
new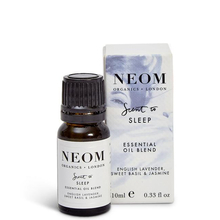 Neom Organics
Perfect Night's Sleep essential oil blend
24,00 €
Great for :

Bliss, Relax, Cocooning
Add to shopping bag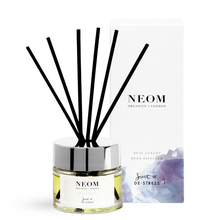 Neom Organics
Real luxury Reed diffuser - Jasmine & Brazilian …
49,00 €
Great for :

Relax, Bliss, Ayurveda
Add to shopping bag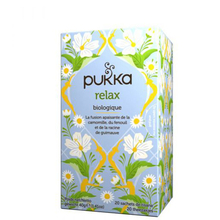 Pukka
Relax - To calm & soothe
4,90 €
Reviews & Questions
Your reviews about :
Tranquility candle - English lavender, sweet basil & jasmine
Bougie très, très, très relaxante...Fragrance divine !
Your questions about : Tranquility candle - English lavender, sweet basil & jasmine
Ask your question
About : Neom Organics
Forget everything you know about aromatherapy and home scents. Forget everything you know about organic bath oils and body products...At Neom Organics they have created the most incredibly powerful, organic range of luxury bath & home products that all work as aromatherapy treatments.Carefully blending only the finest organic ingredients and the highest concentration of essential oils Neom Organics offer the most beautiful scents that fill your room with mood enhancing treats in whichever you prefer...Pleasure, leisure and treatment all in one …