Your e-shop to buy Dr. Hauschka makeup online
LE MAQUILLAGE DE LA MARQUE DR. HAUSCHKA
Découvrez et adoptez le maquillage naturel Dr. Hauschka, des cosmétiques uniques qui exploitent les bienfaits de plantes médicinales et la richesse de couleurs des pigments minéraux naturels. Fondée en 1935 par le Docteur Rudolf Hauschka, la marque de cosmétique bio et naturelle allemande propose une gamme complète de maquillage bio pour le teint, les yeux, les sourcils, les lèvres et les joues signé Dr. Hauschka.
LES ENGAGEMENTS

DR. HAUSCHKA
La marque Dr. Hauschka propose une gamme complète de produits de maquillage bio aux extraits de plantes cultivées selon les principes de l'agriculture biologique ou biodynamique. Les ingrédients que l'on retrouve dans le maquillage bio Dr Hauschka sont d'origine naturelle : aucun produit de beauté Hauschka ne contient de silicones, de dérivés de la pétrochimie ou de conservateur synthétique.
LE PRODUIT MAQUILLAGE CULTE

DR. HAUSCHKA
La poudre compacte correctrice Dr. Hauschka est une poudre de teint idéale pour masquer

les rougeurs, uniformiser le teint et faire une belle peau sans défauts.

La marque Dr. Hauschka propose également toute une gamme de soins pour le visage dont un lait démaquillant bio et un démaquillant doux pour les yeux.
Dr. Hauschka Makeup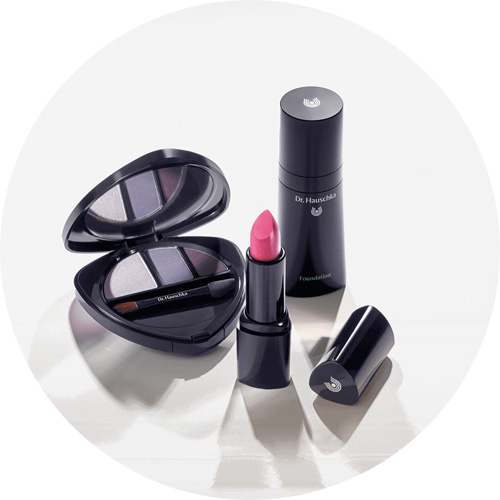 Famous natural beauty label Dr. Hauschka relaunched its organic makeup range : a premium and mineral make-up collection to reveal your inner and outer beauty.

Trendy and universal shades, healing formulas with medicinal herbal extracts, a new exclusive glamourous design... Dr. Hauschka's new makeup sublimates your natural beauty while treating your skin.

Benefit from the renowned Dr. Hauschka expertise in skincare with this complete dermatologically tested makeup range formulated for a perfect skin tolerance and using only the finest mineral pigments.