Your e-shop to buy Dr. Hauschka products online
LES ORIGINES DE LA MARQUE DR. HAUSCHKA
Découvrez et adoptez les soins naturels Dr. Hauschka, des cosmétiques uniques qui exploitent les bienfaits de plantes médicinales employées en synergie. Fondée en 1935 par le Docteur Rudolf Hauschka qui proposait alors des médicaments naturels avant-gardistes, elle est devenue LA marque pionnière et culte de la cosmétique biologique grâce aux formules et traitements naturels de la peau de la cosmétologue Elisabeth Sigmund.
LES ENGAGEMENTS

DR. HAUSCHKA
La marque Dr. Hauschka propose une gamme complète de produits de beauté bio pour le visage, le corps et les cheveux aux extraits de plantes cultivées dans le respect de l'homme et de la planète. Les ingrédients que l'on retrouve dans les soins bio Dr Hauschka, les sérums, les crèmes et les cures Dr. Hauschka proviennent de cultures biodynamiques certifiées Demeter, de l'agriculture biologique contrôlée et du commerce équitable.
LE PRODUIT CULTE

DR. HAUSCHKA
La Crème de jour à la rose Dr. Hauschka est le soin de jour cultissime de la marque. Un produit de soin visage indispensable, à la fois riche et nourrissant, il procure à la peau un apaisement intense et crée une enveloppe protectrice. Idéale pour toute la famille, la crème à la rose Hauschka convient tout particulièrement aux peaux réactives, sensibles ou sujettes aux rougeurs.
Dr. Hauschka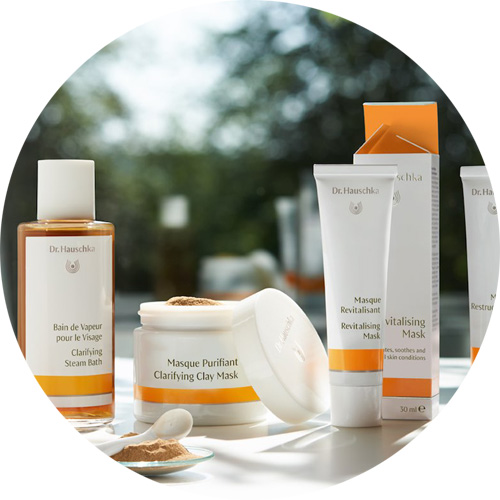 Based on an active synergy of medicinal plant extracts, Dr. Hauschka's organic skin care products stimulate the natural functions of the skin in order to give it the strength to feed and regenerate itself. This is the self-correction principle of the skin from Dr. Hauschka.
Nature's cycles for harvesting biodynamic grown raw materials, skin aspects, lymphatic stimulation for toxins elimination...
The brand Dr. Hauschka is listening to your skin and to the Nature to create its natural and organic efficient beauty treatments famous worldwide.