Dr. Hauschka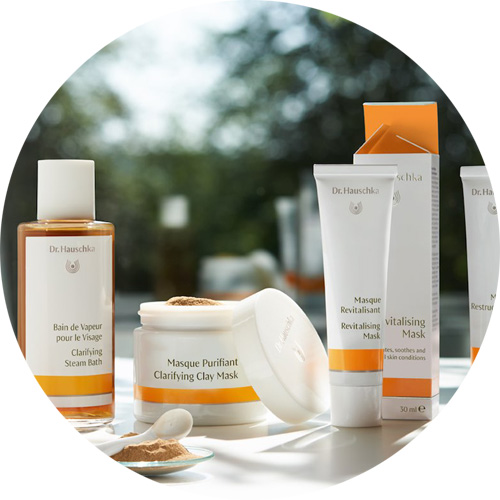 Based on an active synergy of medicinal plant extracts, Dr. Hauschka's organic skin care products stimulate the natural functions of the skin in order to give it the strength to feed and regenerate itself. This is the self-correction principle of the skin from Dr. Hauschka.
Nature's cycles for harvesting biodynamic grown raw materials, skin aspects, lymphatic stimulation for toxins elimination...
The brand Dr. Hauschka is listening to your skin and to the Nature to create its natural and organic efficient beauty treatments famous worldwide.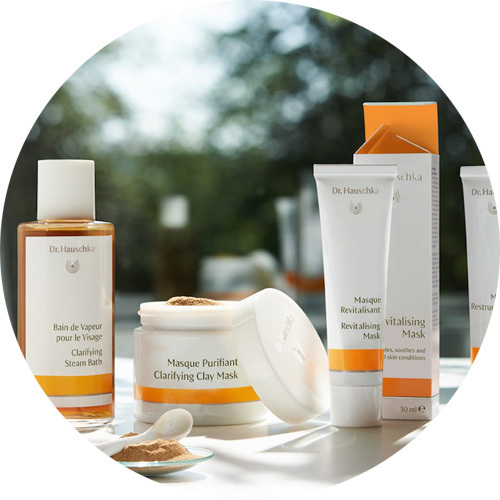 Know more about Dr. Hauschka
DR. HAUSCHKA

Pioneer and cult brand of organic skin care, Dr. Hauschka offers a complete range of organic beauty products for the face, body and hair made from extracts of medicinal plants.

The secret of the organic label Dr. Hauschka: helping the skin to focus on regenerating itself without replacing its natural functions. A unique treatment protocol listening to your skin's needs to provide it strength to find its balance.
DR. Hauschka beauty brand story
It was back in 1935 that Dr. Rudolf Hauschka created the WALA company to develop his first medicinal natural products without preservatives and alcohol addition. Since the earliest days of their history, the Dr. Hauschka products were ahead of their time and innovative, in a world barely aware of the natural product concept.

It is first in the middle of anthroposophic medicine (medicine to treat a disease that takes into account more than just the symptoms but also the causes) that was greeted with enthusiasm the technical process developed by Dr. Hauschka.

Natural products of WALA laboratory were immediately well received by consumers. But it is especially in the 1950s, because of prohibition under the Nazi regime and the imprisonment of Dr. Rudolf Hauschka, that the products have enjoyed an increasing success.

In order to preserve the well-being of the skin, Dr. Rudolf Hauschka was thinking about the development of different skin treatments, by extending WALA medicines. This idea became a reality after meeting with Elisabeth Sigmund, a Swede who was used to make her own beauty products with the ingredients she bought at the WALA laboratory.

Leaving Stockholm, Elisabeth Sigmund joined the teams of Dr. Hauschka in Eckwälden, Germany, to work with specialized pharmacists, and create the first skincare creams appointed Dr. Hauschka. It was an unconventional beauty treatment back time, without chemical emulsifiers and scented with natural essential oil.

The first Dr. Hauschka natural cosmetics were born in 1967 and the products of the organic cosmetics brand still keep their DNA in the pioneering spirit of Dr. Rudolf Hauschka and Elisabeth Sigmund.
Philosophy of Dr. Hauschka organic cosmetics
To trust the internal forces of the body, the wisdom of the skin and to help it strengthen its own capacities: it is the self-correction of the skin.

Dr. Hauschka brand is listening to your skin and let it speak: Dr. Hauschka's care ritual assumes that your skin has the strength to regenerate and nourish itself. Modern life (stress, pollution, diet, etc.) makes it sometimes need a helping hand.

Therefore, Dr. Hauschka skin care use natural ingredients with herbal extracts from biodynamic cultures that do not impede the natural functions of the skin but giving it the impetus to fortify and balance, both in a targeted and global way.

It needs to be attentive to the needs of the skin and signals it issues; that's what Dr. Hauschka calls aspects of skin. Depending on your mood, periods of life, seasons, and places ... the aspects of the skin vary, evolve, disappear. Thus, natural beauty treatment from Dr. Hauschka does not only consider your skin as fixed but with as many facets as you.

Because you experience what feels good and what is good for your skin, Dr. Hauschka cosmetology helps you to agree with yourself and find your personal balance: it does not just stop at your skin, it transcends it.
DAY SKIN CARE PROTOCOL OF DR. HAUSCHKA
Allow deep breathing of the skin by cleansing it

Free the skin of impurities and dead cells is the first step of the holistic treatment protocol of the brand Dr. Hauschka. Without surfactants, face skincare from Dr. Hauschka is not harsh to the skin and preserves its hydro-lipid barrier of protection.

The essential Dr. Hauschka product : Cleansing cream

Stimulate the natural forces of the skin

The skin is our personal mediator with the outside and it sometimes needs support in this essential function. Dr. Hauschka tonic lotions have been specifically formulated to infuse skin with plant extracts without greasy substances to let it breathe freely.

The essential Dr. Hauschka product : Facial toner

Protect your skin all day

Bad weather, extreme weather, stress, pollution: the skin undergoes many external influences during the day. Therefore, it needs adequate protection thanks to medicinal herb extracts and vegetable waxes of Dr. Hauchka day creams. This is the last step of the skin care ritual of the brand Dr. Hauschka.

The essential Dr. Hauschka product : Rose Day Cream
Dr. Hauschka organic make-up
The Dr. Hauschka brand unveiled on March 1, 2017 its brand new range of organic-labelled makeup.

A natural look and a healthy glow is the concept of ideal beauty, according to a survey of makeup enthusiasts. The new Dr. Hauschka make-up range meets these expectations in every respect: it beautifies without concealing the personality and at the same time takes care of the skin with its natural ingredients and botanical active ingredients of the highest quality.

New textures, new premium and glamorous packaging, new colours... Dr. Hauschka's make-up products have been completely reinvented, focusing on quality, a wide range of shades, light and easy-to-apply textures and formulas rich in active botanical ingredients.

The key ingredients of Dr. Hauschka's make-up: medicinal plants to support the skin's capacities, mineral pigments of natural origin for vibrant colours, silk for its matifying and treating action, jojoba, avocado and macadamia oils for infinite softness, vegetable waxes to protect the skin... all without perfume or chemical preservatives for an excellent skin tolerance tested and confirmed by dermatological tests.

In short, it is all the expertise in skincare and natural cosmetics of the organic brand Dr. Hauschka that takes shape in this unique and ecological make-up range.
Buy Dr. Hauschka natural skincare