Description
Natural slimming and detox food supplement by D-Lab
D-Lab Slimming Detox is a powerful cocktail of miraculously cleansing herbs rich in antioxidants, chlorophyll, vitamins, essential minerals and enzymes for all those who wish to purify their body from the inside and lose weight more effectively and lastingly.
Slimming Detox 100% natural formula acts to drain out impurities and toxins by enhancing the organism elimination process and to promote good digestion by improving the intestinal transit and boosting evacuation process.
Chitosan, green tea, pineapple, chicory, fucus, green coffee, ... these natural slimming caspules contain 8 plants for an efficient detoxifying and purifying effect.
D-Lab slimming detox natural capsules results*
88% satisfaction
Loss of weight: 2 to 3 kg
Decrease in waist: - 2cm
100% natural slimming detox food supplement, suitable for vegetarians and vegans.
*Realized in self-assessment by 16 testers - feedback QDC0717 satisfaction test
Ingredients
100% of all ingredients are from natural origin
Ingredients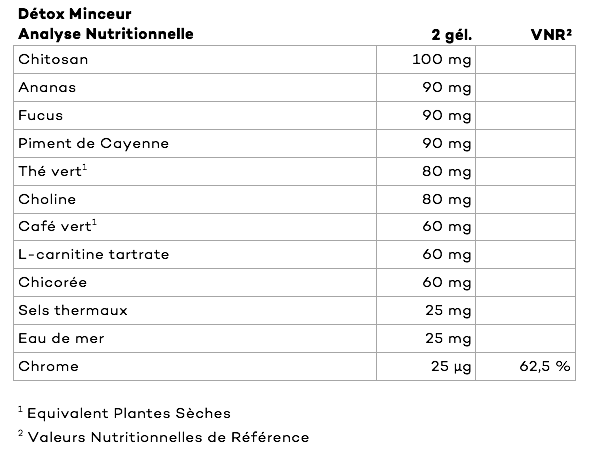 Vegetable cellulose capsule.
Suitable for vegetarians and vegans.
Directions for use
Directions for use
Take 2 capsules of D-Lab detox slimming supplement in the morning before breakfast.
Drink throughout the day to help your body in the detox process.
To be used for a 2 months detox and slimming cure.
Each bottle contains 56 capsules for a 28-day detox treatment - first visible effects after 20 days.
Contains green tea: not recommended to take on an empty stomach
Contains caffeine: not recommended for children, teenagers, pregnant/breastfeeding women
Contains fucus and pineapple: not recommended for people undergoing anticoagulant treatments. May contain traces of crustaceans and molluscs.
D-Lab
D-Lab is a professional nutricosmetics laboratory for made in France and natural beauty food supplements.

Formulated by health and beauty experts, D-Lab's cosmetic capsules are packed with natural and powerful ingredients to provide an internal resource that helps each woman unlock and nourish her natural beauty.

Designed to target specific needs in the daily beauty routine and providing transformative results, the D-Lab cosmeto-food works from the inside-out for comprehensive, long-lasting action.
Reviews