2moss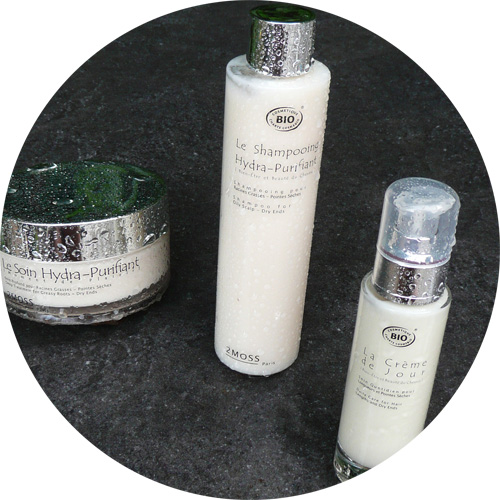 L'Instant 2MOSS is the first organic beauty hair care institute of its kind in Paris. 2MOSS great luxury line of organic hair care & shampoo has been created for this hair spa and invites you to enjoy the pleasure and well-being of natural shiny hair and healthy scalp.
This professional natural hair treatment brand is the fruit of years of research to combine perfect efficiency and unforgettable sensory experience... it contains the best plants extracts to reach the perfect balance from the scalp to the very ends of hair.
Entrust the natural benefits of 2MOSS professional organic hair car line with the beauty of your hair.
Know more about 2moss
2MOSS

Created for l'Instant 2MOSS in Paris, the first salon dedicated to organic hair care, 2MOSS is a professional label of organic shampoo and hair care products.

2MOSS brand offers a luxurious line of hair care products to unveil the natural beauty of lustrous hair and a healthy scalp.
2MOSS BRAND HISTORY
Elyanne Moschos launched her hair spa products line in 2003 under the name 2MOSS, the goal being to restore balance from the scalp to the hair tips and offer beauty and well being to weakened and damaged hair.

The young luxury hair care brand was a tremendous success with demanding customers such as the Ritz and Majestic hotels, as well as the high-end department store, Le Bon Marché.

Its success quickly spread to prestigious spas and hair salons in France, Monaco and main European cities (Les Thermes de Monaco, Coloré par Rodolphe, Jean Saberny…).

Eager to offer her unique hair care brand an exclusive showcase, Elyane Moschos opened, in 2006, her own hair beauty and well being institute in the 9th arrondissement in Paris, " L'instant 2MOSS ".

The same year, she decided to push her approach to hair well being even further by aiming for the organic labeling of her natural hair care brand.

Elyane Moschos dedicated three years to research and development to select the most precious and active ingredients of natural origin that would coat the hair shaft while allowing the active ingredients to penetrate, without increasing the hair's sensitivity to pollution.

It was thus only in 2009 that 2MOSS was fully perfected: creamy textures, refined fragrances, absolute efficiency…the first organic luxury hair care and shampoo brand was born.

Elyane Moschos, founder of 2MOSS

l'Instant 2MOSS hair salon in Paris
2MOSS: AN ORGANIC DETOX CURE TO PURIFY THE HAIR AND SCALP
The 2MOSS organic hair care line for dry hair

2MOSS organic hair masks

With its certified organic hair care products, 2MOSS offers hair treatments to reverse the damage caused by chemicals present in traditional hair products.

This luxury organic shampoo and hair care line was created to purify the hair and scalp and restore their natural beauty and balance by cancelling the negative effects caused by years of conventional hair products use.

Indeed, most petro-chemical derived hair products increase hair's sensitivity to pollution. Their hair-coating ingredients, silicones among others, trap pollution and suffocate the scalp and hair shaft.

From the very first shampoo, the hair and scalp become dirtier quicker than they would normally. These toxic ingredients are never fully eliminated and keep accumulating over the successive washes.

Thus begins a vicious cycle, during which the hair and scalp become dirtier faster despite being shampooed more frequently.

These substances make hair dull by impeding the natural flow of sebum down the hair shaft. This creates an imbalance, the scalp becoming greasy while the hair tips are dry.

In addition, these polluting agents prevent the penetration of hydrating active ingredients into the hair shaft. Hair thus becomes brittle and full of split ends.

Many "conventional" products are in fact make-up for hair and not actual hair care products.

The organic products by 2MOSS ensure that the hair and scalp are rid of polluting agents. The hair shaft is continually and more efficiently hydrated, without being polluted, and the scalp gradually regains its balance.

Hair is increasingly beautiful: airy, supple, with natural volume and vibrant color, while the scalp's health improves.
L'INSTANT 2MOSS: THE FIRST ORGANIC INSTITUTE FOR THE BEAUTY OF HAIR
The 2MOSS natural hair beauty institute and salon is located in a small pedestrian street, the square de L'Opéra Louis Jouvet, that is one of the most distinctive place in the 9th district of Paris.

L'Instant 2MOSS offers a setting that is both refined and subtle, in perfect harmony with this historical site and only a stone's-throw away from the Opera and the Madeleine.

Far from the traditional hair salon, part spa and part hair care institute, l'Instant 2MOSS is truly a unique concept: a place entirely dedicated to the beauty and well being of hair.

The hair care treatments take place in three private rooms with different atmospheres: boudoir, Art Deco and contemporary. Combining bio-energetic massages with hair care, the treatments offered at l'Instant 2MOSS are a wonderful source of well being.

The hair care treatments with 2MOSS organic products infuse health and beauty to dry and brittle hair, prevent hair loss and stimulate growth. Hair is visibly embellished from root to tip.

A carefully orchestrated sequence of light strokes, stretching and pressure on energy points, the massage relieves the stress of daily life. It encourages energy and blood flow, oxygenates the scalp and immerses the beneficiary into a state of complete relaxation.

It is also possible to enjoy hair salon services (cut, styling) and 100% vegetal hair coloring, which delivers a natural, discreet and elegant color that completely covers white hair.

Finally, you will discover a line of delicate eco-conceived hair jewelry fashioned out of "gold herb" by the Brazilian artist Fabiana Bezerra for her fair-trade brand, Art Da Terra.

At once a hair salon, a spa, a hair care institute…

The l'Instant 2MOSS hair care institute