Your e-shop to buy Pukka products online
LES ORIGINES DE LA MARQUE PUKKA
Découvrez et adoptez la marque de tisanes ayurvédiques Pukka, fondée en 2002 par Sebastian Pole et Tim Westwell, deux adeptes du soin par les plantes. Ensemble, ils décident de proposer des infusions naturelles, efficaces et gourmandes. Traduit de l'Hindi, Pukka signifie "authentique", "sincère" ou plus familièrement "de bonne qualité".
Aujourd'hui Pukka Herbs propose une gamme complète de tisanes et infusions bio 100% naturelles dédiées au bien-être et à la santé pour découvrir les bienfaits et les saveurs des plantes du monde entier dans des packaging inspirants.
LES ENGAGEMENTS PUKKA
La marque de thés et infusions biologiques Pukka n'assemble que des plantes certifiées bio et issues du commerce équitable aussi souvent que possible.
Les sachets de tisanes bio ayurvédiques sont faits de papier non blanchi au chlore.
Les étiquettes sont cousues au sac avec de la ficelle, aucune colle ou agrafe n'est utilisée pour préserver les arômes naturels des plantes.
Tous les emballages Pukka Herbs sont 100% biodégradables.
LE PRODUIT CULTE PUKKA
Le Vanilla Chai de Pukka Herbs est une tisane savoureuse à la vanille et aux épices dans l'esprit du chaï Indien, boisson sucrée extrêmement populaire composée de thé noir infusé dans un mélange d'eau et de lait entier et relevée avec différentes épices, mais ici sans feuilles de thé et donc sans théine.
Un délicieux mélange de plantes bio issues du commerce équitable pour un maximum de plaisir et de bienfaits.
Pukka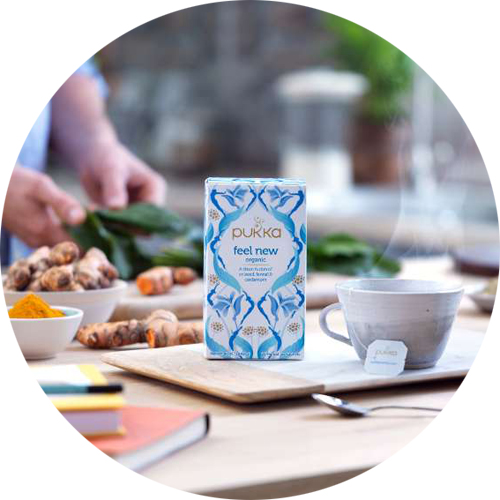 Translated from Hindi to mean 'authentic', 'genuine' or, more colloquially, 'top-quality', 'Pukka' is a unique line of organic bio-nutrients and herbal teas grown on beliefs in Ayurveda – the ancient Indian art of living wisely – and the incredible health benefits of organic herbs.
Ayurveda is at the very heart of Pukka Herbs : you will learn to live a healthier and more balanced lifestyle with innovative herbal teas that taste delicious and herbal remedies that suit your individual make-up.
Pukka uses herbs from organic and sustainable sources only, enjoying long-term and fair-trade bonds with their suppliers.